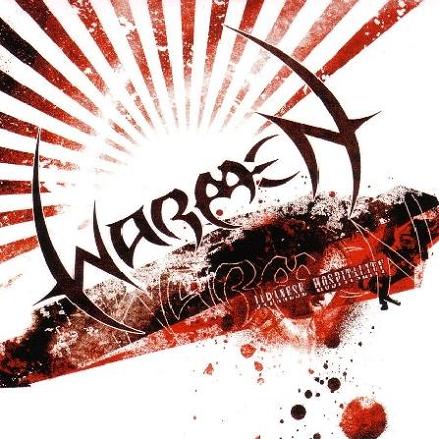 WARMEN 'JAPANESE HOSPITALITY' (SPINEFARM RECORDS)
WARMEN is a sort of side-project of keyboardplayer JANNE WARMAN, who is one of the members of CHILDREN OF BODOM. However with WARMEN he goes into the typical Finnish Melodic Rock/Metalsound. On the 4th CD of WARMEN this is once again done very well, with as guest vocals the singers of STRATOVARIUS, THUNDERSTONE, TUNNELVISION, female singer JONNA K. and the CHILDREN OF BODOM screamer to give a slight raw edge. However, songs like "Eye of the storm", "Goodbye", "My fallen angel" and "Don't bring her here" are very strong typical Finnish uptempo melodic heavy rockers, not too far away from a STRATOVARIUS and SONATA ARCTICA or 80s MALMSTEEN, although a little different due to the various lead singers. The band also covered in typical Finnish tradition 2 80s tunes, namely JANET JACKSON's "Black cat" and JOURNEY's "Separate ways". Check out their sites at: www.warmen.org and www.myspace.com/warmenofficial
(Points: 8.6 out of 10)
STRAWBERRY FIELDS 'RIVERS GONE DRY' (METAL MIND PRODUCTIONS)
STRAWBERRY FIELDS is a Polish female fronted band, whom are playing Melodic Progressive Rock not far away removed from MOSTLY AUTUMN. 9 songs are included on their CD 'Rivers gone dry', which has been released on the Polish label METAL MIND PRODUCTIONS. Most of the songs are very laid-back, atmospheric and a little epic. Highlights among the 9 tracks are the midtempo "Close", "Maybe", "Fool" and "Open your eyes". Overall, the CD even has a slight modern feeling to it, but combined with the clean melodic female vocals of ROBIN and strong melodies in each and every song it is a pleasure to listen to. Although MOSTLY AUTUMN, KARNATAKA and such are good comparisons, I do think this STRAWBERRY FIELDS has an own identity and are actually hard to compare, but without any doubt, their CD 'Rivers gone dry' is highly recommended to fans of female fronted rock. More info at: http://www.myspace.com/strawberryfieldspoland
(Points: 8.2 out of 10)
MULETRAIN 'CRASHBEAT' (BEAT GENERATION/SONIC RENDEZVOUS)
MULETRAIN is a Madrid, Spain based band whom started in the early 2000s and now releasing already their 3rd CD titled 'Crashbeat'. It's not a really lengthy CD, because it stucks around 25 minutes divided into 13 tunes. Musically it is a mix of Punk, Hardcore and Rock and Roll, sorta throwing MOTLEY CRUE, HARDCORE SUPERSTAR, GBH and THE DEAD KENNEDYS into one melting pot. The result is still pretty catchy, although quite rough around the edges and perhaps for the better it is not longer than 25 minutes. The new CD comes along with a pretty cool DVD. Check out this band at: www.muletrain.org
(Points: 7.9 out of 10)
CRITIKKAL SOLUTION 'CRITIKKAL SOLUTION' (BLUE TOPAZ RECORDS)
The Swedish label BLUE TOPAZ RECORDS deliver another 80s type of band's debut CD. This time of the Swedish band CRITIKKAL SOLUTION, whom are playing a pure GUNS'N'ROSES influenced Sleazy Hardrocksound. Although they do try to convince, I think this one is only recommended to the die-hard fans of bands like KIX, BRITNY FOX and especially GUNS'N'ROSES. The band's vocalist sounds a lot like AXL ROSE and although GUNS'N'ROSES is one of the most overrated bands of all times, people whom are a big fan of Axl and his music, well they surely need to check out this new Swedish band at: www.critikkalsolution.com
(Points: 7.0 out of 10)
ROSA LUXEMBURG 'CHAPITRE 1 + 2' (SPARTAKUS MUSIQUE)
Despite their bandname, ROSA LUXEMBURG is not coming out of Luxembourg, because this band is coming out of Paris, France. They play Progressive Rock that sounds a bit dark and reminds one a bit of PINK FLOYD mixed with the current British sound (read: RADIOHEAD meets 2000s MARILLION), yet with vocals of female singer MARIE CATHERINE. They do it all quite well, sounding modern and interesting to check out for any Musicfan, although Prog is perhaps not the correct way to describe their music, as it sometimes also clearly goes into a melancholic Pop/Rock style. Check them out for yourself at: www.rosaluxemburg.com
(Points: 8.0 out of 10)
ELIAS VILJANEN 'FIRE-HEARTED' (SPINEFARM RECORDS)
ELIAS VILJANEN is the guitarist of SONATA ARCTICA, but he also has a solo career going on and 'Fire-hearted' is the third solo record he releases. Musically very Melodic Rock orientated, just listen to the lovely opener "Fire-hearted", which has brilliant melodies, although it is an instrumental track. Out of the 12 tracks included, 10 are instrumental and only on 2 songs we can hear vocals of guest singers TONY KAKKO (SONATA ARCTICA) and MARCO HIETALA (NIGHTWISH, TAROT), namely on "Last breath of love" and "Kiss of rain", both wonderful uptempo Melodic Rocksongs. Also the rest of the CD is filled with great Melodic Rock and EDDIE VAN HALEN tricks, yet without vocals and although all together it is a really impressive album, it would have been even better if this would have been a full vocal CD, because then it could have been as good as let's say BROTHER FIRETRIBE. Anyway, check out more info on Elias' new release at: www.eliasviljanen.com
(Points: 8.5 out of 10)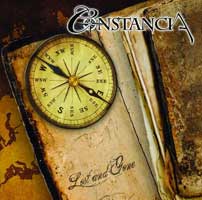 CONSTANCIA 'LOST AND GONE' (FRONTIERS RECORDS/ROUGH TRADE)
'Lost and gone' is the title of the debut CD of the new Swedish band CONSTANCIA and without a doubt it is a very sensational record. The band is the brainchild of former SCUDIERO/TOKEN keyboard player Mikael Rosengren. He had written a bunch of songs that have now been recorded and released as CONSTANCIA, with the help of guitarist JANNE STARK (OVERDRIVE, LOCOMOTIVE BREATH, BALLS, ZELLO etc.), drummer TrumPeter Svensson (LOCOMOTIVE BREATH and MOUNTAIN OF POWER), JADED HEART bassist Michael Mueller and the amazing ANDROMEDA singer David Fremberg. And like only the Swedish bands are able to do these days the album is superb high-class Melodic Hardrock, very catchy, tight and most of the time sensational. 12 songs are included and then it doesn't matter much to which song you're listening, because they are all impressive, but the true highlights are "Fallen Hero", "The King Is Calling", "Dying By Your Flames" and "No One Like You". The sound fits right between H.E.A.T., ECLIPSE and EDEN'S CURSE, so basically pure Melodic Hardrock the way it should be played!
(Points: 8.9 out of 10)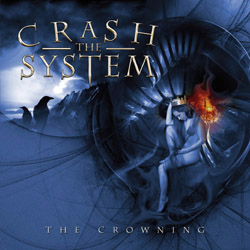 CRASH THE SYSTEM 'THE CROWNING' (FRONTIERS RECORDS/ROUGH TRADE)
CRASH THE SYSTEM is a new project formed by songwriter Sören Kronqvist and drummer/producer Daniel Flores in the fall of 2008. Together with a range of guest vocalists, such as Göran Edman (Ex-MALMSTEEEN, BRAZEN ABBOTT, SNAKE CHARMER, etc), Mats Levén (Ex-MALMSTEEN, SWEDISH EROTICA, etc), Thomas Vikström (Ex-TALK OF THE TOWN, CANDLEMASS, etc) and Björn Jansson (Ex-RIDE THE SKY, TEARS OF ANGER, etc) they recorded an album for FRONTIERS RECORDS under the CRASH THE SYSTEM moniker. Daniel plays drums, guitars, bass, keyboards, strings, and backing vocals, while former Finnish 400 meter hurdle Champion (!!!) and song-writer Sören Kronqvist is playing keyboards, rhythm guitars, and bass. The result is a damn fine typical 80s style Scandi aor/melodic rock record, maybe not original, but still a very fine listen from start to finish. Songs like "Fight Fire With Fire", "I still believe in love", "Mysterious" (summer of 2009 tune!!!), "Angel Of My Heart", "Don't tell me no lies" and "Higher and higher" are very good, a bit cliché admitted, however done very well and really only a few stones away from bands like SNAKE CHARMER, SPIN GALLERY, ALIEN, DAVINCI, DALTON, TREAT, TALK OF THE TOWN and such, so loaded with AOR hooks and catchy choruses. It also reminds me a bit of STEELHOUSE LANE, so actually we have a winner here for the AOR Fans! Basically this is perfect mostly uptempo super catchy 80s Melodic Rock/AOR (very polished and perhaps for the hardrock/metal fans a bit too Eurovision Song Contest radio-ready here and there), but still highly recommended to fans of mentioned bands!
(Points: 8.9 out of 10)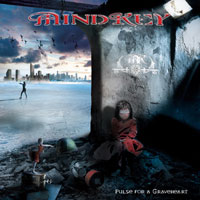 MIND KEY 'PULSE FOR A GRAVEHEART' (FRONTIERS RECORDS/ROUGH TRADE)
MIND KEY is an Italian band formed back in 1999. In July 2004 they released their debut 'Journey Of A Rough Diamond' on FRONTIERS RECORDS. Mark Basile (DGM) was their original singer and although being a support act for DREAM THEATER in Italy back in 2004, the band went through some difficult times the next 5 years, with a change of singer several times. Eventually the job went to Aurelio Fierro Jr, who had been in the band for a while before, but had left, however is now again the MIND KEY singer. A very good choice, because he has an excellent voice that reminds one a lot of JORN LANDE. Musically speaking we are in the higher league of Melodic Progressive Metal with Neo-Classical touch, really not far away from ANDROMEDA, SYMPHONY X, PATHOSRAY, EVERGREY, REDEMPTION and PYRAMAZE. Just listen to songs like "The Seventh Seal", "Citizen Of Greed", "Graveheart" and "Now Until Forever" and you will agree that this is top-of-the-bill Melodic Neo-Classical Progmetal!
(Points: 8.9 out of 10)
HOWARD LEESE 'SECRET WEAPON' (FRONTIERS RECORDS/ROUGH TRADE)
Serving 22 years of his life in the band HEART and selling 40 million records worldwide with them, guitarist HOWARD LEESE left in 1997 to join first PAUL RODGERS' band and then BAD COMPANY, whom had reformed. However, he also has been doing some solo work and 'Secret weapon' is the first solo-CD, which he has released on FRONTIERS RECORDS. Although singers like JIMI JAMISON, JOE LYNN TURNER and PAUL RODGERS appear on the album, do not epect an AOR/Melodic Rockalbum at all. 'Secret weapon' is a mix of calm instrumental pieces, acoustic guitarwork and heavy bluesrock, not bad at all and of course performed very well, but nothing really sensational here. Best recommended to fans of JIMI HENDRIX, CREAM, BAD COMPANY, FREE , etc. etc.
(Points: 8.0 out of 10)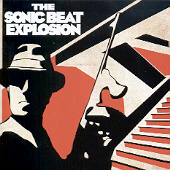 THE SONIC BEAT EXPLOSION 'THE SONIC BEAT EXPLOSION' (NO SOLUTION RECORDS/CARGO RECORDS GERMANY)
So Australia has AIRBOURNE and WOLFMOTHER, the UK brought us THE ANSWER and in Sweden we have THE HELLACOPTERS, HARDCORE SUPERSTAR and countless others, all playing pure Classic Heavy Rock'n'Roll that follows the classic sounds of AC/DC, THE STOOGES and MC5, with yet an own kind of approach to it. Well, in Germany there are not that many kinda acts playing this Rockstyle, but THE SONIC BEAT EXPLOSION is a clear exception, because their same titled debut CD is filled with superb pure Rock and Roll the way it should, which is uptempo straight-forward and raw to the bone. THE ANSWER meets AIRBOURNE can easily be said here, because not only are all 12 included tracks catchy, but also vocally and instrumental this band sounds really huge and they easily can be ranked amongst the mentioned bands. They sorta surprised me and show that they are one of the better newcomers in the Classic Heavy Rock and Roll genre. Refering to their name, the sound can also be called Garage Rock, but it is really best to compare the band to AIRBOURNE and THE HELLACOPTERS. Do check out great catchy tunes like "Turn it up", "Carry me on" and "Better things" and find their website located at: www.sonicbeatexplosion.com
(Points: 8.5 out of 10)

TRACY GANG PUSSY 'CHAOS ROCK 'N'ROLL NUMBER4' (APOKALYPSE RECORDS/SONIC RENDEZVOUS)
Although this French band was formed quite a few years ago and their new CD is already their 4th one, this is the first release for me to check out. I was actually quite surprised, because this band sounds very good. All of the 12 included tracks are very catchy and sound indeed like the description in their biography, which is mixing the best of Swedish Rock and Roll and US Melodic Punkrock. Basically this means uptempo Rock and Roll with super melodic catchy choruses, sorta mixing IGNITE and THE HELLACOPTERS/HARDCORE SUPERSTAR. The result is a very impressive album, with as highlights the fantastic catchy uptempo Melodic Punkrock'n'Roll tunes "I have a wish", "Dreaming", "Let's burn this city down in flames" and "We're drowning in pavements". One can not stop singing along to these excellent tunes and I think that any rockfan is gonna like this rather sensational new CD of TRACY GANG PUSSY. More info at: http://www.myspace.com/tracygangpussy and http://tracygangpussy.com/
(Points: 8.7 out of 10)
IMMACULATE MACHINE 'HIGH ON JACKSON HILL' (BACKS DISTRIBUTION/MINT RECORDS/SONIC RENDEZVOUS)
Canadian band with a CD that sounds like it is a re-issue of something recorded back in 1971, but this is a real new band and their CD was recorded recently. Musically they play a mix of Classic Rock and some acoustic Folk pieces slipped through here and there. Imagine a mix between T-REX, BLIND FAITH and MARIANNE FAITHFUL and you're quite close to the sound of IMMACULATE MACHINE. Recommended if this description sounds interesting to you. More info at: www.immaculatemachine.com and www.myspace.com/immaculatemachine
(Points: 7.3 out of 10)
THE LEGENDS 'OVER AND OVER' (LABRADOR RECORDS/SONIC RENDEZVOUS)
THE LEGENDS were formed in January 2003 in Sweden and the most interesting about this 9-members counting band is the fact that they do play drums, guitars, tambourine, organ, bass and are singing (the female singers can actually sing quite well!), but many of the members have never played their instruments before! Nevertheless, their music and the 12 included songs sound like a nice mix of Garage Rock, Electronic Music and Britpop, with some traces of 80s New Wave here and there. It sounds quite noisy at times and perhaps with the exception of some more polished songs like opener "You won", a difficult album for some, but if you listen a bit through the CD you can really hear some nice melodies and anyone interesting in very experimental Popmusic like a mix between KRAFTWERK, SIMPLE MINDS, HUMAN LEAGUE and KEANE being played by a Garage Rockband, well this might well be up your alley. A really bizarre out of the ordinary album that still has something of interest, a band you might wanna check out live in a small downtown club perhaps, who knows, it has it's moments sometimes! Check it out for yourself at: http://www.myspace.com/heknowsthesun
(Points: 8.0 out of 10)
TROOPERS 'RUCKSICHTLOS UND GEISTESKRANK CD+DVD' (BAD DOG RECORDS/ SONIC RENDEZVOUS)
Here we have a pure Oi! Band a la THE BUSINESS, although with German lyrics. The cool thing is that this new CD, which is actually a live CD, it comes along with a full DVD that contains a bunch of concerts of the band as well as interviews and loads of bonus material. I had never heard of the band, but Oi! Fans might wanna check out this release asap, although they are not as good as their English brothers of THE LAST RESORT, SHAM 69, BLITZ, THE BUSINESS and such. The singer sounds like UDO, who has been drinking a bit too much, although I have to admit that the musicians still can play some good riffs and each of the songs would go down well in a Football Stadium... very easy to sing-a-long if you happen to know the German language. More info at: www.baddogrecords.de
(Points: 8.0 out of 10)
SOUR JAZZ 'AMERICAN SEIZURE' (ACETATE RECORDS/SONIC RENDEZVOUS)
Produced by Daniel Rey (Ramones, Ronnie Spector, Iggy Pop, Keith Richards, Richard Hell, Misfits, Hellacopters, etc...), the new CD of the New York based band SOUR JAZZ is Rock and Roll like one can only like if one can appreciate something along the lines of ROBBY ROBERTSON, TOM PETTY, BOB DYLAN, LOU REED, VAN MORRISON, a bit depressing sorta way of singing in the Rock and Roll business. I am not a huge fan of this style personally, but fans of mentioned 'legends' and perhaps also if you like THE DOORS, this might be interesting to check out for sure. More info at: http://www.myspace.com/sourjazz
(Points: 6.0 out of 10)
THE BOTTROPS 'ENTERTAINMENT OVERKILL' (DESTINY RECORDS/SONIC RENDEZVOUS)
THE BOTTROPS is a German band whom are playing mostly uptempo Punkrock with Powerpop melodies, sometimes reminding of IGNITE in a song like "H.W.E.N.", but at other times mixing late 80s UK Punkrock, early 80s US Powerpop with critical Gemran lyrics. One way o the other, this band is able to write some really catchy tunes that at first sight sound like a Punkrockband with Pop melodies, even hit sensitive here and there. 16 short tracks are included and most of them are pretty good and THE BUZZCOCKS, THE JAM and such influences can also be heard clearly. 'Entertainment overkill' is the 2nd album of this 2005 formed band and I am quite convinced this band will have a long future ahead of them and perhaps in 20 years time they will be as big as BAP. Their new album definitely shows they offer quality Melodic Punkrock. More info at: www.thebottrops.com
(Points: 8.3 out of 10)
STRUNG OUT 'PROTOTYPES AND PAINKILLERS' (FAT WRECK RECORDS/SONIC RENDEZVOUS)
The Californian band STRUNG OUT was formed way back in 1992 and they were one of the first bands signed to the very successful FAT WRECK RECORDS, the label operated by FAT MIKE of NOFX, a similar band to STRUNG OUT. 17 years later the 8th album of STRING OUT is released. It's not a new album, because 'Prototypes and Painkillers' is a rarities collection. The CD contains 25 unreleased songs the band recorded in the past and were unreleased so far. It is the follow-up their previously unreleased compiled collection CD 'The Skinny Years: Before We Got Fat', which was released in 1998. Musically from start to finish fast uptempo Melodic Punkrock, not far away from NOFX and a bit IGNITE. Not as good as their regular studio-albums, but still the songs are not to be considered real leftovers, because there are some very catchy tunes among these 25 tracks, such as for example "Ghost town". Highly recommended to fans of the band or anyone who likes fast uptempo Melodic Punkrock. Check out their site at: http://www.strungout.com/
(Points: 8.0 out of 10)
ZED IS DEAD 'IF I SURVIVE TODAY' (BLUE TOPAZ RECORDS)
ZED IS DEAD is a Swedish band playing Melodic Hardrock with a Glamrock touch, which of course is nothing that new to be screaming about, but their first CD 'If I survive today' is something you want to check out if you wanna hear a mix between ZAN CLAN, SHA-BOOM and THE POODLES, because that is what this ZEN IS DEAD is all about. Vocally it could be a little better (MIKE TRAMP meets ALICE COOPER with somehow a German accent!), but fans of mentioned bands can easily sing-a-long to tunes like "Soulpollution", Break these chainz" and "Somehow I just feel alive". Not the most sensational release, but fans of typical 80s Glam Melodic Hardrock will like this a lot! More info at: www.myspace.com/zedisdeadtheband
(Points: 8.1 out of 10)
POPPYAND THE USUAL SUSPECTS 'CELESTIAL LOVE JONES' (POPNMAD RECORDS/HEAD FIRST ENTERTAINMENT)
Phoenix, USA based band playing Heavy Bluesrock. Their debut CD was produced by the band themselves, but engineered by GRAMMY AWARDS nominee JOHN GRAY (MICHAEL SCHENKER, MINISTRY). Musically speaking it is pure Bluesrock that sounds like a mix between THE BLACK CROWES, very early FLEETWOOD MAC, BAD COMPANY and NILS LOFGREN, who by the way praised the band. 11 songs are included and it is highly recommended to the Bluesrockfans. Listen for yourself at: www.poppyandtheusualsuspects.com
(Points: 8.0 out of 10)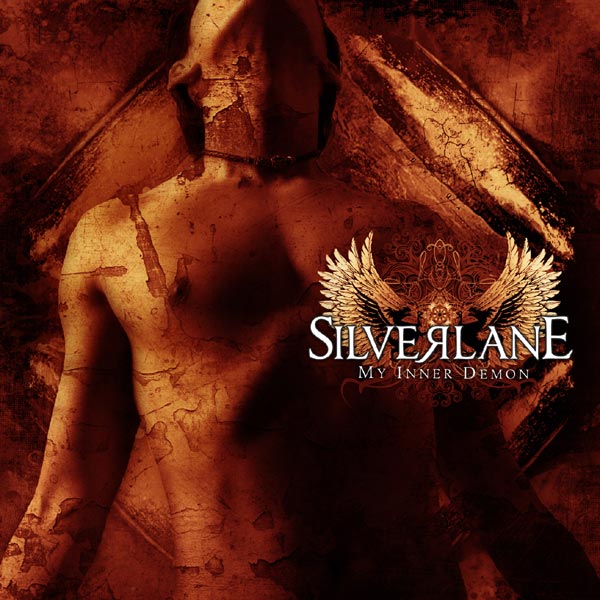 SILVER LANE 'MY INNER DEMON' (DRAKKAR/SONY MUSIC GERMANY)
SILVER LANE is a German band whom released their debut 'Legends Of Safar' in 2005. The band is playing typical German Melodic (Power) Metal a la EDGUY, GAMMA RAY and HELLOWEEN. The new CD 'My inner demon' sounds really impressive. Especially the beginning of the CD is very strong, with 3 uptempo Melodic Metal pieces that contain very catchy choruses ("Wings Of Eternity", "Miracle" and "The Flight Of Icarus "), which will be well appreciated by both Melodic Rock and Power Metal fans as it fits in right between these two worlds. The band also reminds me a lot of DIONYSUS and NOSTRADAMEUS. Later on the CD, the band goes into some various tempo's, with actually quite some midtempo tunes, but they are the best when going for that catchy typical uptempo Melodic Metal approach like on the mentioned first 3 songs. More info at: http://www.silverlane.org
(Points: 8.6 out of 10)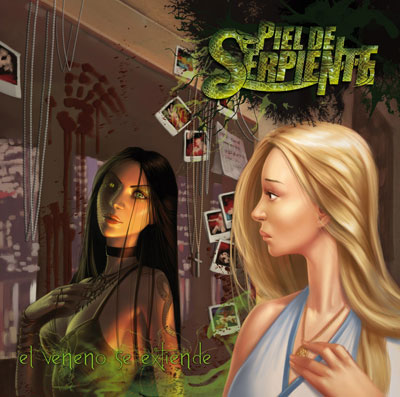 PIEL DE SERPIENTE 'EL VENENO SE EXTIENDE' (KHARTAGO RECORDS)
Now this is quite sensational and another winner for fans of the typical Spanish Melodic Metal sound. ZENOBIA and AMADEUS were 2 more Spanish sung bands releasing sensational albums earlier this year, but now we can add PIEL DE SERPIENTE, whom also follow the footsteps of AVALANCH, TIERRA SANTA, MAGO DE OZ and SARATOGA. Their new CD 'El veneno se extiendo', their 2nd one I believe, it has been released on the KHARTAGO RECORDS label. This label is mainly focused on doing re-issues of rare 80s German Teutonic Metal, but are not shy away from releasing new albums as well. PIEL DE SERPIENTE is doing things very melodic, almost melodic rock ish, yet with Metal riffs. TIERRA SANTA is a good comparison, although perhaps PIEL DE SERPIENTE is even more melodic and very very catchy throughout the 13 included tracks on their new CD. Songs like "El huracan", "Lagrimas sobre el crista", "Vuelve a mi" , "Marioneta", etc. are all very strong catchy and super melodic uptempo Melodic Heavy Rock/Metal pieces. This is definitely a must-have for the fans of mentioned bands and despite the Spanish lyrics that might put some off, the melodies and also vocals of singer Lutfi are really superb. More at: http://cdbaby.com/cd/pieldeserpiente and www.myspace.com/pieldeserpiente and http://www.karthagorecords.de/
(Points: 8.8 out of 10)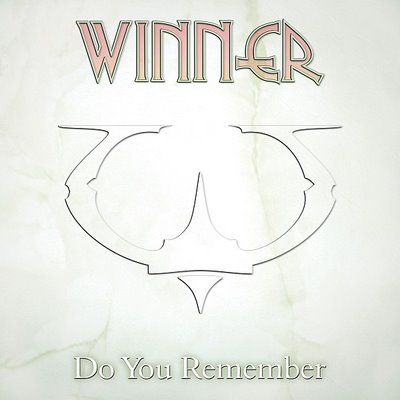 WINNER 'DO YOU REMEMBER' (INDEPENDENT)
Here we have another 'winner' in the AOR/Melodic Rock field from Brazil. This country is by far the leading country when it comes down to deliver quality releases in the South American continent. WINNER is the name of the band and they can be added to the list of other Brazilian AOR/Melodic Rockbands, such as FLAROW, HIGHEST DREAM, CARTOON, ANGEL HEART, etc. etc. 'Do you remember' is the title of their CD and musically it is basically pure 80s AOR/Melodic Rock, reminding a lot of TREAT, DAVINCI and TOBRUK actually, so a sort of Scandi sound can be heard here. Although it is far from original, the songs are very catchy, with as highlights " Far away from love", "In the night", "Dreamer" and "Into the fire". All performed very nicely, with good vocalwork of Jon Sunna, who also plays guitars and keyboards. Check them out for yourself at: www.myspace.com/winnerhardrock
(Points: 8.4 out of 10)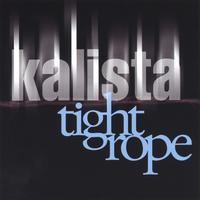 KALISTA 'TIGHT ROPE' (JOLADESH MUSIC)
Already released 4 years ago, but never too late to be reviewed, because KALISTA's CD 'Tight rope' from 2005 is a very impressive album that combines AOR and Sympho/Prog, sounding like a mix between ASIA, GTR, TOTO and PALLAS. I have absolutely no info available on KALISTA, but the American band is formed around vocalist RON KALISTA, multi-instrumentalist MARK LAMAR PLOPPER and bassist JOHN CROARKIN. Everything sounds really great here, with mostly brilliantly played and wonderfully sung Neo-Progressive Rock with quite a lot beautiful melodies on each of the 10 included tracks. Sometimes the band goes for a more straight-ahead approach, such as in "Bad girl" and the wonderful AOR/Pomprocker "Can't give you up" that even sounds like a cross between WHITE SISTER and SURVIVOR! However, most of the songs are a must-hear for the fan of Neo-Prog, as some of the material does remind me of KINO, ARENA, PALLAS, FROST, IT BITES, BLIND EGO and such… The sound and production is also quite incredible, so check out this album asap, despite the fact it has been released in 2005. Still sounding superfresh and sensational at times. Available and more info at: http://www.ronkalista.com and http://cdbaby.com/cd/kalista2 and e-mail at: rkalista@lakefield.net
(Points: 8.7 out of 10)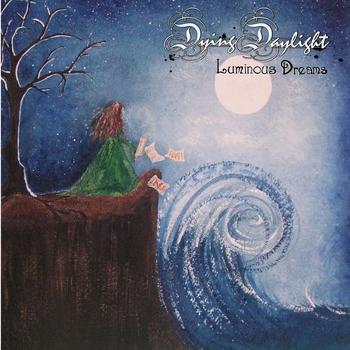 DYING DAYLIGHT 'LUMINOUS DREAMS' (INDEPENDENT)
Back to Finland once again, where we can find the female fronted band DYING DAYLIGHT. A band formed in Vantaa in 2003 by keyboardplayer Ville Skon. Actually in the early years they had no singer, but still released some albums in the beginning, which were instrumental. However, it all really became interesting when female singer Suvi Virtanen joined the band in 2007. They recorded a new album titled 'Luminous dreams', which sounds quite sensational to be honest. Suvi is an excellent singer, who reminds a lot of LANA LANE, with some high-pitched Soprano-vocals a la TARJA here and there. The music itself is a mix of Gothic Metal and super Melodic heavy Rock/Metal, so the songs are loaded with big riffs and melodies all over the place. LANA LANE meets NIGHTWISH meets EPICA is a good thought, although the songs are clearly more polished and very catchy at times. This album should not be missed by any fan of Female Fronted Rock/Metal! Unbelievable they are still unsigned! Make sure you check out this band at: http://www.myspace.com/dyingdl
(Points: 8.6 out of 10)
CONCEPT OF TIME 'A NEW STATE OF THOUGHT' (INDEPENDENT)
One listen and one hears that we are dealing here with a very professional sounding band, whom should be able to reach greater heights in the near future. The band is called CONCEPT OF TIME and they hail from Scotland, which is quite rare, because they play Progressive Metal, which is as far as I know a genre not familiar in that part of the UK, because in the past I have never reviewed a band playing it. However, CONCEPT OF TIME are about to change that, because their 5-track mini-CD 'A new state of thought' is a lovely little record that combines NEVERMORE, THRESHOLD and EVERGREY. It is done so well that when hearing the songs you actually think this is a major label release. Fans of darker Melodic Progressive Metal in the style of mentioned bands will absolutely love this record a lot! This band should be watched out for in the coming period, because who knows what happens if a label is going to help them out on releasing a full-length album. For now, fans of especially EVERGREY should go check out this CONCEPT OF TIME from Scotland at: www.myspace.com/conceptoftime and e-mail them at: conceptoftimemusic@yahoo.co.uk
(Points: 8.5 out of 10)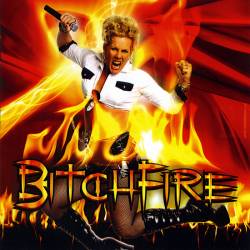 BITCHFIRE 'BITCHFIRE' (INDEPENDENT/TWO SIDE MOON PROMOTIONS)
Here we have a great new female fronted Melodic Hardrock/Metalband called BITCH FIRE. They are settled in South Florida and feature a new Rock Goddess hailing from Boston called SHARYN PEACH, who has got a real great strong voice that can easily lift up the band's songs on the first CD. I hear similarities, both musically and vocally to a 80s LITA FORD, LEE AARON, GIRLSCHOOL, ROCK GODDESS, ROUGH, BITCH/BETSY, WARLOCK and such. Without a doubt, we have here a winner for the fans of catchy 80s staroght-ahead uptempo Melodic Heavy Rock/Metal with screaming but clean melodic 80s inspired vocals and ripping guitarwork, which by the way (guitarist is called Donny-Sutton Brown) is also sounding quite sensational. All together a highly recommended piece to fans of mentionef female fronted acts, although 80s QUEENSRYCHE, PRIEST and such are also right around the corner here, yet with the powerful female vocals of Sharyn. Highlights are "Headlines", "Fly high", "Bitchfire" and "Found me again". Really not far away from other similar new female fronted bands, such as HYSTERIA, NASTY TENDANCY and such, so make sure not to miss this release if all these words are convincing you to check out this great new female fronted band BITCHFIRE from Florida. More info at: www.myspace.com/bitchfire and e-mail them at: FLeverglades@aol.com
(Points: 8.5 out of 10)
KINLIN 'KINLIN' (INDEPENDENT)
KINLIN is a typical modern day sounding American Melodic Nu-Metalband, whom now releases it's 2nd album. The band from Florida reminds a lot of bands like DISTURBED, THREE DAYS GRACE, SEVENDUST, SALIVA and especially SHINEDOWN. The band throws a lot of superstrong melodies into the 9 included tracks, so vocally it is happily very clean and melodic thanks to a great singer called DEWAYNE HART, who also plays guitar and does that very well too actually! In fact, opener "1" sounds like the absolute perfect modern day Melodic American Nu-Metal song, easily beating DISTURBED and SHINEDOWN! Also the following tracks are really great, with like mentioned before some excellent almost 80s inspired guitarwork and great vocalwork, but at times also some really modern parts. Must-have for fans of mentioned bands! More info at: www.myspace.com/kinlin and e-mail them at: KinlinRocks@aol.com
(Points: 8.3 out of 10)
P.A.I.N. MANAGEMENT 'LOBOTOMY' (STF RECORDS)
P.A.I.N. MANAGEMENT is a new German band playing aggressive modern Metal, with influences of Progmetal and also Classic Metal. They are sometimes very modern and aggressive, but also here and there quite melodic, while also some pure Progmetal parts can be heard. EVERGREY meets NEVERMORE, yet with also some PANTERA/METALLICA/TOOL/MASTEDON influences (in the vocal department), that's what P.A.I.N. MANAGEMENT is all about on their first CD 'Lobotomy', released on STF RECORDS. Sound quality is huge and songs like "Weak", "Dark star" and "Open knife" do sound pretty good, although if you're a Progmetal you must dislike the sometimes very aggressive almost death growling way of singing, but TOOL/MASTEDON fans will like this a lot. More info at: www.pain-management.de
(Points: 7.6 out of 10)
HANDS OF TIME 'HANDS OF TIME' (STF RECORDS)
HANDS OF TIME from Italy is a band stuck in the 1980s and they do remind so much of that legendary Italian band CRYING STEEL, of whom I bought a CD 20 years ago in a bargain bin for 1 Dutch guilder (equal to 0,50 Euros nowadays). Anyway, to make a long story short, this HANDS OF TIME is playing Hardrock with high pitched vocals, just like we heard it in the 1980s all over Europe. AXXIS, PRIEST, KROKUS, NITRO, ERIC STEEL… are just some of the bandnames that come to mind here and I'll bet there are purists out there really enjoying the sounds of the 1980s Euro Hardrock/Metal… they will definitely enjoy this CD. Fans of the big sounding Melodic Metal/Hardrock of nowadays might find this HANDS OF TIME sound a bit too dated. Also vocally the band really need to improve in the future to make a good impression. Still, fans of mentioned bands will find something of interest in here I think… More info: www.myspace.com/handsoftimerock
(Points: 7.7 out of 10)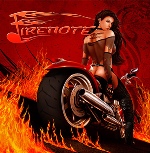 FIRENOTE 'FIRENOTE' (IVK MUSIC)
Finland and Melodic Hardrock… In the 1980s these two words did not connect at all, but the match nowadays seems to get closer and closer. BROTHER FIRETRIBE stand proud and loud on the top of the Melodic Rockscene, but there are quite a few more bands out there in Finland releasing high quality Melodic Rockalbums. Take for instance this FIRENOTE. They have released a very impressive CD that looks (artwork!) and sounds a lot like LEVERAGE, ARI KOIVUNEN and BROTHER FIRETRIBE, although vocally FIRENOTE has a singer (Ricky) who is more going into the STRATOVARIUS/EDGUY kinda high pitched direction, so with a slight typical Northern European accent. However, the songs are sometimes very catchy, such as the uptempo Melodic Rocker "Danger" that sounds like a cross between SUPREME MAJESTY and STRATOVARIUS. Other highlights are the uptempo melodic rockers "Sara La Fountain", "Mayday", "Heartbreaker", "She stole my speedos" and "Suddenly". All together the band has a very 80s Scandi Melodic Rock type of sound, which reminds one a lot of bands like TREAT, DALTON, DAVINCI, FATE, etc. etc. FIRENOTE, a new bandname to check out, especially if you're a Melodic Rock junkie… then jump over to www.firenote.com and http://www.myspace.com/firenote
(Points: 8.7 out of 10)
BLACK DAISY 'DISTURBING NEW FASHION' (INDEPENDENT)
BLACK DAISY is a band from Dublin, Ireland and the most interesting thing about them is that first of all they are an all-female band (THE DONNAS, THE RUNAWAYS…) and secondly they participated in the 2009 Eurovision Song Contest for Ireland with a very catchy uptempo 80s Melodic Poprock tune. However, they have been active since 2005 and in 2008 they released a mini-CD titled 'Disturbing new fashion'. This 4 tracks counting little album is filled with strong 80s influenced Melodic Rock/Heavy Rock, sometimes reminding me a bit of PRECIOUS METAL, some early 80s PAT BENATAR and also THE DONNAS in the album's finest track "Drive". Not as catchy and AOR based as the Eurovision song "Et Cetera", which is not included here, but definitely a band worth checking out if you like female fronted rock. Hopefully in the near future we will hear much more from this exciting all-female rockband from Ireland. Do check them out for yourself at: www.blackdaisyband.com and www.myspace.com/blackdaisy2008
(Points: 8.3 out of 10)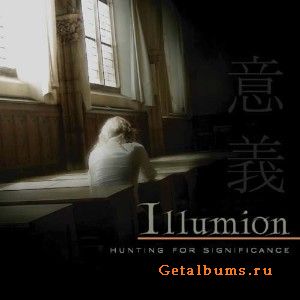 ILLUMION 'HUNTING FOR SIGNIFICANCE' (PROGRESS RECORDS)
The Dutch did it again… It seems like 2009 will be 'the Dutch Female Fronted sensational albums year', because after so many great new albums with a female singer (STREAM OF PASSION, DELAIN, AUTUMN…), we can add another. This is the band ILLUMION, which started in 2002 by guitarist EVELINE VAN KAMPEN and bassist/keyboardplayer PETER H. BOER. In the years to follow 3 more female musicians joined the 2 founding members and together they are ILLUMION. The band has a great female lead singer called ESTHER LADIGES and the music is a very unique atmospheric sort of melodic Symphonic/Progressive Gothic Rock, sorta like a mix between MOSTLY AUTUMN, KARNATAKA, MAGENTA, THE GATHERING and a lighter AYREON. Eveline is a superb guitarist, which can be heard very clear on each and every of the 11 included tracks. Most of the songs are very relaxing, with beautiful vocal and guitar melodies, with as highlights "Into the labyrinth", "Under the harrow", "Died for beauty" and "The bliss". Definitely a CD to check out asap! More info at: www.progressrec.com and www.illumion.net
(Points: 8.7 out of 10)
ADVENTURE 'BEACON OF LIGHT' (PROGRESS RECORDS)
4 years ago the Norwegian duo ADVENTURE released it's debut CD and now follows it up with a new album. Musically nothing has changed and also this time TERJE FLESSEN (guitars, bass) and ODD ROAR BAKKEN (keys, acoustic guitar) bring Classic Rock with Prog and Doom influences, sorta like URIAH HEEP, RAINBOW and DEEP PURPLE with vocalwork a la BUDGIE, BLUE OYSTER CULT, JETHRO TULL, so a bit raw and out of the ordinary. The music therefore sounds very retro 1970s orientated, but without a doubt from start to finish quite well actually. The duo has been helped by a bunch of Norwegian session musicians, including a few unknown lead singers. Although I would not call it a sensational release, I am quite convinced fans of mentioned bands might wanna check out this release asap! More info at: www.progressrec.com and www.myspace.com/adventurenorway
(Points: 8.0 out of 10)
CRISES 'CORAL DREAMS' (7 HARD)
7 HARD is a new German label and they sent me a bunch of releases, of which some are really interesting ones. CRISES for example is a very sensational band actually, because their CD 'Coral dreams' contains fantastic melodic Progressive Metal with a modern American Rock approach. Thanks to the tight production, incredible guitarwork of ONDREJ HURBANIC (who also plays keys and writes almost all songs together with the vocalist) and superb vocalwork of singer DOMINIK ECKERT as well as loads of beautiful melodies (hooks and choruses), their new CD 'Coral dreams' is a highly recommended album to check out. Imagine a sound somewhere between EVERGREY, DREAM THEATER and modern American Rock (SHINEDOWN) and you're close to CRISES. They love their melodies and they do that very well on the 12 tracks of this CD. Highlights are opener "Joan" (a Progmetal masterpiece), "Faker" (clear American modern Rock influences during the chorus with also big Progmetal riffs) and the SHINEDOWNish "Stormy weather" and "Horizon". CRISES are not a new band, because they were formed way back in 1995 and 'Coral dreams' is already their 6th CD! A surprise their new album, which sounds quite impressive and therefore definitely an album to check out, all info of this German band at: www.crises.de
(Points: 8.5 out of 10)
THE LOVE ME NOTS 'DETROIT+IN BLACK AND WHITE' (BAD REPUTATION RECORDS)
Here we have a very impressive album of a band called THE LOVE ME NOTS, who are coming out of Phoenix, USA and are playing pure late 1960s Garage Rock, reminding a bit of JEFFERSON AIRPLANE and SHOCKING BLUE actually. The band has a very strong female lead singer and most of the 13 included tracks really sound like the latest sensation from the 1960s. Imagine if this album was released back in 1968, I'll bet the press would be all over it! Anyway, as Garage Rock seems more popular than ever nowadays, this band has a bright future ahead of them, because this album offers from start to finish nothing bit high quality original Garage Rockmusic. Make sure to check out this band at: www.myspace.com/luvmenots
(Points: 8.5 out of 10)
MAFUBA 'NOTHING COMES TO THE END' (PARADISE RECORDS/7 HARD)
MAFUBA is a rather modern sounding Heavy Rockband from Germany, whom were formed back in 2002 and released their debut album 3 years later. 'Nothing comes to the end' is the follow-up, which was actually released in 2007. Musically they are going into the modern Heavy Rock genre, with slightly depressive vocals and remind me a lot of the American bands HINDER, BUCKCHERRY, SEVENDUST and a little NICKELBACK. Not bad at all, also sounding very professional, but still missing an own face most of the time. Still interesting enough to check out if you like the modern American way of Rock. More at: www.myspace.com/mafuba and www.mafuba.net
(Points: 8.0 out of 10)
VINDRA 'UNFINISHED SYMPHONY' (BLUE TOPAZ RECORDINGS)
The Swedish label BLUE TOPAZ RECORDS is most of the time focusing on releasing Melodic Hardrockalbums, but the first full-length album of the 2004 formed Swedish band VINDRA is definitely a little more modern Rockbased, yet not forgetting some strong melodies. The band has a very strong lead singer called CLIFF LJUNG and most of the 11 included tracks are very radio-ready actually. The band's sound is not that far away from the current British Rock movement, although perhaps VINDRA has that additional typical Swedish Melodic Rock touch here and there, which makes them a little more interesting for the Melodic Rockfans for sure. Do check them out at: www.vindra.se
(Points: 8.3 out of 10)
CTA 'FULL CIRCLE' (7 HARD)
CTA stands for CALIFORNIA TRANSIT AUTHORITY, which is a very unique band because they combine Big Band, Soul, Jazz and Progressive Hardrock into 1 style, which is sorta sounding like a mix between RUSH, BLOOD, SWEAT&TEARS and CHICAGO. The band has a great Soul lead singer, who is easily able to sing like JAMES BROWN or like any other legendary Soul singer, which without a doubt gives this band a big push forward. Together with their own style, the band could easily become huge, although the music is not really accesable for the big audience. However, be sure to check out this very original band, because they might become very popular if they have a lucky break someday somewhere. More info at: www.ctatheband.com
(Points: 8.3 out of 10)
M.A.D. 'FOR CROWN AND RING' (7 HARD)
M.A.D. stands for MANIACAL AREA DAMAGE, which is a pure Hardrockband like one could hear during the early 80s, so a comparison to especially the German/Swiss bands MASS, KROKUS, ACCEPT, TYRANT and such is very easy to make. The vocals are raw, the songs are mostly uptempo and rough ballsy right-in-your-face pure Hardrock based on the classic AC/DC rhythm. Maybe not original, but it does sound pretty nice and especially live this should go down well, as the band's lead singer is easily able to sing and shout as good as the legendary BON SCOTT and MARC STORACE. The band also adds a pure MANOWAR tune ("Crown and ring") on their CD, but most of the time it is uptempo Classic traditional Hardrock what we get to hear. More info at: www.mad-rocks.de
(Points: 8.2 out of 10)
STEELY HEAVEN 'FAR BEYOND HEAVEN…RIGHT BEFORE HELL' (INDEPENDENT)
The Brazilian band STEELY HEAVEN started 12 years ago under the name HALLOWED. In all these years they managed to release only an EP back in 2003, but now in 2009 they are proud to present their first full-length album titled 'Far beyond heaven…right before hell'. Musically this is a pure Melodic Metal affair, which is so typical Brazilian, but also has clear influences of EDGUY. The band has come a long way, but they are now finally able to deliver a good quality album. Despite it is a small budget production and the album has been released independently, STEELY HEAVEN is playing a good deal of Melodic metal, with as highlights somehow the final tracks of the album, namely the epic "Flying with an angel" and "Holy light", 2 very long tracks by the way. Not as huge sounding as for example ANGRA, this STEELY HEAVEN is definitely worth checking out, especially if you like EDGUY. More info at: http://www.myspace.com/steelyheaven and http://steelyheaven.com.br/
(Points: 8.3 out of 10)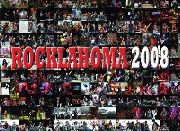 VERNON L. GOWDY 3 'ROCKLAHOMA 2008 BOOK' (INDEPENDENT)
Hair Metal Heaven is what I would call the ROCKLAHOMA Festival that takes place each year in the city of Pryor, Oklahoma, USA. In 2009 it will be the third time this big 80s tribute festival is being held and this year BONFIRE, NIGHT RANGER, RATT, VIXEN, NELSON, TWISTED SISTER, SKID ROW, GREAT WHITE, WARRANT, DANGER DANGER, KIX, KEEL and many others (including some more Power/Thrash Metal orientated acts) will make their appearance on one of the biggest US festivals. In 2008 the 2nd annual edition was held and photographer VENON L. GOWDY 3 was present to shoot some incredible photos of this edition. Vernon is a professional photographer, who included 450 photographs in his book 'Rocklohoma 2008', which has been released as a beautiful coffee table book. 130 pages are filling up the book and almost every act that performed has it's photo included and Vernon being the professional he is these pics all look very impressive to say the least. The 2008 line-up of the 5-days counting Festival included acts like AXE, ZEBRA, TRIUMPH, QUEENSRYCHE, KIX, LITA FORD, PRETTY BOY FLOYD, NIGHT RANGER, EXTREME, XYZ, FIREHOUSE, RATT, DOKKEN and many more. Basically 5 days the best Classic 80s US (mostly!) Hard Rock one could think of and it has all been captured in this excellent Book. The beautiful pictures come along with some nice commentary on each band, which gives it a finishing touch to learn what was played by each band and how the atmosphere was. Even some of the smaller bands, whom performed on the sidestage, they are being featured, including bands like BILOXI, HARLOW, SHY TIGER, FRONTRUNNER, GYPSY BLUE, LORRAINE, WILD AUGUST, etc. etc. All together a wonderful event, which had a slight turn-down when a Blizzard/Thunderstorm found it's way right through the Festivalarea, with high winds, pouring rain, extreme thunder and lightning, making a complete mess of some of the side stages of the festival. Happily the Festival could continue and finish it off as a very successful event that will be held each year somewhere down in Oklahoma. 5 days of Hair Metal Heaven and especially this Book will be interesting to those who are not able to attend. If only I could ever visit this Festival, well that would be the best time of my life for sure and when judging from the excellent pictures in this highly professional Book it is something to consider in the next few years… but don't wait too long, because most of the musicians are reaching the tender age of 50 by now! Anyway, this well documented Book is available through: www.rocklahomabook.com and more info on the photographer VERNON L. GOWDY 3 at: www.vernongowdy.com
(Points: 8.6 out of 10)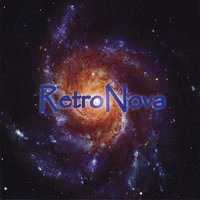 RETRONOVA 'RETRONOVA' (RETRONOVA ROCK MUSIC/TSM PROMOTIONS)
RETRONOVA is a band from New York playing a pure mid 70s/early80s Midwestern US Pomprocksound a la HEAD EAST, STARCASTLE, ROADMASTER… yet not as sensational as those legendary acts. Nevertheless, fans of mentioned bands might be enjoying this quite a lot. Vocally it is a bit rawer, but with songs like the catchy uptempo "Tonight", "Still some times" and "Never again", the band definitely has something to offer for fans of bands like REO SPEEDWAGON, ROADMASTER, HEAD EAST, AIRRAID, AMBROSIA and such. Although not really AOR/Melodic Rock based, the band goes very melodic into the already mentioned "Tonight", which is definitely the absolute best song on the CD. For some it all might sound quite dated as it really sounds like the American wave of bands from 30+ years ago, but for fans of that good old American Classic Rock sound (with 3 different singers) in the style of mentioned bands, this is worthy to check out asap at: www.myspace.com/RetroNovaRock
(Points: 8.1 out of 10)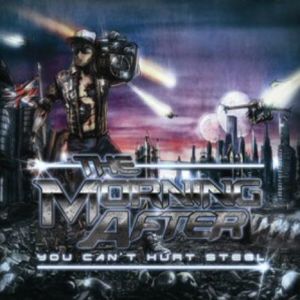 THE MOURNING AFTER 'YOU CAN'T HURT STEEL' (RISING RECORDS)
4 Young guys from the deep south of England, Essex to be exact, together they are a new sensational band called THE MOURNING AFTER. Sensational due to a CD they released which is filled with superb catchy 80s Melodic Rock choruses, just listen to songs like "Hell And High Water", "Glitter And Bombs" and "Crush Kill Destroy" and you're hooked forever! However, the thing that will keep them from becoming CD of the year are some useless Cookie-Monster/Death-Growls that pop up here and there. If they would get rid of them, well 'You can't hurt steel' could have probably become the CD of the year, easily beating THE POODLES or WIG WAM for that matter! Not sure why they have included these growls, because the band has a fantastic lead singer, who is singing very good, clean and super melodic, but sadly feels the need to growl sometimes too (except in the AOR/Melodic Rockballad "In The Heart Of The Young"!). Instrumental it does sound very impressive as well, dual-twin-guitarwork in best British tradition and the songs are mostly uptempo Melodic Rock (and a little Power Metal) based, ending up sounding like a mix between a slower DRAGONFORCE, INTO ETERNITY (the choruses!), SHY/LIONHEART (!) and the IRON MAIDEN guitarsound. Very surprising and a band to watch out for in the future… If they drop the growling, well be sure then to except CD of the year contender, but for now still one not to miss if you're a dedicated 80s melodic rockfan! More info at: http://www.myspace.com/themorningafterrock
(Points: 8.5 out of 10)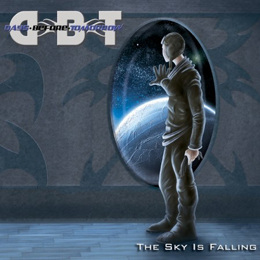 DAYS BEFORE TOMORROW 'THE SKY IS FALLING' (INDEPENDENT)
The biggest and most shocking surprise for me was when this CD landed on my desk and I noticed that none-other than RON NEVISON produced the album of this New Jersey based band called DAYS BEFORE TOMORROW. Ron of course is a true legend in the AOR/Melodic Rock field, because he produced albums of EUROPE, KISS, DAMN YANKEES, FIREHOUSE, HEART, JEFFERSON STARSHIP, LED ZEPPELIN, THE WHO and of course the best album of all times for me personally, SURVIVOR's 'Vital signs'. I still do not know how he did it, but that SURVIVOR record from exactly 25 years ago is his ultimate production, basically the absolute perfect album of all times, just impossible to beat ever! Although JOURNEY is AOR perfection for some, that SURVIVOR album is basically the absolute best and most pure AOR record ever made, with a big thank you to the production of RON NEVISON. So you see, Ron is for me a true hero, as also all his other productions sound so great and therefore I was already be prepared for something really good here. And he seems to be back at the right seat here, because DAYS BEFORE TOMORROW's debut full-length CD 'The sky is falling' is an excellent record that combines classic Progressive Rock with beautiful AOR melodies, partly thanks to the superb vocalwork of ERIC KLEIN, who sounds like an amazing mix of the lead singers of STYX, KANSAS, ENCHANT and CAIRO. This guy easily beats anyone else in the music business today, what an amazing range, so perfectly clean melodic singing you don't hear that much these days, but this guy nails it easily all throughout the CD. Although the members of DAYS BEFORE TOMORROW met each other in the 1980s, they really formed the band in the 2000s and somehow it wasn't until just recently things started to look very bright, because they were joined by members of well-established Progrockbands ETERNITY X and MAGELLAN on bass and drums. After loads of rehearsals and releasing a debut EP in 2006, they were praised in the Billboard Magazine and then somehow somewhere RON NEVISON stepped in as producer of their first full-length CD and also EARL COHEN (TINA TURNER, CHRISTINA AQUILERA and USHER) got involved as mixer of the record. Then they were nominated for record of the year 2009 at the L.A. Music Awards to be held later this year and also soon they will be opening for the legendary keyboardplayer KEITH EMERSON (EMERSON, LAKE and PALMER). So now it's June 2009 and here we have that debut album of DAYS BEFORE TOMORROW, which I did not expect to be this good, because just everything sounds perfect here. The production of Ron is superb, as huge as the major label classics he did in the past and melodies are all over the place here. Sure it's Progressive Rock what we get to hear, but very radiofriendly as well and also quite innovative in the arrangements, but always bringing beautiful vocal lines and melodies as well as memorable choruses. Already mentioned that STYX meets ENCHANT meets CAIRO meets SHADOW GALLERY and a little RUSH might be the best description here, because it combines the best of these 5 bands. For an independent release, this CD almost blows away any major label release, thanks to the high quality of the included 14 songs, which will please any music fan. Unlike many other Progrockbands out there, DAYS BEFORE TOMORROW choose the American way of Prog, which is more melodic and taking it's influences from 1970s Pomprock (STYX, KANSAS, STARCASTLE, TRILLION…) actually. Concluded, here we have a really special release that truly deserves attention from every well-respected music fan out there. Check them out at: www.daysbeforetomorrow.com and http://www.myspace.com/daysbeforetomorrow
(Points: 9.2 out of 10)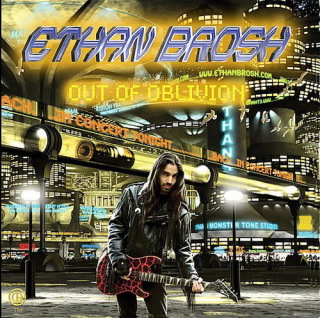 ETHAN BROSH 'OUT OF OBLIVION' (MAGNA CARTA RECORDS)
Guitarist ETHAN BROSH is coming out of New York, but grew up in Israel. He learned to play both electric and classical guitars and in 2001 he received a scholarship to the famous Berklee college of music in Boston. In 2004 he graduated with honors and got a degree in songwriting and now works as a teacher at Berklee. He also released a solo-CD on MAGNA CARTA RECORDS titled 'Out of Oblivion'. What we get to hear on this CD is the perfect answer why this guy has earned a degree, because it is filled with some of the finest guitarwork since the days of STEVE VAI, JOE SATRIANI, TONY MACALPINE, YNGWIE MALMSTEEN, JASON BECKER… Incredible melodies can be heard here out of the guitar of Ethan, spread on 11 instrumental songs, mostly Neo-Classical based a la mentioned musicians, but also some Melodic Rock such as in the lovely midtempo "Ancient land" (a la NEAL SCHON). The sound/production is also excellent (thanks to CHRIS TSANGARITES of OZZY/PRIEST/MALMSTEEN fame) and nothing seems to be standing in Ethan's way for this CD to become the instrumental neo-classical shredding CD of the year 2009! Funny thing is that Ethan even has a few 'famous' guest guitarists on his CD (GEORGE LYNCH, JOE STUMP, STEVE HOWE), but he doesn't actually need them, because this guy can easily do it on his own! Combined with the artwork of DEREK RIGGS (IRON MAIDEN fame), this CD should be a must-have to any guitarist and perhaps an important chaper in the Rock History, because who knows where this guy will end up someday! Besides the solo-CD, Ethan also is now the guitar player of the new band ANGELS OF BABYLON along with Rhino (Man O' War, Holy Hell), David Fefolt (Forgotten Realm, Valhalla) and David Ellefson (Megadeth) and their album 'Kingdom of Evil' will be released sometime in late 2009. In the meantime check out this sensational CD at: http://www.ethanbrosh.com/main.html and www.magnacarta.net and www.b-lysiak.com
(Points: 9.0 out of 10)
DAVE MARTONE 'CLEAN' (MAGNA CARTA RECORDS)
DAVE MARTONE is a highly skilled Canadian guitarist, who played with 3 DOORS DOWN, YNGWIE MALMSTEEN, JENNIFER BATTEN, GREG HOWE, MIKE PORTNOY, MARTY FRIEDMAN and many more. His latest record 'Clean' has been released on MAGNA CARTA RECORDS and features some excellent instrumental guitar orientated rockmusic, with of course a main focus on Dave's excellent guitarplaying, which is technically speaking of a very high level, making it a pleasure to listen to all the 11 included tracks on his new CD. Accompaning Dave are drummer Daniel Adair (NICKELBACK) and bassist David Spidel. Special guests on this record are JOE SATRIANI, GREG HOWE, JENNIFER BATTEN, BILLY SHEEHAN and RICK FIERBRACCI, so all together a CD to own if you're into the instrumental guitar based direction. More info at: www.davemartone.com and www.myspace.com/davemartone
(Points: 8.4 out of 10)
VARIOUS ARTISTS 'GUITARS THAT ATE MY BRAIN' (MAGNA CARTA RECORDS)
Here we have a nice compilation CD of the world's finest instrumental guitar based label MAGNA CARTA RECORDS (still a pity they do not release much vocal orientated Progmetal these days as they used to do). 12 guitarists are included here, such as CHRIS POLAND, SHANE GIBSON, JAMES MURPHY, MIKE ORLANDO, PAUL WAGGONER, KRIS NORRIS… All playing very well and showing there are so many talented guitarists out there. Most of the included guitarists are actually known for playing in bands like STRAPPING YOUNG LAD, OHM, SOILWORK, TESTAMENT, KORN (!), GUNS'N'ROSES (not SLASH!), DARKEST HOUR, BETWEEN THE BURIED AND ME, but on this CD they show they can also play the typical instrumental Guitar Rock/Metal, so this is a must-have for the guitarfreaks! Final mention is the fact that most of the backing up is done by drummer DENNIS LEEFLANG and bassist/rhythm guitarplayer JEREMY KRULL. More info at: www.magnacarta.net
(Points: 8.2 out of 10)
(All reviews by Gabor Kleinbloesem except where noted)