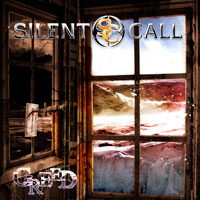 SILENT CALL 'GREED' (ESCAPE MUSIC)
The Swedish band SILENT CALL released their debut 'Creations from a chosen path' in 2008 and now follow it up with the new album 'Greed', released on ESCAPE MUSIC. Without a doubt, this album sounds like a masterpiece, basically picture perfect and a must-have for any fan of Melodic Progressive Metal. It sounds typical Swedish, really not far away from COLDSPELL and SEVENTH WONDER, with amazing vocalwork of ANDI KRAVLJACA, who sounds a bit like THOMAS VIKSTROM meets MARK BOALS. Vocally, instrumentally, the songs, the choruses… basically everything sounds superb, so a true winner we have here! Songs like "Dream tomorrow", "Every day", "Unbreakable" or "The wages of greed", it's all super sensational Melodic Progmetal at it's very best! Perhaps one of the highlights in 2010 in this never-ending genre! More info at: www.silentcall.se
(Points: 9.0 out of 10)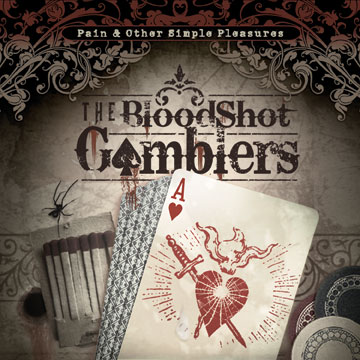 THE BLOODSHOT GAMBLERS 'PAIN AND OTHER PLEASURES' (DEMON DELUXE RECORDS)
THE BLOODSHOT GAMBLERS is a 2-piece band from Arizona, USA and although at first sight I was completely unaware what to expect here, it became clear that after the first few seconds of opener "My broken record", this band had a very strong original sound and really had something to offer. In the end, it was a pleasure to listen to the 13 included tracks on their debut 'Pain and other pleasures'. The band was actually born in Las Vegas, formed by "Hillbilly Tim" (aka Tim David Kelly of Kicking Harold & The Skies Of America) & "Country Mac Brian" (aka Brian Anderson of Kicking Harold and Ten Times Gravity), and this first album contains music that could be classified as the best of American Rock from the 1970s, the 1980s, the 1990s and the 2000s, so it's a mix-up of all Rockgenres of the past 4 decades, sometimes groovy and 70s based, then again with a sorta 80s Melodic Hardrock approach and then suddenly you're confronted with a modern day sounding Rocksong. However, thanks to the excellent 80s Hair Metal style lead vocals of singer/guitarist TIM DAVID KELLY and the fact that each song has a catchy chorus, the band will mostly appeal to the Melodic Hardrockfans, although THE BLOODSHOT GAMBLERS add a definite own approach to the overall sound. They remind me a lot of LILLIAN AXE, with sometimes a touch of TESLA and throw in a little of ENUFF'Z'NUFF and NARO here and there, while not forgetting something along the CREED road and you basically end up with this rather original band called THE BLOODSHOT GAMBLERS and their CD 'Pain and other pleasures'. Closing track "A brand new day" by the way is a dead ringer for fans of RUBBER and DOCTOR ROCK AND THE WILD BUNCH, two spin-off bands from Canadian heroes HAREM SCAREM. When you're starting to become interested, please go for more info to: http://www.myspace.com/thebloodshotgamblers
(Points: 8.2 out of 10)

BAT RACERS 'BIG CASH' (BPO RECORDS/TSM SLW PROMOTIONS)
BAT RACERS is a band from Memphis, USA and they play pure 70s orientated Progressive/Classic Rock. If one would tell me that this is a re-issue of a 70s record I would instantly believe it, but BAT RACERS is really a new band with 6 tracks on their CD 'Big cash'. Although to some it might sound a little dated, but what they are doing they are doing very well and for fans of let's say RUSH, MOXY, HEAVY METAL KIDS, MONTROSE and such this BAT RACERS is highly recommended. More info at: www.batracers.com
(Points: 8.0 out of 10)
FULL MOON 'SAMPLER CDR' (PETERLAKE RECORDS)
FULL MOON was a UK based band active during the 1980 and judging from this sampler CD alone, I get the feeling this was a very good band that should have been bigger, because as far as I know they were sadly only known in the underground scene, although the fact sheet mentions thy had several hitsingles back in the day (including the very impressive song "Nemesis", which is an epic progrock almost classic rock sounding tune a la BUDGIE). Anyway, 18 years after their split, the band is planning a BOX SET release sometime later this year, which will include all their records. In the meantime, this sampler CD gave me the preview I needed, because I had never heard of FULL MOON before and I for one am already looking forward to this Box release, which will of course also be reviewed in detail when it's released. The band is playing a sort of Melodic Progressive Rock style, which also includes elements of early 70s Psychedelic Rock, 70s British Classic Hardrock and some typical 80s Rock, mix it all up and you have the FULL MOON sound. Some songs are pure 80s orientated, yet a lot of times they do have a strong LED ZEPPELIN meets HAWKWIND kinda approach, which made them sound rather original in the late 80s, but even today they do sound up-to-date and fresh. The guitarwork is very impressive for sure, with some excellent solo's here and there, referring clearly to the 1970s Classic Hardrock. Hopefully soon a full review of their Box set, but now you can contact FULL MOON's very own ANGEL WALKER (aka GRAY WALKER) for more info at: jedhiwalker@yahoo.com and jedhirecords@yahoo.co.uk or PETERLAKERECORDS@YAHOO.CO.UK
(Points: 8.3 out of 10)
THE MADE UP TUESDAYS 'THE GOD PARCTICLE' (PETERLAKE RECORDS)
THE MADE UP TUESDAYS is a band from the UK, which is formed around ANGEL WALKER, a musician who previously was a member of the band FULL MOON, a band we reviewed somewhere else recently, but anyway, with this new band he musically goes into a slightly different direction, which is a laid-back somewhat Lounge ish orientated music. Instrumental and quite experimental at times, this band is definitely something else than what we usually review. Check them out for yourself at: www.themadeuptuesdays.com
(Points: 7.5 out of 10)
THE LIDOCAINE 'THE VOICES AND NOISES OF KILING KOLING' (INDEPENDENT)
THE LIDOCAINE is a band from Finland with a raw Rock and Roll sound that has some MOTORHEAD and BACKYARD BABIES similarities here and there. The band released a CD, which consists of 10 tracks that are mostly uptempo and feature rather unusual vocalwork (THE DARKNESS without the high pitched screams). The songs are not that bad actually, but still I do think not everyone will be pleased with the vocalwork, which just sounds a little weird sometimes. Even funnier is the fact that the band has 2 lead singers and one can clearly hear that the best vocalist is also singing the strongest tunes, which are "Left overs" and "Words that smell". More info at: www.thelidocaine.com
(Points: 7.6 out of 10)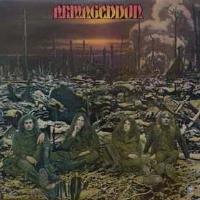 ARMAGEDDON 'ARMAGEDDON' (ESOTERIC RECORDS)
ARMAGEDDON were a legendary band from the UK, active in the early 1970s for only a really short period, but enough to create a buzz in the scene that lived up until the present day. Now 36 years after it's original vinyl release, we finally see a CD re-issue that does justice to this legendary record. The band was formed by KEITH RELF, who was a founder member of THE YARDBIRDS and also RENAISSANCE, while after the split of ARMAGEDDON, he would continue with yet another new band named ILLUSION, but sadly that never happened as he tragically died in an accident in May 1976. He was electrocuted while working in his basement on new material. Anyway, 36 years later a CD-reissue of the only ARMAGEDDON album has taken place and without a doubt, this is an excellent piece of early 70s Hardrock that owes a lot to LED ZEPPELIN, DEEP PURPLE and URIAH HEEP, yet ARMAGEDDON was a little more proggier and had some similarities to BUDGIE and JETHRO TULL somehow. Only 5 tracks were included, of which some have long instrumental passages, but a song like "Paths and planes and future gains" is without a doubt a must-heard for any 70s Classic Rockfan! I would not call this album an instant classic, but it definitely will appeal to anyone into any of the mentioned bands. For them, this is a piece of music history and therefore please go to: www.esotericrecordings.com
(Points: 8.5 out of 10)
CHRIS LANEY 'ONLY COME OUT AT NIGHT' (METAL HEAVEN/ROUGH TRADE)
It was not that long ago since the debut album of Swedish guitarist/vocalist/producer CHRIS LANEY was released, but apparently it was such a success a 2nd CD has now been released. Not bad at all, this 80s sounding Glam meets Melodic Hardrock CD and with sing-a-long tunes like "Love so bad", "Eyes out poppin'" and "I had enuff" a must-have for fans of RECKLESS LOVE, CRASH DIET, CRAZY LIXX, WIG WAM… On the other hand, do not expect anything really spectacular, despite the fact it all sounds very professional, thanks to not only Chris himself, but also a handful of guest appearances (BRIAN ROBERTSON, BRUCE KULICK…). One of those CDs that will become fast-food for the hungry fans of late 80s US Style Mainstream sing-a-long Glam/Melodic Hardrock a la SLAUGHTER, SLYBOYZ, TINDRUM, DANGER DANGER, FIREHOUSE and such. The time when the woh-wah-who's and harmonyvocals were part of each and every chorus on a CD, but still do not expect anything as sensational as those acts. However, thanks to fantastic guitarwork, this is still an enjoyable CD and also thanks to the current revival in especially Sweden of this genre, who knows, CHRIS LANEY might become a Rockstar after all! More info at: www.chrislaney.com
(Points: 8.2 out of 10)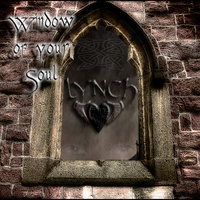 LYNCH 'WINDOW OF YOUR SOUL' (BURLYNPAC RECORDINGS/USA IMPORT)
Now here we have a very interesting cool sounding Melodic Hardrock indie from the US of A. The Chicago based band LYNCH should not be confused with LYNCH MOB, because this LYNCH is formed around vocalist DANNY LYNCH and they play cool pure 80s tough uptempo Melodic Hardrock. They sound and remind me very much of classic independent 80s (and some 90s) stuff like NINJA, KNOW ILLUSION, LIXX, BRITTON, RECKLESS, TALAS, TALON, VOXEN, TEER and a little STRYPER/WHITE LION. Danny has a great strong voice and if somebody would say this is a rare 1985 vinyl release I would instantly believe it. This does not mean that LYNCH sounds dated… In fact, it should be seen as a compliment, because it shows there are still bands active in the underground scene in the USA playing cool 80s Melodic Hardrock without tuning down the guitar, which is a good thing if you ask me! The band's guitarist MIKE BURKE rips easily through the 7 included songs, giving them the finishing 80s touch! Definitely a nice band to check out and a must-have for any fan of Classic 80s US Style Melodic Hardrock. More info at: www.lynch-rocks.com and e-mail them at: mike@lynch-rocks.com or info@lynch-rocks.com
(Points: 8.3 out of 10)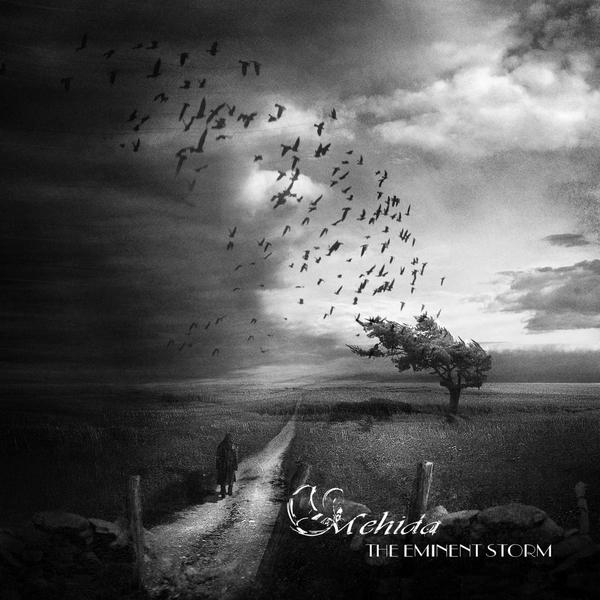 MEHIDA 'THE EMINENT STORM' (TSM SLW PROMOTIONS)
The Swedish/Finnish band MEHIDA is back and how! 'The eminent storm' is a very impressive 2nd album that combines the best of Melodic Hardrock, Melodic Metal and Progressive Metal, with once again the superb vocalwork of the legendary singer THOMAS VIKSTROM. Strangely enough, the CD starts with a rather average song titled "Wrath of flesh fellowship", but happily it offers from track number two "Masquerade" on nothing but high quality musicianship. Some of the songs are actually very sensational and although the full album alone can not be labeled as either Progmetal or Melodic Metal, I think this album will easily appeal to fans of both worlds and that should not be a problem at all… Hopefully this new album of MEHIDA will provide them enough positive feedback to make this band become a long lasting journey, because 'The eminent storm' is a superb record that combines the best of Progmetal and straight-forward Melodic Hardrock/Metal! More at: www.myspace.com/mehida
(Points: 8.7 out of 10)
LIGHTSEEKERS 'FLYING FREE' (SILENCE RECORDS)
Brazilian singer GUS MONSANTO is part of this French band called LIGHTSEEKERS and together they recorded a very strong Melodic Metal album titled 'Flying free'. Opener "Last mission" is the kind of uptempo Melodic Heavy Rocker everyone will be singing along during concerts, so a definite hit! The sound of the band is close to that of EDGUY, DESTYNATION, NOSTRADAMEUS and such, although a little lighter here and there, even going for a sorta PRAYING MANTIS/PINK CREAM 69 Melodic Rocksound sometimes. Anyway, it all sounds very good and rather catchy most of the time. Not a single weak song can be found here, meaning this is one of the better Melodic Hardrock/Metal releases done lately. More info at: www.lightseekers.fr
(Points: 8.5 out of 10)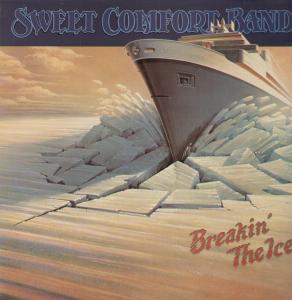 SWEET COMFORT BAND 'VARIOUS ALBUMS' (RETROACTIVE RECORDS)
Wow, this is really a sentimental journey for me personally, because the Christian Rocklabel RETROACTIVE RECORDS has re-issued 5 out of the 6 albums the legendary Christian band SWEET COMFORT BAND released between 1972 and 1984. Although this band was only active for 10 years, they definitely made a huge impact on the 80s Christian AOR movement, but also gain a lot of respect within the AOR community. It was 10 years after their split I discovered their music and in those pre-internet days back in the mid 1990s, we at Strutter'zine did a major story on this band, but of course now 15 years later that looks a bit incomplete, because many info and facts were lacking at the time of writing. Now in 2010 we get a second chance to do a write-up on this excellent band. It seems like this year will be a sort of SWEET COMFORT BAND year, because they reunited and are working on material for a new CD, 26 years after their final record 'Perfect timing'.
As mentioned, RETROACTIVE RECORDS released 5 albums of the band on CD, fully remastered and therefore sounding better than ever! Only the debut from 1977, which was released on a different label than the following 5 LIGHT RECORDS released albums, that first record has not been re-issued. On the other hand this is not really a pity, because in the beginning the band were more a Funk/Pop/R&B band with here and there a Rocksong. Their final 2 albums ('Cutting Edge' - 1982 and 'Perfect Timing' - 1984) are the ones that will appeal to the AOR fans. These 2 records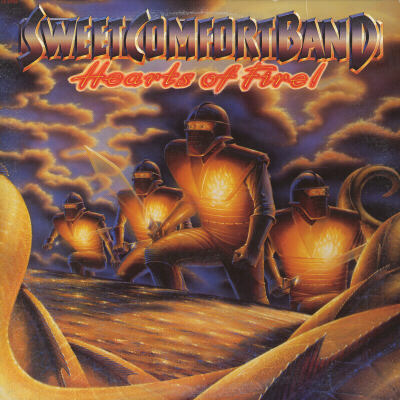 are filled with high class Classic early 80s AOR in the style of FRANKE AND THE KNOCKOUTS, I-TEN, FOREIGNER, SURVIVOR, ALLIANCE 1982, ELEFANTE fronted KANSAS and TOTO. The remastering of these 2 albums have given them a superb updated sound, fully ready for new fans to discover these gems.
The SWEET COMFORT BAND were formed in 1972 in Riverside, California by keyboardist/lead vocalist Bryan Duncan, guitarist/vocalist Randy Thomas and brothers Kevin (bass guitar) and Rick (drums/vocals) Thomson, who remain together until the end in 1984. Each went their own separate way after that, with BRYAN DUNCAN starting a long lasting successful solo career and Randy forming ALLIES, with whom he recorded some more AOR Classics in the 1980s, but eventually reaching the biggest success as co-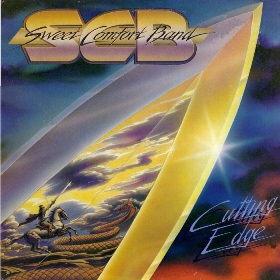 songwriter for the song "Butterfly Kisses" for former ALLIES lead singer Bob Carlisle in the 1990s. This song became a huge hit worldwide, but had nothing to do with the Classic 80s AOR unfortunately.
Anyway, back to the beginning and it's re-issues, 'Breakin' the Ice - 1979' (Points: 7.0 out of 10) and 'Hold on Tight' - 1980 (Points: 7.5 out of 10) are very soft Pop orientated records, with only a couple AORish Poprock tunes a la TOTO. We have to wait until 'Hearts of Fire - 1981' (Points: 8.0 out of 10) before the band would really go explore their AOR sound. This is not the album that will completely convince the AOR fans, but with songs like "Isabel" and "Contender" the first traces of pure AOR can be found. All CDs are nicely packed and sound crystal clear, but the real interesting releases are of course those 2 final albums.
'Cutting edge' (Points: 9.0 out of 10) offers many excellent AOR tunes, such as "Runnin' to Win" (uptempo FOREIGNERish AOR Rocker), "What Have You Got" (Classic early 80s Westc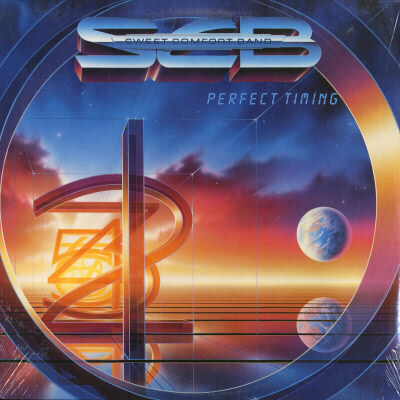 oast-AOR a la FRANKE AND THE KNOCKOUTS/ALLIANCE 1982/DAKOTA 1984), "Falling in Love With You" (Pomprock ballad a la SUGARCREEK!), "Haven't Seen You" (a beautiful ballad), "Valerie" (this is AOR Rock of the 80s at it's very best), "What Did It Mean?" (another Classic early 80s Westcoast-AOR tune a la FRANKE AND THE KNOCKOUTS/ALLIANCE 1982/DAKOTA 1984) and closing track "Armed and Ready" (a song with a haunting start, building up to a big anthem rocker).
Final album 'Perfect Timing' (Points: 9.3 out of 10) was released in 1984 and this was the record where everything seemed to fall in the exact right place, because from start to finish this is a classic piece of work, featuring nothing but high class AOR. Songs like "Perfect Timing", "Habit of Hate", "You Led Me to Believe", "Don't Bother Me Now", "Computer Age" and especially "Sing for the Melody" are timeless AOR Classics that sound like the perfect cross between ELEFANTE fronted KANSAS, SURVIVOR and TOTO. This is the album that KANSAS could have made in the 1980s!
All available now on CD, fully remastered and sounding better than ever. More info at: www.retroactiverecords.net
(Points: - )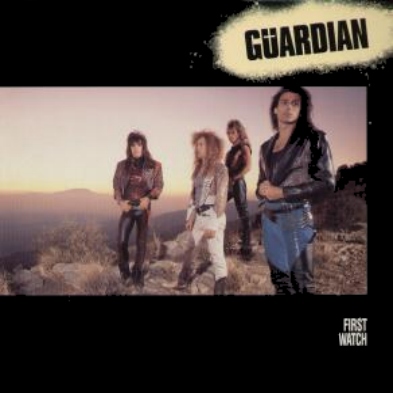 GUARDIAN 'FIRST WATCH' (RETROACTIVE RECORDS)
STRYPER introduced Hair Metal to the Christian community in the 1980s and soon after many bands followed them, including GUARDIAN. Throughout the 1990s the band however changed and updated their sound, as well singing many of their songs in Spanish. However on their debut 'First Watch', the band fully drove the Hair Metal flag, yet with Christian themes. The album was released in 1989 by Enigma Records and produced by STRYPER's guitarist OZ FOX. The band's vocalist on this debut (Paul Cawley) was replaced by Jamie Rowe, who remains to be their singer until this very day. Musically pure Melodic Hardrock/Metal a la STRYPER can be heard on this album, with some great material, such as "I'll Never Leave You", "Livin' for the Promise", "Kingdom of Rock", "World Without Love" and the beautiful Melodic Rockballad "Miracle". Perhaps not a classic and later GUARDIAN albums showed a much groovier Hardrocksound (a la TESLA/LILLIAN AXE), this debut is still a very nice introduction to this great White Metal band GUARDIAN. It has been re-issued onto CD by RETROACTIVE RECORDS. More info at: www.retroactiverecords.net
(Points: 8.6 out of 10)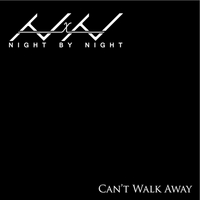 NIGHT BY NIGHT 'CAN'T WALK AWAY' (INDEPENDENT)
NIGHT BY NIGHT is a new Melodic Rock sensation from London, UK and the funny thing is that the involved people do not have a real background in the Melodic Rockfield, because the band is formed around 80s Gothrockers SISTERS OF MERCY guitarist BEN CHRISTO and their first 3-tracks counting debut EP CD 'Can't walk away' has been produced by ROMESH DODANGODA (FUNERAL FOR A FRIEND, BULLET FOR MY VALENTINE…). Nevertheless, the included songs are pure 80s Melodic Rock bliss, sounding like a cross between HIM, HAREM SCAREM circa 'Mood swings', DEF LEPPARD and 80s BON JOVI. Although very 80s orientated, with such catchy singable anthem choruses like "Can't walk away" and "The moment", the band still has an updated sound for today's Rock format. I am quite sure fans of H.E.A.T., BROTHER FIRETRIBE and THE POODLES might be enjoying this a lot and mentioned uptempo Melodic Rockers are songs that will make them dance and party all night long! Who knows a full-length CD might make this NIGHT BY NIGHT the Melodic Rock winner of 2010! More info at: www.nightbynight.co.uk and e-mail them at: band@nightbynight.co.uk
(Points: 8.8 out of 10)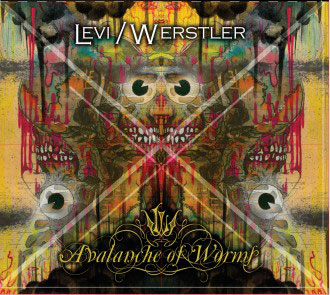 LEVI WERSTLER 'AVALANCHE OF WORMS' (MAGNA CARTA RECORDS)
LEVI/WERSTLER is the collaboration between 2 guitarists, namely EYAL LEVI and EMIL WERSTLER, who joined forces with drummer SEAN REINERT of CYNIC along with bassist Kevin Scott and keyboardplayer Eric Guenther to record this kick ass big sounding instrumental Melodic Progressive Power Metal record titled 'Avalanche of worms'. Released on MAGNA CARTA RECORDS, this record sounds like DREAM THEATER on acid, yet without vocals. However the guitar duals are very interesting to get through on each and every of the 12 included songs. Probably the finest instrumental release in ages, as it truly has something to offer! More info at: www.magnacarta.net
(Points: 8.7 out of 10)
THE CRAWDADDY 'VARIOUS ALBUMS' (INDEPENDENT)
RICHARD 'THE CRAWDADDY' DANCE from Arizona, USA sent me 2 of his CDs, but it has not much to do with rock or metal music, because both records contain 60s inspired bluesy Soul/R&B with influences from OTIS REDDING, BB KING and RAY CHARLES. Not bad at all and done very well, but perhaps a little bit too much out of our league. Check it out for yourself at: www.mycrawdaddy.com
(Points: -)
DISAFFECTION 'BEGIN THE REVOLUTION' (BOMBWORKS RECORDS)
1987… Bay Area, SF… FORBIDDEN… TESTAMENT… DEATH ANGEL… DARK ANGEL… well add the Brazilian band DISAFFECTION to this list, because 33 years after this they release a CD exactly in the style of mentioned bands. Dome very well happily, with some bloody awesome guitarwork, but also the thrashy gang vocals. Highly recommended to fans of the genre, but nothing new is brought here… More info at: www.bombworksrecords.com
(Points: 8.0 out of 10)
CASTROVALVA 'WE ARE A UNIT' (BREW RECORDS)
I am not sure what to make of this, because this UK based band is sorta playing a distorted approach of Progressive Metal a la RUSH/COHEED AND CAMBRIA during the first few seconds of their album 'We are a unit', but then suddenly it gets completely out of hand and they start mixing Black Metal, Screamo and Noise. They do sound very extreme all throughout the album and can not be called a Progmetalband at all actually, so please ignore that reference. I am afraid this is only of interest for fans of Experimental Noise Metal, because melodies are hard to find here. More info at: www.brewrecords.net
(Points: 5.2 out of 10)
NOISE CONTROL 'THE ROOM AT THE END OF THE HALL' (INDEPENDENT)
NOISE CONTROL is a band from Vancouver, Canada, formed around bassist/singer REGGIE HACHE. He is the main leader of the band, recorded 7 tracks for this CD along with guitarist CHRIS ROBERTSON and drummer KELLY STODOLS. The sound is typical independent and also a bit modern, but thanks to Reggie's very strong vocalwork and some enjoyable songs, this is in the end still a pretty good little record filled with music that can be classified as slightly modern sounding Melodic Progressive Metal. Check it out for yourself at: www.noisecontrolmusic.com and e-mail at: info@noisecontrolmusic.com
(Points: 8.0 out of 10)
VARIOUS BANDS 'VARIOUS ALBUMS' (MYSTIC PRODUCTION/IMPORT POLAND)
MYSTIC PRODUCTION is a label from Poland and they sent me a handful of their releases from mostly Polish bands. PROGHMA-C releases 'Bar do travel' and although this band's singer is able to sing clean during the verses, the choruses show a band going for a more Extreme Metal approach. Sometimes they remind of OPETH, but then again not creating the melodies and more focusing on screaming during the choruses. (6.1). BLACK RIVER is playing Rock and Roll, yet very raw and rough, a little traditional American orientated, not bad at all and definitely more interesting than PROGHMA-C. The CD they releases is called 'Black rock' and after a few spins this MOTORHEAD meets TURBONEGRO outfit starts to sound better and better. Vocally very raw a la LEMMY, fans of no-nonsense straight-ahead uptempo rough Rock and Roll might like this a lot. More info at: www.blackriver.pl (8.0). VIRIGIN SNATCH is the next band and they play Thrash Metal with some growling here and there. What they do they are doing quite well, but on the other hand probably only interesting for the fans of the more extreme side of Metal (7.3). The band VOTUM is definitely the most interesting release on MYSTIC PRODUCTION, because their CD 'Metafiction' offers high quality Melodic clean Neo-Progressive Rock. Thanks to superb vocalwork of their singer Maciej Kosinski and some excellent arrangements, this CD is a must-have for fans of PENDRAGON, IQ, ENCHANT and of course RIVERSIDE… Done very well and highly recommended to fans of quality music. More info at: http://www.myspace.com/votumband (8.6). ROOTWATER is extreme as you can not imagine! Nevertheless, they have clean melodies during the choruses, so a little bit of interest, but after a while it gets annoying, especially when they go for the Rap-Metal approach… (-). THY DISEASE is Extreme Black Metal… (-). MOUGA is a good modern rock based band, reminding a lot of LOST PROPHETS, yet with some screamo touches a la FUNERAL FOR A FRIEND. Not original at all, but they perform at a decent level and their CD is not a bad listen either. They sound very American and could well be on a major label over there. Quality CD for sure, but not groundbreaking… (8.1). Final release on the Polish label to be discussed here is from a band called TITUS' TOMMY GUNN. This band is going for a DANKO JONES/HELLACOPTERS/ROSE TATTOO influenced MOTORHEADish Metal kinda True Rock and Rollsound and that ain't bad at all. It's dirty, it's raw, it's loud and it's right in your face, recommended to fans of mentioned bands (8.2).
(Points: -)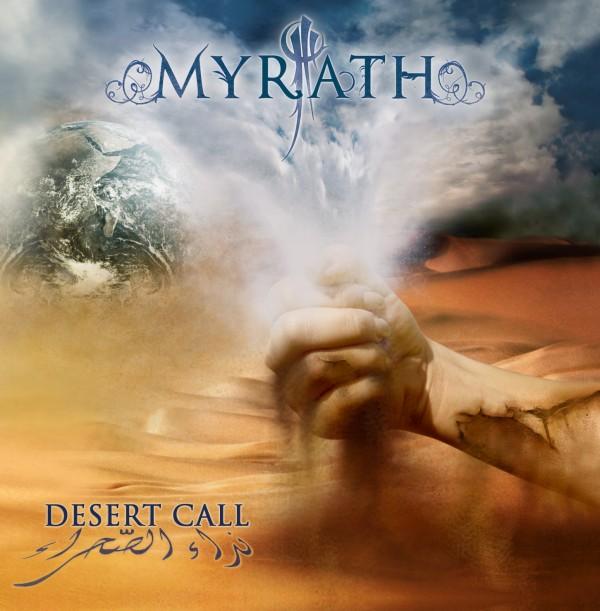 MYRATH 'DESERT CALL' (XIII BIS RECORDS/SUBURBAN)
One of the very first bands from Tunisia I personally have heard in my life and immediately it concerns here a very sensational band, because MYRATH is playing Melodic Progressive Metal at the highest possible level. They are also the very first Metal band ever to sing a song in the Arabic language! Anyway, they were formed in 2001 and 'Desert call' is already their 3rd CD, but I think this time they really hit the jackpot, because this new record sounds basically picture perfect. These guys surely know how to play the game well, thanks to a superb production (done by KEVIN CODFERT of ADAGIO), some amazing tunes and above all, excellent musicianship of the bandmembers and the wonderful vocalwork of singer ZAHER ZOGATI. The melodies are super strong, of the DREAM THEATER meets VANDENPLAS kind, with as highlights the Progmetal anthems "Tempest of sorrows" and "Silent cries" and the amazing "No turning back" (INCREDIBLE TUNE, like SYMPHONY X going for a more straight-ahead Melodic Hardrock approach, with a Classic KANSAS like chorus). The album has been released on the French label XIII BIS RECORDS and if only they would have that lucky break, this band could easily become the most popular African continent band ever and perhaps a major influence on every musician in one of the biggest continents on earth! For now, this could well become THE best Progmetal release of 2010!!! All info available at: http://www.myrath.com
(Points: 9.0 out of 10)
TEARS OF MARTYR 'ENTRANCE' (STF RECORDS)
TEARS OF MARTYR is a German band playing Gothic Metal a la THEATRE OF TRAGEDY, TRAIL OF TEARS, etc. etc. Not that original and sadly due to the male growling a bit less interesting, although the female operatic voice is making that up big time. The band sounds tight and very professional, although it will be hard for them to reach the big audience, as the songs are not as memorable as for example a band like EPICA. However, fans of the genre will easily like this a lot, although perhaps next time the band could move a little more into the old NIGHTWISH style, meaning more use of the female vocals, perhaps catchier uptempo tunes… but for a first record this is a nice start for sure… More info at: www.tearsofmartyr.com
(Points: 8.0 out of 10)
TAIS 'DOCH!' (STF RECORDS)
TAIS is a Punkrockband from the beautiful German city of Heidelberg. They released their debut CD on the 'Metal' label STF RECORDS and although it ain't bad at all, there are many bands out there playing the similar fast Poppunk style a la GREENDAY, yet with German lyrics. Only for die-hard fans of this genre. More info at: www.tais-music.de
(Points: 7.3 out of 10)
EACH 'EACH DAY, EACH NIGHT' (NEW ADVENTURE RECORDS)
Sometimes you receive these really rare albums from out of nowhere. EACH is one of them, a band from the US State of Arkansas playing music that sounds like classic 1970s Progressive/Symphonic Rock, yet the US way, so with a slight Pomprock touch. They remind a lot of STARCASTLE, yet also YES, KANSAS and PINK FLOYD influences can be heard. It's not really Pomp and also not pure Sympho, but somewhere in between… remember CITADEL??? Definitely quality stuff this EACH on their 3rd CD 'Each day, each night'. 15 songs are included and fans of mentioned bands should really check out this band, because it sounds like they stepped into a time machine and went back to 1978 or something, which for some might be a dream come true, then go check them out at: http://www.eachsongs.com
(Points: 8.1 out of 10)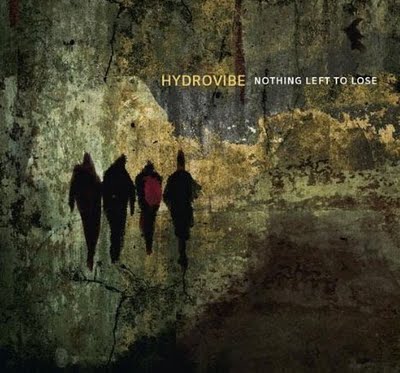 HYDROVIBE 'NOTHING LEFT TO LOSE' (ORLEANS STREET RECORDS/USA IMPORT)
This band already had a quite interesting fifteen minutes of fame moment, because they started to work on this album way back in 2006 with OM FLETCHER (OZZY, MOTORHEAD...), but had to postpone this release when they were featured in the SAW 3 movie. This sudden exposure persuade them to release a mini-CD meanwhile and therefore the full-length CD had to wait a while, but now 'Nothing left to lose' has been released. Anyway, now the band releases their long awaited debut CD and without a doubt it is a very strong record. The band is formed around female singer HEATHER ST. MARIE and guitarist MAT DAUZAT. She has a great voice and the guitarsound is modern and tight, while the catchy melodic choruses make HYDROVIBE a very interesting band to check out. "Disconnect me" sets the record exactly where we want it to be, because this is a damn catchy midtempo Melodic Heavy Rocker and actually the whole CD fits in this style. No ballads or uptempo rockers, but the typical modern day American way of Rock, groovy, modern, tough, guitar orientated, but with very catchy melodic choruses and HYDROVIBE show they are typically one of those bands that you can hear on the radio or on TV anywhere in the USA. This is great modern Rock with strong melodies and who knows, they could well become the next big thing if they only have that lucky break! Highlights besides the already mentioned "Disconnect me" are "Savior", "No fury", "Live another day" and "Contagious". Imagine DELAIN dropping the Symphonic Metal influences and add a little NICKELBACK in the guitarsound (although perhaps a band like NEMESEA is a better comparison), then you might possibly end up with this great female fronted catchy melodic rockband called HYDROVIBE! Keep your eyes wide open for this awesome band and go for more info to: www.hydrovibe.com
(Points: 8.6 out of 10)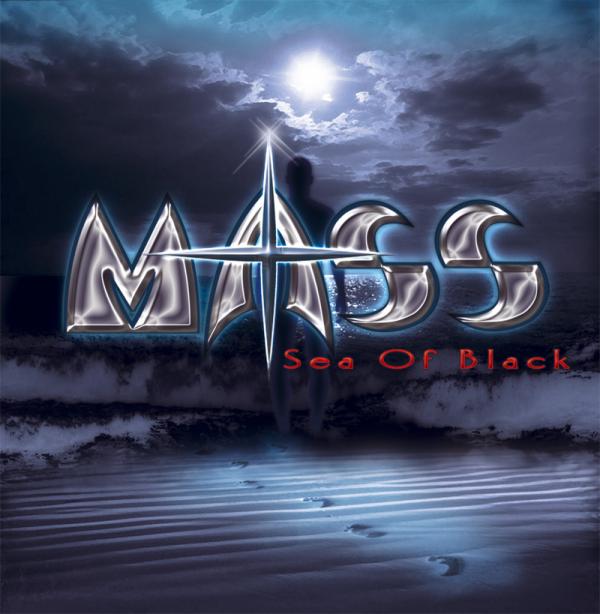 MASS 'SEA OF BLACK' (ESCAPE MUSIC)
MASS… a band that sounded so much like STRYPER once upon a time… well they are back with a full new CD. Actually they never really went away and only sounded like STRYPER for a couple of the MTV years at the end of the 1980s, because MASS was already formed way back in 1980. They did had a major label fifteen minutes of fame period for a few years, but the 1990s were a period to survive and gladly they never really quit, although most of their releases were hard to get as they released them independently. We reviewed some of them throughout the 2000s, but it wasn't until 2007 before the band would really make an impact, because they were signed to ESCAPE MUSIC and released a pretty good album titled 'Crack of dawn'. Now 3 years later they follow it up with another new CD titled 'Sea of black', which actually sounds like their finest release in 20 years! It is a more modern sounding album, but then speaking Melodic/Prog Metal wise, so not the American kind of modern Rock. MASS in 2010 sounds different than the 1980s MASS, but still very good and also melodic, just more a progressive/melodic heavy rock kinda band. It all sounds quite tight and perhaps thanks to the Swedish producer MARTIN KRONLUND, MASS sounds very European this time, so forget all the STRYPER similarities of the past. MASS nowadays sound like a typical European Melodic Progressive Metalband, with strong melodies and sometimes let it go for a more straight-ahead approach, while at other times they go for a slight prog touch. Perhaps not a groundbreaking album, still this new MASS CD is a really good record that after a few spins grabs you for sure. Go check out the band at: www.massrocks.com
(Points: 8.5 out of 10)
(All reviews by Gabor Kleinbloesem except where noted)