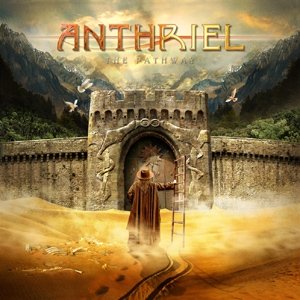 ANTHRIEL 'THE PATHWAY' (LION MUSIC/BERTUS)
And yet another high quality band out of Finland. This band is called ANTHRIEL and were formed back in 2004, with now their first full-length CD release titled 'The pathway'. Musically this is pure Progressive Metal with superstrong melodies and also excellent vocalwork of singer SIMO SILVAN, who joined the band in 2008. With the help of such a great singer as Simo, the band got a push in the right direction, because within 2 years they finished this awesome debut album that has now been released on LION MUSIC. The music is Progmetal and actually each of the 12 included tracks is quite sensational, but standout track is definitely "Promised land", an uptempo Melodic Progressive Power Metal tune with a superb chorus! Also closing track "Chains of the past" is a beautiful epic journey through the best of Melodic Progmetal! The fans of this genre are really spoiled by sensational releases the past few months, mostly on the LION MUSIC label and this ANTHRIEL is another one to check out asap, because without a doubt, their first record 'The pathway' is another highlight in the Progmetal field! More info at: www.anthriel.com
(Points: 8.8 out of 10)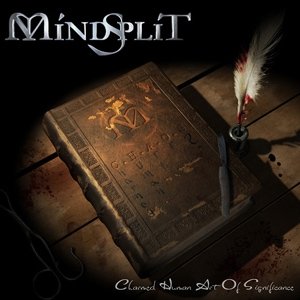 MINDSPLIT 'CHARMED HUMAN ART OF SIGNIFICANCE' (LION MUSIC/BERTUS)
The Swedish band MINDSPLIT consists of a bunch of 80s veterans, including the bassist CONNY PAYNE from the legendary band MADISON, who would once were seen as the next EUROPE! Anyway, with MINDSPLIT we can add another Progmetalband to the LION MUSIC schedule. The band's first release 'Charmed human art of significance' is a concept-album based on the notes of lead singer H.B. ANDERSON's great old, old grandfather PROF. XANDAU, a therapist who in the 1800s travelled around the world to carry out his sessions. Musically speaking it is Progmetal, but not as catchy and melodic as for example the usual bands in the genre, such as SEVENTH WONDER, because some of the material is very experimental and complex, although the music remains from start to finish Progmetal. Here and there the band SAVIOUR MACHINE comes to mind, also a little ETERNITY X, so I guess you can say that the Progmetal of MINDSPLIT is a little more technical and experimental than the instant Melodic Progmetal we usually get to hear. This makes their album interesting to listen to, as you can explore something new everytime you hear it. The dark approach also reveals some slight EVERGREY and SAVATAGE influences, so mix all these bands and you probably have the sound of MINDSPLIT. Check them out at: www.myspace.com/mindsplitse
(Points: 8.2 out of 10)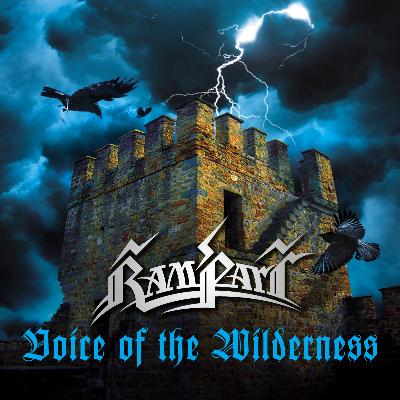 RAMPART 'VOICE OF THE WILDERNESS' (INFERNO RECORDS/IMPORT FRANCE)
Released on a French label, sounding like a classic early 1980s NWOBHM band, but actually the band RAMPART is coming out of Bulgaria. They have a very strong female vocalist called MARIA D.S. and the band's first CD sounds very impressive. Not only production and sound quality are top-notch, the included material is of a very high level, exactly the way quality real Heavy Metal should sound like. The past 10 years many new bands have jumped on the classic fast NWOBHM style and some succeeded (like WOLF and WHITE WIZZARD) really and a few others were just 'so and so'. This RAMPART however falls in the first category of 'high quality' sensational Melodic Metal, because what they show on their debut album is really good and then I mean, really excellent. The guitarwork is picture perfect, very old-school orientated (early MAIDEN/RIOT/TYGERS OF PAN TANG), the choruses are quite melodic and combined with the strong vocalwork, this band is definitely worth checking out. Good to see these new bands being signed on new labels and deliver the goods the way it should, so a real high quality and recommendable CD of the band RAMPART. What of course makes then stand out between any other female fronted band is the fact they play pure NWOBHM and I can not recall many female fronted bands in the past doing that (ACID and WARLOCK were among the very few!), so go check out this band at: www.myspace.com/rampartbg and e-mail them at: rampart_metal@abv.bg
(Points: 8.4 out of 10)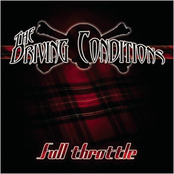 THE DRIVING CONDITIONS 'FULL THROTTLE' (STOCKXCHANGE MUSIC/SONY MUSIC AUSTRALIA)
Now this is the Rock and Roll one would expect from an Aussie band and indeed THE DRIVING CONDITIONS is a band from Australia playing typical Aussie Rock and Roll. AC/DC, ROSE TATTOO, KINGS OF THE SUN, THE ANGELS, AIRBOURNE, the list is endless, with now another band to add, namely THE DRIVING CONDITIONS. Actually they do remind me a lot of BON SCOTT era AC/DC (thanks to their shouter WOODY, who has the perfect voice for this kind of Rock!) and late 70s/early 80s KROKUS, which of course is a good thing. Although that has been done many times before since AC/DC set a landmark back in the 1970s, this THE DRIVING CONDITIONS is really doing it quite excellent. The band's straight-forward hardrocksound is very catchy actually and thanks to strong vocalwork, tight guitarwork backed by a strong rhythm section and some great singable choruses, this THE DRIVING CONDITIONS could become the next big band after AIRBOURNE. Taking the world by just plain old simple Rock and Roll a la AC/DC, that is what is happening here, but I can tell you that it works, because songs like "Eat you alive", "Rock N Roll" (what a courage to put a songtitle like this on your first full-length album!) and "Str8 2 hell" are really irresistible! In between all the uptempo Hardrock'n'Roll, the band threw in a classic late 80s sounding melodic rockballad in the shape of "Be mine", which makes you long back to the days when bands like CRYSTAL ROXX, WARRANT, FIREHOUSE and WINGER did the same thing. Anyway, if AC/DC and KROKUS can not deliver the goods anymore, it's up the new generation to take over the flame and this THE DRIVING CONDITIONS does it as well as AIRBOURNE, so anyone disappointed with the latest album of that band, then do please check out this band asap, because you will definitely like what you hear! The band also released a very amusing DVD, so be sure to learn all about this upcoming new Australian Rock and Roll sensation at: www.thedrivingconditions.com and www.myspace.com/thedrivingconditions
(Points: 8.6 out of 10)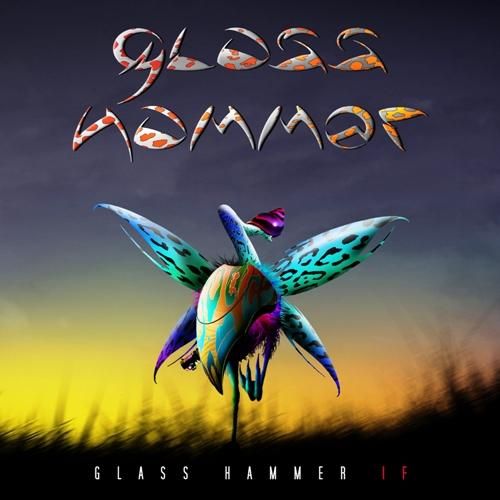 GLASS HAMMER 'IF' (SOUND RESOURCES/ARION RECORDS/BERTUS)
The US band GLASS HAMMER is unstoppable and continue to release high quality Progressive Rockalbums. 'If' is their latest effort and this time the band is going back slightly to their earlier records, with some lengthy tracks included that feature pure 1970s orientated Hammond and Mellotron solo's. KANSAS meets YES has always been the best desription for GLASS HAMMER's sound and that is also the case on their new album, although as mentioned, the band is now really heavily digging into a pure 1970s Progrocksound. 6 tracks are included, of which the closing track "If the sun" clocks in at a staggering 24 minutes. This surely must be Progheaven if you ask me! THE FLOWER KINGS and TRANSATLANTIC fans will surely also be enjoying this new GLASS HAMMER record, which is filled with quality music only. More info at: www.glasshammer.com
(Points: 8.4 out of 10)
ROZICH AND BRAILSFORD 'PROMO CDR' (MUSIC SUBMIT/IMPORT USA)
Not that much info is available on this disc that was sent to me from the US of A, but some googling learns that this concerns 2 well-seasoned musicians called Mich Rozich and Gavin Brailsford who started playing together for 30 years now. Musically this disc contains quality instrumental progressive rock that has a little RUSH, but also Jazzrock influences here and there. Both musicians definitely know how to create interesting instrumental music. Check it out for yourself at: http://www.cdbaby.com/cd/RozichandBrailsford4
(Points: 7.9 out of 10)
BODINROCKER 'MYSTERIOUS MAN' (BEARMAN MUSIC/ISMA/IMPORT SWEDEN)
BODINROCKER is a 4-piece band from Sweden, with as leader ANDERS BODIN, who is responsible for the guitars, vocals, tambourine and a little bass, besides all the words and music. The music itself on this high quality CD (mastered by PETER IN DE BETOU – known for his work on albums by WOLF, DREAM EVIL, NARNIA and countless others) is a mix of Classic Rock, Hardrock the 1970s way, Bluesy Rock and some Progrock. It is definitely an album with a true 1970s spirit, where each rockband did a little bit of this and a bit of that, meaning the experimental side of things, because that was exactly the way Rockbands were working in the 1970s, just jamming and experimenting. This CD is a mixed bag, because sometimes it's very bluesy, then again proggy, then just plain hardrock and even pure STATUS QUOish boogie rock is included ("Scooter"). Fans of the 1970s rocksound will absolutely love this record, then go to: www.andersbodin.net
(Points: 8.1 out of 10)
DROIDS ATTACK ' MUST DESTROY' (CRUSTACEAN RECORDS/IMPORT USA)
Here we have a 3-piece band from Madison, WI, USA playing pure Stoner Rock with heavy BLACK SABBATH Doomish guitar riffs. Actually their music is heavier than a standard Stoner Rockband of the KYUSS/QUEENS OF THE STONE AGE kind, because basically this DROIDS ATTACK is a Doom Metalband that is focused on bringing some really heavy guitar riffs straight out of the Classic Doom Metal Book (see BLACK SABBATH, the early years). Their first CD sounds really good for that matter, with vocally it also sounds strong to keep the attention. Mix up the mentioned bands with a little FOZZY and CANDLEMASS, then we might have a winner here for you to check out at: www.droidsattack.com
(Points: 8.2 out of 10)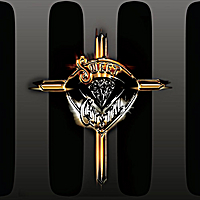 SWEET CRYSTAL '3' (NIGHTCRIER MUSIC/TATE MUSIC GROUP/USA IMPORT)
Well, well, well, that is a long time ago… the Christian AOR band SWEET CRYSTAL makes a return with a new CD titled '3'. In the past we reviewed them a few times and if I remember it well, we even interviewed them. That was about 10+ years ago and now from out of nowhere the band returns with a full-length new CD and gladly musically nothing has changed. The band is still playing pure 1980s AOR with some Pomprock touches, reminding a lot of the last couple of SWEET COMFORT BAND, SERVANT and early ALLIES records, while also JOURNEY/SURVIVOR are clear similarities, but even FAITH NATION, WHITE HEART and early 80s PETRA come to mind when listening to their new album. That means this is pretty much a dream for the AOR fans out there and I can honestly inform you this album is filled with high class AOR music from start to finish. It contains everything we want to hear in this genre, such as picture perfect clean vocalwork, catchy hooks, memorable melodies, smooth pompous keyboards, melodic guitarwork and a very strong rhythm section. The first 2 songs ("Holding our own" and "By the book") are 2 great uptempo AOR rockers with a SURVIVOR meets JOURNEY kinda approach. "Prisoner unbound" takes the band into an epic symphonic Pomprock direction that reminds me a bit of MAGNUM in their finest years. This is a haunting song with some superb arrangements and lovely vocalwork, actually really quite amazing tune we have here! Some URIAH HEEP (JOHN LAWTON era) can be heard during the semi-rocker "Got to get you into my life", which is a very 1970s type of Classic Rocker, although the song itself is actually a THE BEATLES original! Up next is the beautiful WHITE HEARTish AOR ballad "Warriors" that has some very strong harmonyvocals, partly thanks to guest female singer KATHY OYSTER. Mid 1980s Pomprock meets Symphonic AOR can be heard in the excellent epic midtempo "Lion of Juddah" that sounds like the perfect cross between the later 1980s MAGNUM, GTR and PETRA circa 1984. Both "Another time, another place" and "US, Eternally" take the mid 80s JOURNEY/FORTUNE/SURVIVOR/ASIA highway all the way, so this is pure uptempo AOR, while closing track "The road less travelled" is a nice semi-ballad that sounds a bit like JOHN WETTON and JOHN PAYNE's ASIA. The other 3 tracks are short instrumentals…
When listening to all these songs it is very clear that SWEET CRYSTAL is an incredible gifted band with a sound that should be heard by any fan of AOR, Pomp or even Symphonic Rock, because the high quality of their songs is remarkable and sometimes sounding as if they were classics made in the golden years of this genre (the 1980s). Mix up all the mentioned bands and you have SWEET CRYSTAL, must-have for any AOR fan out there. Togther with an excellent production, this CDR should be checked out asap at: www.sweetcrystal.com
(Points: 8.7 out of 10)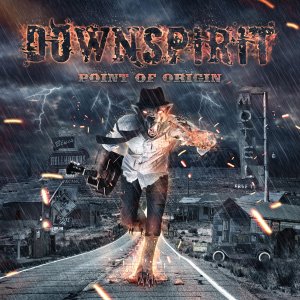 DOWNSPIRIT 'POINT OF ORIGIN' (METALVILLE/INTERGROOVE/FLYING DOLPHIN ENTERTAINMENT GROUP/GERMANY IMPORT)
The German band DOWNSPIRIT was formed in 2009 by SYMPHORCE/ex-FREEDOM CALL guitarist CEDRIC DUPONT and with the release of their debut album 'Point of origin' the band offers a high quality mixture of classic Bluesy Melodic Hardrock and some modern day downtuned Metal. The band's singer STEFFEN LAUTH is quite a discovery, because he is able to sing in a sort of JEFF SCOTT SOTO style and if you imagine a heavier version of TALISMAN, with some downtuned DISTURBED/SHINEDOWNish downtuned guitarwork, then you might actually come close to the sound of DOWNSPIRIT. The band offers some great Melodic Hardrock choruses here and there, such as can be heard in the songs "Love song", "Life's a bitch", "Highway run" and "Make my day". Quite a surprise this release, as it sounds modern and very American, yet still has a typical Melodic Hardrock feel that will definitely appeal to fans of let's say TALISMAN, HAREM SCAREM, JADED HEART and such, although the whole thing is also featuring some Modern Metal influences like mentioned earlier in this review. The production is quite impressive and all together the musicianship and especially the vocalwork is of a very high level, so for sure worth checking out this DOWNSPIRIT at: www.downspirit.com
(Points: 8.4 out of 10)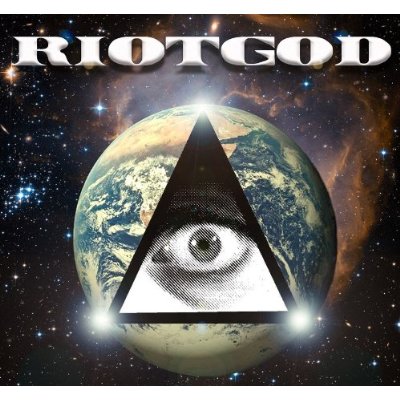 RIOTGOD 'RIOTGOD' (METALVILLE/INTERGROOVE/FLYING DOLPHIN ENTERTAINMENT GROUP/GERMANY IMPORT)
RIOTGOD is a band from the US of A whom recorded a debut CD not that long ago that now has been picked up by the METALVILLE label. The band is formed around several members of the band MONSTER MAGNET. That band was quite popular during the 1990s, in a time when Alternative/Grunge was the main music genre, these guys played Stoner Rock like BLACK SABBATH meets LED ZEPPELIN and got away with it. Of course SOUNDGARDEN and ALICE IN CHAINS were obviously also influenced by those bands, MONSTER MAGNET had a real early 1970s Rocksound and were miles away from the Grunge/Alternative sound. Now in 2010, some of the members started this band RIOTGOD, which actually musically is not that much different, because their first CD is also filled with high quality heavy groovy guitar riff orientated Stoner Rock. In fact, if you like MONSTER MAGNET you will love this too. RIOTGOD is very heavy and very groovy, so a real deadringer for any Stoner Rockfan. BLACK SABBATH, KYUSS, LED ZEPPELIN, QUEENS OF THE STONE AGE and of course MONSTER MAGNET… they all are being melted by RIOTGOD on this first CD of them. Go check out this band at: www.riotgod.com
(Points: 8.3 out of 10)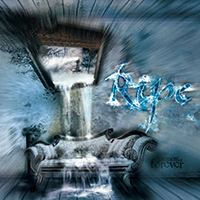 RIPE 'A MOMENT OF FOREVER' (MIGHTY MUSIC/TARGET DISTRIBUTION/ DENMARK IMPORT)
Formed already 9 years ago in 2001, the Dannish band RIPE releases a very impressive debut album that contains picture perfect Melodic (Power) Metal. It reminds me a bit of a heavier FIFTH ANGEL, RIOT and especially any ROB ROCK related project, because the band's fantastic lead singer MICHAEL BASTHOLM DAHL reminds a lot of good old ROB ROCK. 12 tracks are included on their CD and most of them are uptempo with biting pure 80s orientated Classic Metal guitarwork (in the AXEL RUDI PELL style), with songs that clearly remind of the glory 80s days. A song like "Razorblade kiss" does also revail SCORPIONS influences, but overall speaking this band has a lot of similarities to RIOT, LEATHERWOLF, FIFTH ANGEL and such guitar orientated Melodic Metalbands. Each and every song features very catchy melodic choruses, with as highlights "Anywhere from here", "A moment of forever", "Fate fiction" (fantastic!) and "Kill cupid". The production is crystal clear and there's really nothing bad to say about this album as it clearly rocks the way it should when we are talking about Melodic Metal. Definitely a band worth checking out this RIPE from Denmark… More info at: www.RIPErocks.dk
(Points: 8.7 out of 10)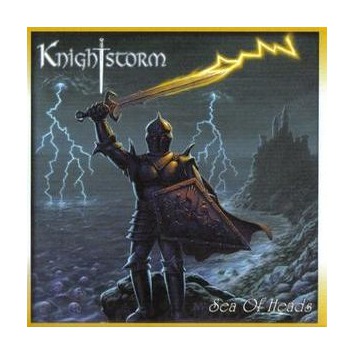 KNIGHTSTORM 'SEA OF HEADS' (INDEPENDENT/USA IMPORT)
Although the production of the CD of the New Hampshire, USA based band KNIGHTSTORM is not as good as the major label releases, the record does offer some classic pure 80s Melodic US Power Metal a la JAG PANZER, TITAN FORCE, VIRGIN STEELE, JACK STARR and such legendary acts. The band has a very good lead singer and any fan of True Metal will love such songs like "Metallized", "Metal Son", "Legions", etc. etc. They do also remind a bit of the very early MANOWAR sound, before they went on becoming standard Metalized warriors, so really sounding like some underground demo/independent band from around 1981 or something. I am quite convinced there are people out there who really love such unpolished True Metal and that is exactly what they get on this disc. Sorta mixing MANOWAR 1981 meets JAG PANZER, especially during the superb slowtempo "Nostradamus the seer" that even touches Classic Doom Metal of the SABBAT/TROUBLE/CANDLEMASS style. 12 tracks are included here and despite a slightly weaker sound/production (which has it's charm on the other hand), there's some great stuff to be heard, really classic 80s underground melodic us power metal with very strong vocals of leader TOM MAYO, who also plays guitar, wrote all the songs and produced the album. Highly recommended to fans of mentioned bands! More info at: www.myspace.com/trollrockcom
(Points: 8.2 out of 10)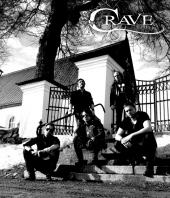 CRAVE 'PROPHECY' (INDEPENDENT/SWEDEN IMPORT)
The Swedish band CRAVE is working hard on a full-length CD right now, but in the meantime I was able to check out their 4 track independently released CD 'Prophecy'. What we hear on this disc is super high quality Melodic Metal like only the Swedish bands can deliver. Think of bands like NOCTURNAL RITES, NOSTRADAMEUS, DREAM EVIL, DESTYNATION, HAMMERFALL, DIONYSUS, etc. etc. then you have the sound of this CRAVE. It is of a very high level actually, both musically and vocally, while especially the first 2 songs ("No surrender" and "Here I am") are very sensational uptempo Melodic Metal tunes that sound really perfect. It will be hard to wait for their first full-length CD, but it will be worth the wait, because this CRAVE is the latest sensation from Sweden! More info at: http://www.myspace.com/craveumea
(Points: 8.7 out of 10)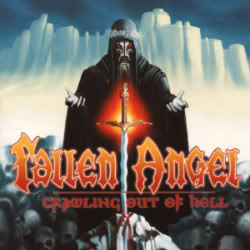 FALLEN ANGEL 'CRAWLING OUT OF HELL' (FALLEN ANGEL RECORDS/USA IMPORT)
In the past there have been quite a lot bands called FALLEN ANGEL, but this newly called FALLEN ANGEL are hailing from the US state of New York. Their debut CD 'Crawling out of hell' contains high quality (a little thrashy here and there) US Power Metal with big crunching 80s guitar riffs straight out of the classic ANVIL, HELSTAR, JAG PANZER, VIRGIN STEELE, OMEN book, while also KING DIAMOND and JUDAS PRIEST are clear influences of this True Metal band. Add a little MANOWAR to their sound and there you have the typical 80s US Power Metal band. What they deliver however is of a very high level that can easily compete with all the mentioned bands. These guys surely know the meaning of real Classic Metal and if that is not enough, they created a whole novel, on which this CD is based, so a real epic journey through the gates of hell in True Metal style! A song like "Dark lord" is full speed ahead combining the best of JUDAS PRIEST, MANOWAR and OMEN. And this way it goes from start to finish on this CD, true class US Power Metal in the best 80s tradition of the aforementioned bands. The guitarwork is superb, really ripping in a way we haven't heard in ages. Forget Nu-Metal ever existed, forget all the Euro Sympho-Power Metal bands, because here is an all-true classic 80s US Power Metalband in the shape of FALLEN ANGEL. The guitarsound is incredible, thanks to JOHN CRUPPE and the vocalwork of STEVE SENINK is 80s US Power Metal Heaven, so picture perfect for sure! Besides, each of the 20 (!) songs are very impressive and thank God, this independent release has a huge sound/production, so it can easily compete with any of the major Metal label releases! More info at: www.fallenangelofficialwebsite.com
(Points: 8.7 out of 10)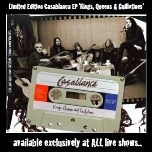 CASABLANCA 'KINGS, QUEENS AND GUILLOTINES' (HAGENBURG/SWEDEN IMPORT)
The Swedish band CASABLANCA is not just another band, because they already achieved some success (participating in the Swedish Eurovision Song Contest pre-selection), while some of the members are quite well-known. The band's drummer played in SAHARA HOTNIGHTS, the guitarist was 10 years part of the ALICE COOPER band and the bassist was a professional Swedish footballplayer. They recorded a mini-CD now with CHRIS LANEY and I have to admit that it sounds very impressive. If you like CRASHDIET, WIG WAM, THE POODLES, RECKLESS LOVE and CRAZY LIXX, then you will instantly love this CASABLANCA, who deliver the same kinda magic 80s inspired Glam/Melodic Rock. Especially songs like "Rich girls" (wow, with a BOSTON guitar melody), "Love and desperation" (DIRTY BLONDE and JESSE STRANGE anyone?) and "Delibrity wasted" are super catchy sing-a-long uptempo Melodic Glamrocksongs that just won't go out of your head that easily after you heard it the first time. This band is a deadringer for fans of mentioned bands, because the 6 included tracks on their mini-CD 'Kings, queens and guillotines' are of the same high level as them. This is Glam meets Melodic Rock at it's very best, so if you're a fan, go check them out asap at: www.myspace.com/casablanca
(Points: 8.6 out of 10)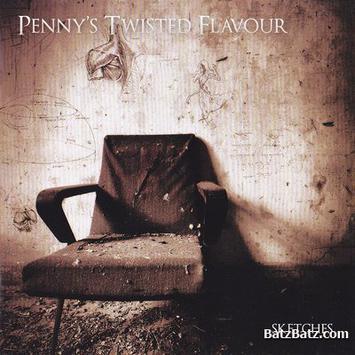 PENNY'S TWISTED FLAVOUR 'SKETCHES' (INDEPENDENT)
Although the major label releases always offer high quality material, the world of independent releases should not be ignored. How amazing independent releases sometimes can sound can be heard on the debut CD of the Dordrecht, Holland based band PENNY'S TWISTED FLAVOUR. They released an incredible album that is filled with high quality Melodic Neo-Classical Prog/Power Rock/Metal that is clearly influenced by SYMPHONY X, MASTERPLAN, CIRCLE 2 CIRCLE and a little SAVATAGE, both instrumental and vocally, yet the band is a little more diverse here and there as they are also going for a calmer approach a few times (which DREAM THEATER also does of course sometimes) and even regular Neo-Progfans of the IQ, SPOCK'S BEARD, TRANSATLANTIC kind might find something of interest here. However, the main genre of PENNY'S TWISTED FLAVOUR is clearly the Neo-Classic Melodic Metal genre that fits right between MASTERPLAN and SYMPHONY X. This is a very difficult genre of course that demands a lot from the musicians and the lead singer of the performing band, but luckily it is all under control on the first CD of PENNY'S TWISTED FLAVOUR. The band did everything on their own and I must say they sound as good as one of the INSIDE OUT, PROGROCK or SPV releases. To my surprise one of the songs features a guest keyboard solo by none-other than Dutch hero TON SCHERPENZEEL (of KAYAK and YOUP VAN T HEK fame!). 10 tracks are included, starting and ending with an instrumental, but in between are 8 impressive tracks. The music is as already mentioned Neo-Classical Metal with some steps into Symphonic Melodic Rock here and there, always very keen on bringing a catchy melody (vocally reminding a little bit of BERT HEERINK of KAYAK/VANDENBERG, yet also clearly showing RUSSELL ALLEN and JON OLIVIA influences in especially the song "A way out") and interesting instrumental passages (massive keyboards are combined with some excellent MALMSTEENish guitarwork). Highlights are "Falling" (lovely straight-forward uptempo Melodic Heavy Rocker, very catchy tune actually), "Forgotten worlds" (very nice calmer almost AORish semi-acoustic ballad) and "Wasting my time" (hello MASTERPLAN meets CIRCLE 2 CIRCLE, a fantastic Neo-Classical Melodic Metal Masterpiece!). This CD belongs to the best Dutch releases of the past few years, right up there with the long and lost similar releases of bands like SUN CAGED and SILENT EDGE (where are these guys!). This band should not be missed and the fact they hail from my old hometown of Dordrecht makes it quite special for me personally as well. Go check them out at: www.myspace.com/pennytwistedflavour and www.ptflavour.com
(Points: 8.8 out of 10)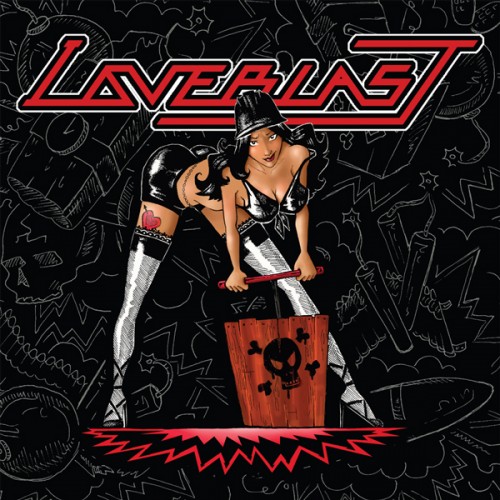 LOVEBLAST 'LOVEBLAST' (ELECTROWORKS MUSIC PRODUCTION/USA IMPORT)
It is 1990 and I am just a young kid watching MTV and SUPER CHANNEL all day long and in particular the MTV US TOP 20 VIDEO COUNTDOWN as presented by Dutch hairdo ADAM CURRY on Saturday morning. I was a sucker for bands like SLAUGHTER, FIREHOUSE, WINGER, WARRANT, DAMN YANKEES, NELSON, etc. etc. and in fact that syndrome never went away, even during the dark 1990s decade… Fast forward to 2010 it is cool again to like this kind of music and we have seen so many new young bands playing this genre all over again, big guitar riffs, huge harmonyvocal driven choruses to sing-a-long to and just having a good time! Of course STEEL PANTHER are over-the-top and that might take away a bit of the fun of this classic 80s Melodic Hardrock meets Glamrocksound, as that band is more a parody than a serious band (although they do it very well!). Anyway, now we have a young band called LOVEBLAST friom the US State of Illinois whom are taking me straight back to the late 80s/early 90s with their infectious Melodic Hardrock meets Glam sound. Their same titled debut CD starts off with a sleazy uptempo melodic heavy rocker a la SKID ROW ("Harder and faster"), but then follow 3 super sugar catchy Melodic Rockers in the style of DANGER DANGER, KNOW ILLUSION, FIREHOUSE and such. "Headspin", "Got a feelin" and "Far too long" are the kind of fun happy uptempo tunes that remind me of the pre-Grunge era when it was all about catchy choruses and flashy guitarwork. "Lonely winter" slows things down a bit, because this is midtempo DEF LEPPARDish melodic rock, while the band goes for a heavier approach during the next 3 songs, of which the very fast "Out for blood" is almost pure Melodic US Power Metal a la LEATHERWOLF, so this band definitely has a lot to offer on their debut CD. I should also not forget to mention the Power Ballad "Goodbye my darling" that recalls the true late 80s spirit and I really like the closing track "Hungry" that puts a big smile on your face when you love 80s Hair Metal! The sound/production is of a very high level and musically speaking everything sounds picture perfect, because the guitarwork is excellent (sometimes even stunning!), vocally it is quite good and all the included songs rock the way we want to hear it! If it was only still 1990, we would be watching MTV and see a videoclip of the latest single of the band LOVEBLAST on our screen! Take it from me, these guys definitely know their stuff, because what they deliver on their first CD is of a very high level, right up there and sometimes even better than their legendary heroes of the late 80s/early 80s major US labels Mainstream Hair Metal era. Check it out for yourself at: www.loveblastrock.com
(Points: 8.9 out of 10)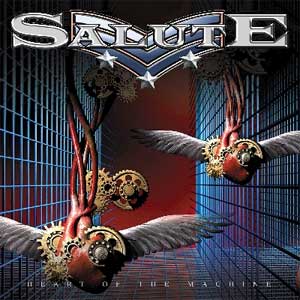 SALUTE 'HEART OF THE MACHINE' (ESCAPE MUSIC)
MIKAEL ERLANDSSON is a very well-known and deeply respected singer/songwriter from Sweden who released many records, both solo and with several bands and projects. With ESCAPE MUSIC he is building a new record of studio-album releases of his band LAST AUTUMN'S DREAM (trying to beat HEARTLAND I guess!), which seems to be unstopabble and seems to be heading towards album release number 10 someday soon, but happily always delivering quality AOR/Melodic Rock music. His voice never changed and always sounds quite excellent, which is also the case here. With his new project SALUTE, Mikael takes things slightly heavier (although still pure melodic rock chorus orientated) and aims for a Melodic Hardrock approach that actually reminds me a lot of the MICHAEL VOSS projects MAD MAX, CASANOVA... Not only do they have the same kinda voice tone, also musically SALUTE is really close to the MICHAEL VOSS projects. As expected what we get to hear is high quality Melodic Hardrock, which for fans of MAD MAX, CASANOVA, BONFIRE, JADED HEART and such is actually highly recommended piece, because it is all done very well. Although nothing new is brought here, the Melodic Hardrock of SALUTE is sounding pretty good, with as highlights 'Higher" (melodic heavy rock a la JADED HEART), "Falling star" (catchy uptempo melodic rocker a la CASANOVA), "I will be there" (very strong vocalwork here, emotional semi melodic rockballad) and the midtempo "Shadows" (very MICHAEL BORMANN fronted JADED HEARTish). BANGALORE CHOIR singer DAVID REECE also makes a guest appearance here, co-writing most of the songs as well as providing backing vocals, so fans of him might also wanna check out this release. It is definitely much better than the weak new BANGALORE CHOIR album that was recently released . A really nice CD you can play every once in a while and for Melodic Hardrockfans actually a must-have!
(Points: 8.5 out of 10)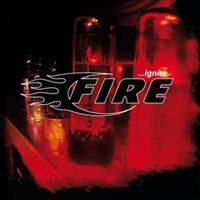 FIRE 'IGNITE' (AVENUE OF ALLIES MUSIC)
One of the few bands active on the Island of Malta is the band FIRE. They released their 2nd album in 2009 on the German label AVENUE OF ALLIES MUSIC. Now their debut 'Ignite' has been re-released by the same label. The original release of the album was back in 2006, with this new release containing 2 bonustracks. Musically this 1998 formed band is pure Melodic Hardrock in the style of VICTORY and PINK CREAM 69. Not a sensational release, as some of the material is a bit standard and not really spectacular, but we can hear nevertheless an energetic band performing true Melodic Hardrock. Highlights are "Manhunter", "Home and dry" and especially the semi melodic rockballads "Goin' down" (very strong song actually, by far the best vocal and music performance of the whole record) and the bonustrack "Miss you this Christmas" (of course this is a Christmas track, but a good one for sure!). Not the best Melodic Hardrockalbum of 2010, but still worth enough to check out as the overall performance of FIRE is set a high level and this can probably better be heard on their 2nd album from 2009. A band to watch out for in the future! More info at: www.firemalta.com
(Points: 8.0 out of 10)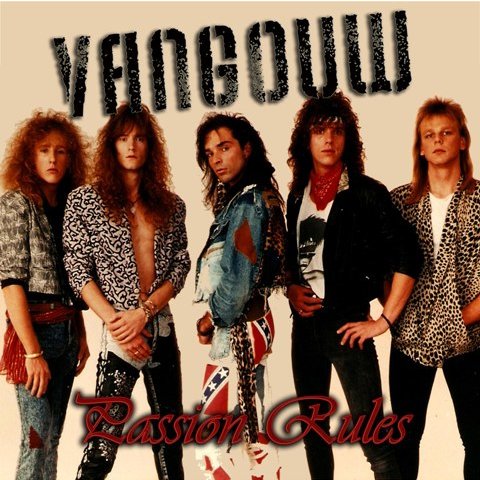 VANGOUW 'PASSION RULES' (DEMOLICIOUS RECORDS)
The 1990s were a very good time for AOR/Melodic Rock, even in Europe, although the scene was not as big as in the USA. The main issue was the fact that if you weren't signed to a major label, chances were few that you could deliver a demo of a high production level, so the bands that were not able to record something with a major producer in a major studio could never have that big break. Nevertheless, there were of course still enough great bands out there, also here in The Netherlands, that should have become huge, because they definitely could deliver high quality AOR/Melodic Rock. Back to back, the Dutch AOR/Pomprockband LINE is even now 25 years later still the finest band ever that never got the chance to record a full album and only left us a single and a few demos. However, there were more great bands that were very close to release a major label album but sadly didn't succeed in the end and one of them was VANGOUW. This band was fronted by GERAD VANGOUW, who used to sing in the band MARTYR with whom he recorded 2 Speed Metal albums. With VANGOUW however, Gerard created some great 80s type of AOR/Melodic Rock, the typical European way, reminding of bands like EUROPE, TREAT, DAVINCI, ZINATRA, DOMINOE, etc. etc. The band only existed between 1988 and 1992 and were about to release a full album, even finished a bunch of songs produced by big names such as JOHN SONNEVELD (GOLDEN EARRING, ANOUK, VALENTINE, SLEEZE BEEZ) and ALFRED LAGARDE (TOTO, HIGHWAY CHILE), but a real official CD release would have to wait until now. Independently released, this is a fully remastered album filled with VANGOUW songs recorded in the early 1990s. From start to finish this is prime-time 80s Euro AOR/Melodic Rock in the style of aforementioned bands. 11 tracks are included, of which the highlights are "Leave the night behind" (fantastic classic AOR rocker, pure 80s, with a very strong chorus, sounding like an improved version of ZINATRA), "When you think of me" (nice semi AOR ballad), "New Horizon" (pure Scandi 80s AOR a la TREAT/ALIEN/BAD HABIT/WORK OF ART/HEAT/HOUSTON, funky rhythm with a pure catchy AOR chorus WONDERFUL!) and "Simonai" (Midtempo EUROPE/TREAT pure Scandi AOR/Melodic Rock). This CD is right up there with the classic 80s Dutch AOR/Melodic Rock releases of EMERGENCY, PICTURE ('Marathon'), ZINATRA, etc. etc. , so go get it at: www.vangouw.blogspot.com
(Points: 8.7 out of 10)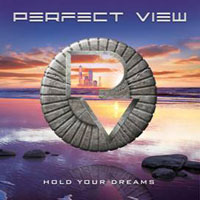 PERFECT VIEW 'HOLD YOUR DREAMS' (AVENUE OF ALLIES MUSIC)
Surprise, surprise... now here we have something really sensational! PERFECT VIEW is an AOR band out of Italy with a sound as crystal clear as any US or Swedish AOR band. Need to add here that the band's debut CD 'Hold your dreams' is not 100% AOR, because the band is sometimes quite diverse, adding influences from Prog/Melodic Heavy Rock, but overall we can call this band very AOR based. Imagine a mix between URBAN TALE, TOTO, EXTREME, WORK OF ART, SAGA and ROXUS, well then you're quite close to this PERFECT VIEW. It seems like Italy is really the new country to look for sensational AOR, because the past 10 years we have seen some really amazing albums of bands like EVA, KILLING TOUCH, LOS ANGELES... The first PERFECT VIEW album was mixed and mastered by ROBERTO PRIORI (WHEELS OF FIRE, LOS ANGELES, KILLING TOUCH) and basically this is a very high quality album that is a must-have for any AOR fan out there. The first 2 songs ("A better view" and "Closer") are uptempo AOR the way the AOR fan wants to hear it, really not far away from WORK OF ART actually, very sensational AOR is the name of the game here! The Progressive influences can be heard in the heavier "One more time" and "Showtime", both light Progmetal a la VANDENPLAS, which on the other hand is not that strange as actually before PERFECT VIEW, some of the members played in the Progmetalband XTERIA whom released an album back in 2000. Anyway, some EXTREME meets TOTO can be heard in tunes like "Don't turn away" and "Speed demon", while the heaviest song has got to be the fast uptempo Melodic Heavy rocker "Run". Other notable tracks are the TOTOish Westcoast-AOR of "Believe", "A reason to fight" (exceptional great ballad of a very high level, STEELHEART meets TNT doing an AORish JOURNEY ballad, very high pitched range the singer MASSIMILIANO ORDINE has) and the lovely semi AOR ballad "Where's the love" (HUGE sounding tune, a la NETWORK's 'Crashing Hollywood' if anyone remembers them, otherwise mix a little ROXUS with RED DAWN!). This band is right up there with URBAN TALE, meaning this is a very sensational AOR release, although I do think they can do even better as there are a few weaker songs on the album. If they go into a major studio next time and record an AOR only album, who knows we could be listening to the next big thing in the AOR world. However, they already have released an incredible debut with this 'Hold your dreams'. More info at: www.perfectviewtheband.com
(Points: 8.8 out of 10)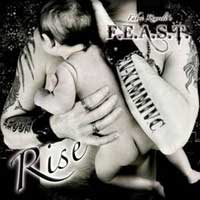 FABRI KIARELLI'S F.E.A.S.T. 'RISE' (AVENUE OF ALLIES MUSIC)
Italian vocalist/guitarist FABRI KIARELI is the man behind this release and he seems to be an experienced musician whom picked up a guitar way back in the 1970s and played in quite some bands during the past 30 years. He is definitely able to write good songs and the material on this album is very nice pure 80s Melodic Hardrock. Still I think his vocals are not strong enough to keep the attention all throughout the record. Also some of the songs are a bit too much trying to sound like some well-known classics from the past, for instance the midtempo "Dangerous love" that really can not compete with similar tracks of JOHN NORUM/VINNIE VINCENT ("Back on the streets") and VENGEANCE ("Dreamworld"). Much better is the semi-melodic rockballad "Cold hearted", which on the other hand does owe a lot of classic WHITESNAKE ("Is this love"). 13 tracks are included and although it really is a quality record, it misses the click needed to convince 100%. For a debut CD a nice start, but I'm convinced Fabri can deliver something better, because his guitarplaying is very impressive. However, the song material needs to be stronger and vocally some major improvements are necessary next time. Check it out for yourself at: www.feastrock.com
(Points: 7.7 out of 10)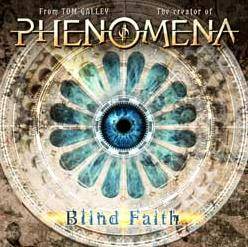 PHENOMENA 'BLIND FAITH' (ESCAPE MUSIC)
The 1980s brought us the PHENOMENA project, a project based on stories written by TOM GALLEY in the early 80s. The project was quite unique actually 25 years ago, as back then there weren't that many projects which featured a whole list of well-seasoned musicians from the hardrockrock/aor and metalworld. The past 10 years we have been spoiled with so many projects/rock-operas that featured almost anyone who means something in today's music scene, but PHENOMENA was one of the very first. ESCAPE MUSIC did re-issue all the PHENOMENA albums onto CD recently and it was clear that the included music still sounded fresh, even 25 years later. However, creator TOM GALLEY managed to record a whole new album under the PHENOMENA moniker. The featured musicians are completely different than the past PHENOMENA releases and musically it is clearly heavier and more Melodic Hardrock orientated. It will be a bit too much to mention each and every musician whom is making an appearance here, but with lead singers like TONY MARTIN (BLACK SABBATH), MIKE DIMEO (RIOT), ROBIN BECK, TERRY BROCK and RALF SCHEEPERS (PRIMAL FEAR), this new PHENOMENA album is showing it is a very interesting and impressive project. Not every song is a winner and musically it is like I said quite different from the 80s (or later) PHENOMENA releases, but nevertheless there's some great material to be heard, such as "I Was Gonna Tell You Tonight" (midtempo AOR sung by ROBIN BECK, if only she could sing more songs, because she still shows she is one of the best female singers out there!), the HEARTLANDish "If You Love Her" (sung by CHRIS OUSEY), The JOURNEYish AOR ballad "House Of Love" (sung by FINAL FRONTIER/SAGA frontman ROB MORATTI) and the fantastic uptempo AOR rocker "Don't Ever Give Your Heart Away" (STEVE OVERLAND really shines here, going back to the early FM work!). What we basically have here is a high quality record with superb musicianship and some excellent songs here and there, although some of the songs are also going into the 'so-so' level. However, fans of any of the singers will of course be delighted with this project, because especially ROBIN BECK and STEVE OVERLAND deliver something sensational on this new PHENOMENA record 'Blind faith'!
(Points: 8.5 out of 10)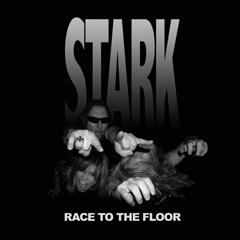 STARK 'RACE TO THE FLOOR' (KICKING AND SCREAMING MUSIC/USA IMPORT)
STARK is a female fronted band from New York City that truly captures the classic Rock and Roll sound. A little punky and a whole lotta rock and roll, kinda like JOAN JETT, THE RUNAWAYS, so with a clear attitude and rough in your face Rock anthems. 9 tracks are included and everything looks and sounds pretty professional. I believe this 'Race to the floor' is already their 3rd record and main member of this threesome is female singer/bassist LANI FORD, who is also working on an acoustic solo-CD. However, with the 9 uptempo Hardrock and roll tunes on this disc, any fan of honest true dirty mean rock and roll will have something to sing-a-long to. Lani has the perfect vibrato in her voice to keep your entertained and overall it also reminds me a lot of THE RIPLETS, yeah I know, a local Dutch band here, but still this STARK has the same kinda honest True Rock and Roll feeling! Check it out for yourself at: www.starknyc.com
(Points: 8.2 out of 10)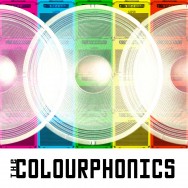 THE COLOURPHONICS 'THE COLOURPHONICS' (PROGROCK RECORDS/BERTUS)
The band THE COLOURPHONICS was formed in 2007 and are hailing from the Australian city of Adelaide. They mixed up all kinds of music genres through the years and eventually released their same titled debut CD on PROGROCK RECORDS. 9 tracks are included here and although released on PROGROCK RECORDS, the included music is very diverse and is sometimes far removed from the Progressive Rock genre. What sets this band apart is the fact they have a female and male singer, but also a Horn section in their line-up, so a sorta JAZZ/FUSION kinda approach is a lot of the time hearable. Happily the music is always melodic and sometimes quite experimental Progressive Rock. The female vocals remind a little of classic JEFFERSON AIRPLANEish GRACE SLICK and the highlights on their first CD are "Looking back", (the most Progrock orientated track, female and male vocals duet), "My daydream" (female, very relaxed and laid-back, jazzy), and "Sunset 2 - Found" (sorta 1960s Funky Jazz approach with the horns, male vocals, even reminding of SPENCER DAVIS GROUP). In the end, this is quite original stuff here, not strictly prog, as the music is many times much more than that (a lot of jazz, soul and funk is notable, but most of all fans of 60s R&B meets Psychedelica Rock might love this at best! More info at: www.myspace.com/newtranslation07
(Points: 8.1 out of 10)
(All reviews by Gabor Kleinbloesem except where noted)