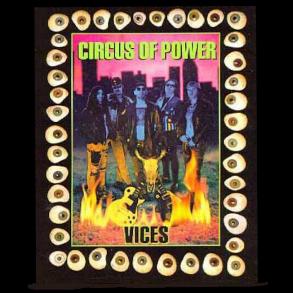 CIRCUS OF POWER 'VICES' (ROCK CANDY RECORDS)
Although the 1980s was all about Glam, Glitter, Hair and Spandex, there was also a large following for bands that went against that fashion style, because wasn't Rock all about making a lot of noise and sounding dirty and mean, while looking totally unattractive? Well, bands like THE CULT, THE RAMONES, GUNS'N'ROSES, FASTER PUSSYCAT and CIRCUS OF POWER were examples of real Rockbands that never sounded dated, even during the 1980s. THE CULT, GNR and THE RAMONES of course have always been popular, but bands like RAGING SLAB and CIRCUS OF POWER could have perhaps better started 20 years later, because nowadays a debut album of a band like CIRCUS OF POWER would have caused more stir than back in 1989 when it was originally released on RCA RECORDS. The band's debut album 'Vices' has now been re-issued by ROCK CANDY RECORDS, complete with 5 live bonustracks and a very long essay with pictures inside the CD booklet. It's amazing how this album stood the test of time easily and like already mentioned, if this was a new band, they would have been praised as much as WOLFMOTHER, THE ANSWER or AIRBOURNE the past few years. Dirty mean Hardrock'n'Roll is the name of the game here and it is done at a high level. Happily, this band did not breakup after this major label debut CD and went on releasing more records on smaller labels. Now their finest moment, which was their debut album 'Vices' is re-issued and more info on that can be found at: www.rockcandyrecords.com
(Points: 8.2 out of 10)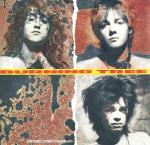 BURNING TREE 'BURNING TREE' (ROCK CANDY RECORDS)
Although the present day is very kind to 70s style Power Trio groovy Heavy Bluesrock and it is actually one of the most popular Rock genres at the moment, during the 1980s this part of Rock was completely out of fashion. Creating new Rock material in the style of CREAM, MOUNTAIN and JIMI HENDRIX was against the major label politics at that time, which were more focused on keyboard/chorus friendly Rock. On the other hand there were always bands that ignored this fact and did their own thing, which now 20 years later is more appreciated than back in 1989. BURNING TREE out of Los Angeles for example had nothing to do with the then popular Hair Metal style, because they were musically quite close to something out of the 1970s or even earlier, because comparisons to CREAM and JIMI HENDRIX were quite obvious when listening to their debut album, which now has been re-issued on ROCK CANDY RECORDS. The band's only record sounds very fresh nowadays, also thanks to the incredible remastering and the timeless mix of Classic Rock, Blues, Soul and R&B. Happily, the band's material was still filled with many strong memorable melodies and not just about doing one long Jam session with guitar riffs only. BURNING TREE had a unique sound, but they didn't belong to either the 1980s Hair Metal or the 1990s Grunge Rock scene. This fact sadly made it for them impossible to continue, as in the late 80s/early 90s labels wanted to fit you into a genre and when that was not possible, you were dropped and that happened to BURNING TREE. The band's guitarist MARC FORD became the BLACK CROWES guitarist and with that band a lot more success was achieved, although musically there was not such a big difference between those 2 bands. With a total of 4 bonustrack, an extensive booklet, this rather hard to get and overlooked album is highly recommended to fans of Soulful bluesy Classic Rock. Now available through: www.rockcandyrecords.com
(Points: 8.5 out of 10)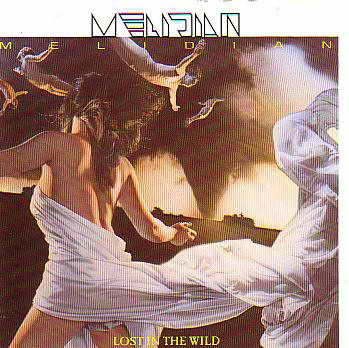 MELIDIAN 'LOST IN THE WILD' (ROCK CANDY RECORDS)
So many major labels and so many releases, the 1980s in the USA must have been a very interesting period for members of the press, because there was a lot to do in the AOR/Melodic Rock field. Ever since JOURNEY, BOSTON, TOTO, HEART, FOREIGNER, SURVIVOR and REO SPEEDWAGON became the major bands in the USA during the early 1980s, nearly every major label started signing new bands in the hope to find the next sensation to step into the footsteps of the 7 aforementioned major acts. Hundreds of bands were able to record a major label release during the 1980s and sadly most of them failed to become a success. Towards the end of the 1980s the AOR became Melodic Hardrock (thanks to BON JOVI, EUROPE, DEF LEPPARD and WHITESNAKE's breakthrough) and the labels started focusing on that 'Hair Metal' field. Some of the bands that were signed however were actually wrongly marketed, but that is another story I will not touch here. Anyway, VALENTINE, DANGER DANGER, AUTOGRAPH and DIVING FOR PEARLS were bands that combined AOR and Melodic Hardrock and one more New York based band that more or less could be added to that list was MELIDIAN. They released 1 major label release entitled 'Lost in the wild' on CBS, but around 1989 it became harder and harder for a new band to breakthrough, although even in 1990 a lot of bands were still successful in the Hair Metal genre. However, like mentioned in the first sentence of this review, there were too many new major label releases and that's when bands are being overlooked. Not saying this MELIDIAN release was a classic and really sensational album, because the band's mix of DANGER DANGER and AUTOGRAPH was just good plain 80s Melodic Hardrock, but it definitely should have gotten some more attention back then. If only they had released the SURVIVORish AOR ballad "Sleepless nights" as first single/video, then they might have had their lucky break, because this song alone makes it all worth to check out the new re-issue of this 1989 release. No bonustracks on this ROCK CANDY re-issue, but as usual, the remastered sound is incredible and the Melodic Hardrock of tunes like "Ready To Rock", "Livin' Under The Gun", "Fire Up The Heart", "Hands Off" and "Overheated" will please any fan of 80s BON JOVI, DOKKEN, AUTOGRAPH, DANGER DANGER, etc. etc. Now available through: www.rockcandyrecords.com
(Points: 8.5 out of 10)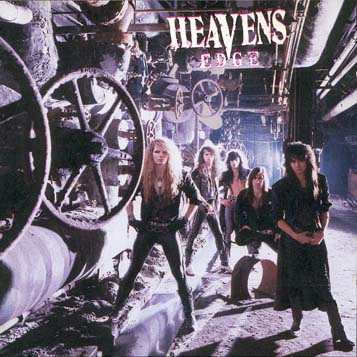 HEAVEN'S EDGE 'HEAVEN'S EDGE' (ROCK CANDY RECORDS)
Who is to blame when you have a great high quality record being released on a major label, but somehow it doesn't become the success it was destined for? Well, it happened to a lot of bands during the period 1987 – 1991 when US major labels signed nearly every band with a lot of hair. The problem becomes inevitable with so many new releases in the market that a lot of acts are being overlooked and eventually dropped by the major labels due to poor sales. The problem in this period in the USA, which was the time between BON JOVI/EUROPE/DEF LEPPARD/MOTLEY CRUE hitting it big time and Grunge taking over, so somewhere during the late 80s/early 90s, too many average bands were signed (BULLET BOYS, D'MOLLS, EVERY MOTHER'S NIGHTMARE, ROXX GANG, etc. etc.) and they took away the possible breakthrough of the high quality acts that were on the same major labels (such as VALENTINE, SIGNAL, UNRULY CHILD, HEAVEN'S EDGE, MELIDIAN…). So many bands were dropped after just one album and now 20 years later most of these releases are being held as Classics in the Melodic Rock and AOR genre. A fine example is the 1989 debut album of Pennsylvania based HEAVEN'S EDGE. These guys had it all and could have easily followed the footsteps of DOKKEN, WHITE LION and BON JOVI, but changes within their major label organization (COLUMBIA RECORDS) made it impossible to achieve their fifteen minutes of fame. They did record more stuff and played live like any other band, but eventually after Grunge had crushed into the musicworld it was all too late and the band gave up the ghost. Each of the members went their own way, doing either something completely different or continue doing music related business. HEAVEN'S EDGE however was over and left us 1 official album (not counting the band's demo filled CD released by MTM/PERRIS during the 1990s). Thaat record has now been re-issued 21 years later onto CD by ROCK CANDY RECORDS, fully remastered and sounding picture perfect, also making you wonder what went wrong, because this band should have been massive and enjoy the same success as for example NELSON, WINGER, WARRANT, SLAUGHTER, TRIXTER and FIREHOUSE in and around 1990. Just listen to songs like "Find another way", "Hold on tonight", "Bad reputation" and "Come play the game" and you're hooked forever, because this is Melodic Rock at it's very best, sounding like a perfect cross between 80s DOKKEN, FIREHOUSE and early BON JOVI, with superb lead vocals. As always, also this ROCK CANDY re-issue comes along with a 4,000 word essay about the making of the album, interview with band members, 3 kick-ass unreleased demo tracks and lots of rare pictures of the band in their 'hair' days, all spread out over a 16 page full colour booklet. Melodic (Hard) Rock is still very much alive nowadays, but if you listen to this HEAVEN'S EDGE album you will hear how much better it sounded some 20 years ago and who knows if it had been released a few years earlier, then this band might have been one of the big ones that would still be alive the present day. One way or the other, more info on this re-issue at: www.rockcandyrecords.com
(Points: 8.9 out of 10)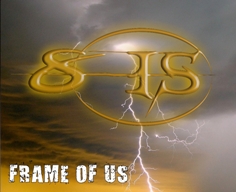 8 IS 'FRAME OF US' (HETA PRODUCTION/ITALY IMPORT)
Really from out of nowhere a band called 8 IS from Rome, Italy was kind enough to sent me their debut CD 'Frame of us'. I had never heard or read anything about them, but believe that this will change very very soon after this review is posted! I am so glad they did sent me their CD, because it sounds very exciting and impressive and after repeated listens I can guarantee you it belongs to the finest AOR releases of 2010! OK, maybe some will call this typical AOR by-the-numbers, but it is done very well and is equal in quality to for example HOUSTON, H.E.A.T. and TERRA NOVA, although here and there it is even sounding better, thanks to a fantastic sound/production (mastered at the famous STERLING SOUND in New York!) and also excellent musicians (8 IS drummer Franco Casini and 8 IS guitarist Lorenzo Milone, with as guests bassist Andrea Casali and keyboardplayer Emanuele Casali). The band is happily blessed with a very good lead singer, which is very important for AOR music. His name is MARCELLO CATALANO and he can easily sing in the higher and lower registers, needed to make AOR sound sensational. Instrumental it is pure AOR, with the hooks, keys and melodic guitarwork all in place, spread out over the 10 included songs. Obviously they have listened very well to records by SURVIVOR, JOURNEY and such, but actually they also remind me a lot of the early 1990s British AOR scene (bands like PASSION STREET, WALK THE WIRE, ATLANTIC, etc.). All 10 included songs are belonging in the sensational AOR style we all love so much, so let's walk through the tracklist of the CD from here on…
Opener "Everlasting love" is a great uptempo AOR rocker that sounds like the perfect cross between the very first ALIEN (Sweden), DAYTONA and FROM THE FIRE. This song grabs you rightaway and it does not happen a lot that a CD from the first song on gets your attention and actually keeps you impressed until the last few seconds of that same album, but 8 IS did it with this CD! Although the start is very good, the following tracks are much better and very sensational actually! Following track "I'll be there"is a beautiful picture-perfect AOR ballad that comes dangerously close to a ROXUS or 80s LOVERBOY ballad actually. This is one of the finest AOR ballads I have heard in a very long time! So we had an uptempo rocker and a ballad, well then it's time for the midtempo tune and this is "Lady", a great midtempo AOR tune that somehow reminds me of the German band STATEMENT or the Spanish GOLDEN FARM if anyone can remember them! Track number 4 is called "The final courtain" is also midtempo, but a little more epic, yet with lovely melodies in the catchy haunting chorus, so basically another terrific tune, with a lot of similarities to ATLANTIC's one and only classic from the early 90s. Then the band adds some 80s Westcoast-AOR in the slightly poppier midtempo "Fallin' in your eyes", which once again is blessed with lovely AOR melodies, reminding here a bit of the DAKOTA classic 'Runaway' and some TOTO. The guitarwork in this and every other song somehow reminds me of the guitarwork of the 2nd PROPHET classic 'Cycle of the moon', just to give you an idea how much Classic AOR is being put into this little record from Italy.
Late 80s STRANGEWAYS comes alive in the semi-AOR ballad "On and on" that sounds better than anything on the recent new comeback album of STRANGEWAYS actually! The CD continues with "If you turn around", a nice semi-ballad that takes some time to built up, but towards the end we're getting close to AOR heaven, also this song has JOURNEY/STRANGEWAYS/STREET TALK similarities. "In my life" starts quite promising and a little THE STORMish, with a great catchy hook/pre-chorus, but the na-na-na part of the chorus spoils it a bit, so this is the first song that isn't sensational. Happily, the last 2 tracks are quite good again, with first the calmer slightly bluesy/soulful semi-ballad "Back to you" that has a touch of mid 1990s JOURNEY and as closing track the piano ballad "Tomorrow comes tonite" (again very JOURNEYish) that shows the band's lead singer at his very best, which is quite emotional and basically being a perfect AOR singer of whom we will hear hopefully much more in the near future!
All together we have here something very interesting, a sensational AOR release from Italy and the only pity might be that the only real uptempo rocker is the opening cut, but aside from that, this is a pure AOR record that is straight up there with any FRONTIERS RECORDS album! A highly recommended pure AOR CD we have here, so be sure to grab a copy A.S.A.P.!!! More info at: www.8-is.com and www.myspace.com/8is and e-mail them at: info@hetaproduction.com and band@8-is.com
(Points: 9.1 out of 10)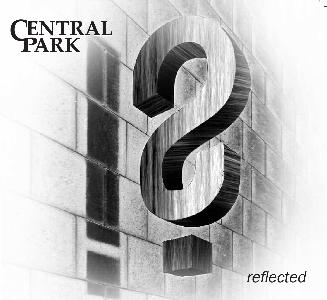 CENTRAL PARK 'REFLECTED' (ROCKVILLE MUSIC/SOULFOOD MUSIC/GERMUSICA/GERMANY IMPORT)
Well well well, the first official CD I received that has a release date set in (late January) 2011! It's the German band CENTRAL PARK, of whom we reviewed 4 years ago (see https://www.angelfire.com/planet/strutter/HOTNEWREVIEWS101.htm ) the debut CD entitled 'Unexpected', which was a very strong and sensational Symphonic AOR/Pomprock meets Neo-Progrock type of album. Now 5 years later the band returns with a new album titled 'Reflected'. The sound/production is of a very high level, but it is clear that the band has changed a bit, because we welcome a new singer, the female soprano vocalist JANNINE PUSCH. Secondly, the AOR influences have almost vanished here, as CENTRAL PARK's new CD is a pure Progressive Rockalbum, with a clear modern approach and then I mean a band like SPOCK'S BEARD to which you can best compare the new sound of CENTRAL PARK, so this is real pure Progressive Rock, yet with semi-soprano vocals a la TRACY HITCHINGS. A song like "Doom" is a very heavy song actually and falls a bit out of place here. One definitely has to get used to the new CENTRAL PARK sound, as it definitely has to grow on you, but I do have to admit that the stuff we get to hear here is major label quality stuff… no doubt about that! Be sure to check out CENTRAL PARK at: www.centralpark-band.de
(Points: 8.2 out of 10)
JOSEPH WILLIAMS AND PETER FRIESTEDT 'SAY GOODBYE' (ZINK MUSIC/SWEDEN IMPORT)
1 new song included here from TOTO lead singer JOSEPH WILLIAMS, who recorded a full-album with Swedish musician PETER FRIESTEDT (of whom we reviewed 2 albums in the past, of which 2 songs are included on this CD-single as well) to be released in 2011. It will definitely be an interesting album to look forward to, as it could become a sensational Westcoast-AOR release when judging the first song here on this 3-tracks counting CD-single. The particular song "Say goodbye" is namely a pure classic 80s TOTOish Westcoast-AOR tune, so keep your eyes open for this 2011 release! More info at: www.zinkmusic.com
(Points: 8.2 out of 10)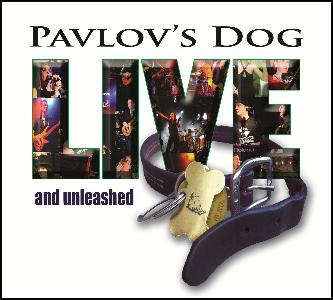 PAVLOV'S DOG 'LIVE AND UNLEASHED' (ROCKVILLE MUSIC/SOULFOOD MUSIC/GERMUSICA/GERMANY IMPORT)
The band PAVLOV'S DOG is a real cult act, which was mainly active during the 1970s, when they released 2 major label albums, both of which have been very popular, but didn't give the band a big break sadly. The band's was material was sounding like a mix between RUSH and BLUE OYSTER CULT, although also sometimes akin to AOR/Melodic Rock and even some 70s KANSAS Prog/Pomprock here and there. A song like "Breaking ice" for example could well be described as typical late 1970s US AOR/Pomprock (a la THRILLS, CHAMELEON, NEW ENGLAND and such). Anyway, the band recorded more material in the years after their mid 1970s major label releases, but somewhere in the early 80s they split up, only to resurface in the 1990s briefly, but since the early 2000s they really made a reunion and even began recording material as well as playing live on stage. The result of their recent live activities have now been released on CD. The result shows a very decent band, with as most remarkable of course the ever unique vocals of singer/guitarist/bandleader DAVID SURKAMP. 16 tracks are included on this live-CD and the music nowadays captures the typical late 80s US way of mixing melodies from the AOR/Pomprock with the structures of Progressive Rock and the somewhat extraordinary vocal style a la BLUE OYSTER CULT. The CD is actually quite a pleasure to listen to from the start until the very end, with as highlights "Breaking ice", "Late November" (very AORish) and "I love you still". They are one of those bands you really have to capture live and that's why this album is really worth checking out. A very special and exceptional band that is impossible to compare or put a label on, as they are unique as bands like BLUE OYSTER CULT, THE GRATEFUL DEAD, RUSH, CHEAP TRICK, etc. etc. Soon we will review all the 5 albums that have been put out on CD by ROCKVILLE MUSIC, so more to follow. In the meantime, more info at: www.rockville-music.com and http://pavlovsdogband.tripod.com
(Points: 8.5 out of 10)
JOSEF MELIN 'OFFSHORE MONSTERS EP' (ZINK MUSIC/SWEDEN IMPORT)
This is the kind of music the Pop critics in The Netherlands love so much, a sorta Jazzy Soul/Pop adventure that is very laid-back and 1970s STEELY DANish, although with a modern touch as well. The computerized vocals are a bit too much for me personally, but this Swedish musician definitely shows on this mini-CD he is a professional musician, although I would like to see him go for a more Westcoast-approach next time, because the song "Wave to friends and family" sounds like a pure Westcoast-gem from the 1970s, unlike the other 3 modern Soulish Poptunes. More info at: www.zinkmusic.com
(Points: 7.7 out of 10)
ROLF JARDEMARK 'SUNSET IN GUITARLAND' (ZINK MUSIC/SWEDEN IMPORT)
Swedish Guitarist ROLF JARDEMARK has been active for quite some time now and 'Sunset in guitarland' is his latest effort. Musically this is very relaxing late-summer night semi-acoustic laid-back Westcoast as if we are all sitting under a Palm Tree in Los Angeles. Rolf is an excellent guitarplayer with some very strong material here, although only 3 of the songs feature vocals, as most of this CD is instrumental based. The vocal tunes feature singers like the legendary MICHAEL RUFF and BILL CANTOS as well as the lesser known ULF WAKENIUS. Some of the tunes really give you a feeling like 'life's good and let's just enjoy the beautiful sunshine outside', although for most of us we are stuck at the moment in the middle of a really cold snowy winter! But despite the fact the release of this CD is in the middle of the winter, it definitely is a pleasant listen. Check it out for yourself at: www.zinkmusic.com
(Points: 8.5 out of 10)
DREAMCYCLE 'SOUND CANVAS ONE' (DREAMCYCLE MUSIC/USA IMPORT)
DREAMCYCLE is a female fronted band from California playing calmer semi-acoustic/electric guitar driven music that is sorta 1980s orientated Melodic Pop/Rock orientated (reminding me somehow a lot of fellow Californian band CHALLENGE if anyone can remember them!). It sounds a bit atmospheric and even a little AORish during "Tiger beach", reminding of TIL TUESDAY with some LIZA NEMZO similarities. So basically this is female fronted 80s singer-songwriter Poprock what you get hear here, yet with some typical California arrangements. It's actually pretty good, not too straight-forward or rocking out all the way, but more or less well-thought pop/rock. Pity only 5 songs are included on the band's CD 'Sound canvas one', but hear them for yourself at: http://www.dreamcyclemusic.com
(Points: 8.0 out of 10)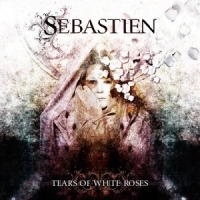 SEBASTIEN 'TEARS OF WHITE ROSES' (ESCAPE MUSIC)
SEBASTIEN is a Czech Republic band with a high quality debut CD titled 'Tears of white roses' on ESCAPE MUSIC. The album was produced by ROLAND GRAPOW (MASTERPLAN, ex-HELLOWEEN) and musically speaking this is typical European Melodic Metal like we have heard it by many other bands before. So nothing original at all here, but happily it is all done at a very high level and therefore the mix of PRETTY MAIDS, FIREWIND and MASTERPLAN is a pleasure to listen to. Especially the PRETTY MAIDS/BLIND GUARDIANish vocals of singer/guitarist GEORGE RAIN are quite good and songs like "Remiel in flames", "Tears of white roses" and the excellent "Phoenix rising" (FIREWIND meets MASTERPLANish fast uptempo Melodic Power Metal, very catchy) are very impressive tunes with great memorable melodies. The list of special guests is very impressive, because AMANDA SOMMERVILLE, DOUGIE WHITE, FABIO LIONE, MIKE DIMEO ad APOLLO PAPATHANASIO all appear on this CD. I would not call this album the finest Melodic Metal album of the year 2010, because it is not as good as for example the recent new FIREWIND album and neither this SEBASTIEN album can be called a classic, but for the fans of mentioned bands this is definitely worth checking out. Still a must-have for MASTERPLAN/FIREWIND fans! More at: www.sebastienofficial.com
(Points: 8.4 out of 10)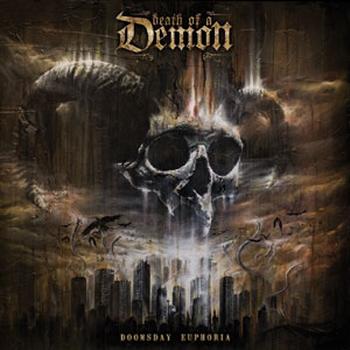 DEATH OF A DEMON 'DOOMSDAY EUPHORIA' (CARGO RECORDS/SONIC RENDEZVOUS)
Although the front cover of the CD of the German band DEATH OF A DEMON looks like it must belong to a Black/Death Metalish record, this is happily not the case at all here! In fact, DEATH OF A DEMON is playing a mix of Stoner Rock and Doom Metal, reminding a lot of acts such as TROUBLE, KYUSS, 70s BLACK SABBATH and here and there SPIRITUAL BEGGARS. The sound/production of their CD is huge, the band's singer (LOU) has a great set of pipes and the guitarsound is very Metal orienated, super groovy and includes some big BLACK SABBATHish guitar riffs. This is one of those CDs that will be welcomed with open arms within the Metal community if they are aware of it, because DEATH OF A DEMON is a new band that makes their debut here. Check out all info on this promising band at: www.deathofademon.com and http://www.myspace.com/DOAD
(Points: 8.4 out of 10)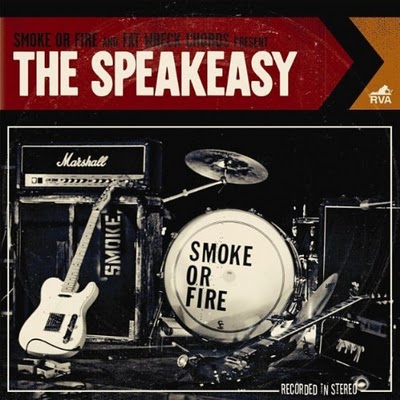 SMOKE OR FIRE 'THE SPEAKEASY' (FAT WRECK CHORDS/SONIC RENDEZVOUS)
America and the mix of light-hardcore and melodic punkrock has been going hand in hand for nearly 30 years now. Must have started somewhere in the early 80s in California with bands like DEAD KENNEDYS, BLACK FLAG, BAD RELIGION and later on NOFX, RANCID and of course the most popular one of all time, GREEN DAY. The latter took it to very commercial proportions, while the BLACK FLAG for example went on going for the more extreme side, which was pure Hardcore actually. However, between 1981 and 2011 thousands of bands played the slightly friendly upbeat melodic fast Punkrockstyle that featured strong political lyrics combined with always a catchy melodic chorus to sing-a-long with. SMOKE OR FIRE was born in 1998, but despite their California sound a la IGNITE/STRUNG OUT, meaning catchy fast Melodic Punkrock with light Hardcore influences, this band is actually based in Boston! Boston is known for their slightly aggressive Hardcore, but SMOKE OR FIRE really belongs more to the fun catchy radiofriendly California side of Melodic Punkrock, which for us is therefore interesting to discuss here. The band's third album is titled 'The speakeasy', also available as LP / Vinyl by the way. 13 songs are included in total and most of them go in a similar path, but somehow the songs "Monsters among us" and especially "Neon light" are the finest tunes included here, both definite radio-hitsingles if you ask me! Not groundbreaking perhaps, still also SMOKE OR FIRE's new release shows that their label FAT WRECK CHORDS is one of the best labels around to look for quality Punkrock as each release of this label is highly recommended to fans of this never-ending genre! More info on SMOKE OR FIRE at: http://www.myspace.com/smokeorfire
(Points: 8.3 out of 10)
PASCOW 'ALLES MUSS KAPUTT SEIN!' (CARGO RECORDS/ROOKIE RECORDS/SONIC RENDEZVOUS)
Germany and especially the Ruhrgebiet area of this country is very Punkrock minded, with thousands of active bands the present day. A band like DIE TOTEN HOSEN is seen as the ultimate German Punkrockband and together with DIE ARZTE they created a total new genre, which is Punkrock with German lyrics and songs that actually are made for the big stadiums to sing-a-long by either Football or Icehockey fans! Something that is quite rare for the rest of the world, except perhaps in the UK, but whenever one is going to either a Football or an Icehockey event there's always some of the typical German Punkrock to be heard. PASCOW is exactly playing this genre, so nothing original, but when you hear a song like "An die Maulwurfe", one can't help singing along, especially when you hear it in a big Icehockey arena somewhere in Dusseldorf or Cologne (yeah, I've been there!). Definitely quality stuff and a must-hear if you like the typical German Punkrock of mentioned bands. More at: www.pascow.de
(Points: 8.1 out of 10)
BITUME 'LOLCH' (CARGO RECORDS/ROOKIE RECORDS/SONIC RENDEZVOUS)
On the same label as the earlier reviewed PASCOW, also BITUME is in the same direction of classic melodic Deutschpunk. DIE TOTEN HOSEN and DIE ARZTE are the main similarities here and although non-German speaking people will not understand a single word what is sung here, BITUME performs 13 catchy fast melodic punkrocktunes on their latest CD 'Lolch'. Also this CD is a must-have for fans of typical Deutschpunk! More at: www.bitume.de
(Points: 8.2 out of 10)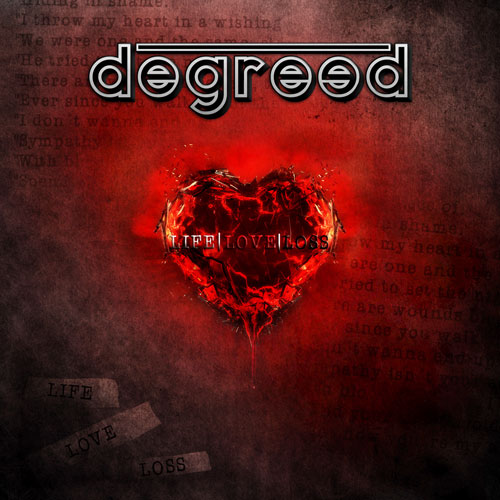 DEGREED 'LIFE LOVE LOSS' (MELODICROCK RECORDS/AUSTRALIA IMPORT)
A few years ago we reviewed the demo of the Swedish band DEGREED and already back then I came to the conclusion that this was a band with a bright future, because their sound was sensational, combining the best of AOR/Melodic Rock and Progressive Rock, sounding both classic and modern at the same time. Well, recently the website melodicrock.com started their own label MELODICROCK RECORDS and one of the first signings was DEGREED. Now the official debut CD of this incredible band has been released and without a doubt we have something special here that will appeal to not only the AOR/Melodic Rockfans, but also Prog and Modern Rock fans will find something of interest here. This band is combining it all together, sounding catchy, fresh and original at the same time! This album is the most original AOR album in ages, easily beating the somewhat safely played records of H.E.A.T., HOUSTON and even JOURNEY! Think of WORK OF ART, that other Swedish AOR band that also released a slightly original AOR album a few years ago and their debut is now praised as a Classic record of the 2000s! I can assure you that this first DEGREED album will undergo the same treatment, so in a few years time this album will also be seen as an absolute Classic AOR record! 12 songs are included and the sound/production is really excellent. Happily, the band's finest song "Catch the feeling" is also included, because this tune alone makes it worth purchasing a copy of the CD, as this is one of the catchiest summer-vibe uptempo AOR rockers I have heard the past 10 years, a really so-called 'picture perfect' song that has a chorus one will never get out of the head after hearing it for the first time (EUROPE eat your heart out!)! Superb uptempo Melodic Rockers like "A little bit", "Story of life" and "Just imagine (3 KILLER CHORUSES!!!) are absolute winners for the people who like ECLIPSE, H.E.A.T. and the very first HAREM SCAREM… and it really doesn't get any better than this right now in the Melodic Rockworld! The rest of the material is as already mentioned actually a mix of a tiny bit modern rock (HOOBASTANK, TRAPT, DEEP INSIGHT), some progrock arrangements (VANDENPLAS) and a lot of Classic AOR/Melodic Rock (typical classic 80s Swedish style), always with an instant melodic chorus that the AOR fans are gonna love for sure. Just check out songs like "B.O.D.", "Arms of misery" and the big surprising STEVE PERRY cover "Captured by the moment", all very original tunes with very strong AORish choruses. Each track included here is sensational, although perhaps only the ACTish "Human being?" is just good, but after playing this album 5 times in a row in one snowy winter weekend of early December 2010, I am safe to say here that this album should be in everyone's music collection! The band has a great clean melodic lead singer (bassist ROBIN ERICSSON), a powerful drummer (MATS ERICSSON), 2 great guitarists (DANIEL JOHANSSON and JESPER ADEFELT) and a keyboardplayer (MIKAEL JANSSON) who is also responsible for some great input here and there. This first DEGREED album sounds better than H.E.A.T. and somehow reminds me of SEVENTH WONDER doing a more JOURNEYeque album, yet with a fresh modern approach, so no dated 80s stuff here! However, do we really have to compare this band, because DEGREED has a sound that should be described as the DEGREED sound, which contains some of the best choruses I have heard in ages! This album of DEGREED is together with the WORK OF ART debut CD belonging to the best AOR albums released after we went into the 21st century! So at the end of 2010, this first DEGREED album could well become THE album of the year! Check them out asap at: www.degreedmusic.com and www.myspace.com/degreedmusic
(Points: 9.5 out of 10)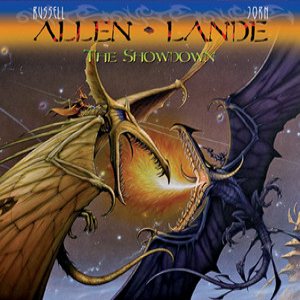 MP3 REVIEWS: VARIOUS ARTISTS/BANDS 'VARIOUS ALBUMS' (VARIOUS LABELS)
Narrowing it down to only the FRONTIERS RECORDS label this time, the Italians have some great stuff to offer, with as most interesting release of course the new ALLEN/LANDE album 'The showdown'. I bought this one as LP of course, as this is a classic and will be in the top 10 of 2010's finest releases. The LP / Vinyl version looks and sounds excellent, but better be quick, because only 500 copies have been printed! The album itself is filled with Melodic Metal at it's finest, thanks to the superb vocalwork of both RUSSELL ALLEN and JORN LANDE, but mainly due to the songwriting of Swedish mastermind MAGNUS KARLSSON, who is responsible for most of the instruments, songwriting and production. With songs like "Turn all into Gold", "Never again" and "We will rise again", without a doubt, the album to own if you call yourself a fan of strong melodies! (9.3)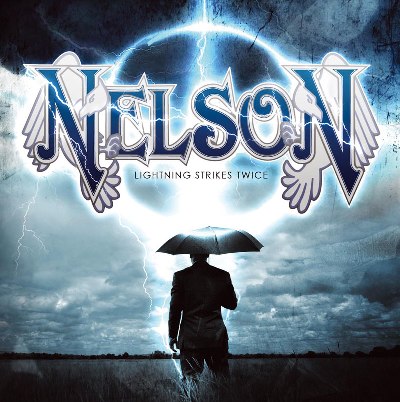 Not 1, not 2, but three new releases of the band NELSON. I remember well being hooked onto NELSON when I was 13 years old back in 1990, but had to look all over The Netherlands for a copy of the record, but eventually found one copy in a cellar somewhere in Apeldoorn and now 20 years later I still remember that day very well. Anyway, the NELSON boys had huge fame and fortune for 1 year until they vanished for the big audience thanks to the Grunge/Alternative movement, but they continued and released many records. Especially mid 1990s 'Life' is a classic in my book and it was also around that time (must have been 1997?) I even interviewed the band, so that was a dream come true. During the 2000s regular album releases of NELSON became rare, but in 2010 FRONTIERS RECORDS announced the official comeback of the boys as a pure Melodic Rockband. All grown-up, but releasing a new record in the style of their 1990 classic 'After the rain', fond memories of the good old days pass by when hearing the new tunes. Maybe not a classic, the new record 'Lightning strikes twice' definitely has a lot of great moments, both the songs and also instrumental, this is top notch Melodic (Hard) Rock! (8.7). The other 2 releases concerns a demos collection of pre-AFTER THE RAIN material, which is not really interesting and the live one is a bit too fabricated I'm afraid, so those 2 albums are only for the die-hard fans (like me!). Hopefully this new NELSON record will also get a vinyl / LP release, as I can then put it next to the old AFTER THE RAIN record I had to train all over Holland for 20 years ago!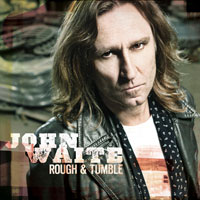 JOHN WAITE returns with his finest record in ages and also his most rocking album since he quit BAD ENGLISH some 20 years ago. The album 'Rough and tumble' shows his voice is still amazing and some of the material goes back musically to the early work of THE BABYS (listen to "Sweet Rhode Island Red" for example), although there are also quite a few weaker songs included that are close to the solo records he put out the past 15 years. It's a little bluesy here and there, but when John goes for the AOR approach such as in the superb "If you ever get lonely" it is like we're listening to BAD ENGLISH all over again, but please keep in mind only a few times that actually happens, because in general this new JOHN WAITE album is just a nice pop/rock record that is more singer/songwriter based (think ADAMS/JOVI/SPRINGSTEEN kind), so a little middle-of-the-road and some rock and roll. Not bad at all and worth a spin every now and then, although it will stand in the shadows of his classic 80s solo material, THE BABYS and BAD ENGLISH I'm afraid. However, it still is his finest effort in 20 years with such great tunes like "Skyward", "If you ever get lonely", "Better off gone", "Shadows of love" and "Evil" besides the only uptempo rocker "Sweet Rhode Island Red". (8.3)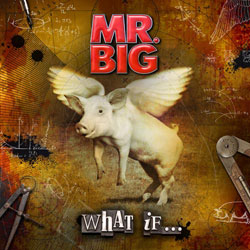 I wasn't the biggest fan of MR. BIG back in the day, but the members of the band were definitely doing extraordinary things on the records of that band and especially lead vocalist ERIC MARTIN has always been a fantastic singer in my book. However I still think his first record as the ERIC MARTIN BAND is my favorite one, because his solo-records were always a bit so-and-so, while the MR. BIG album were a bit too groovy Hardrock for me (with the exception of the 2 fantastic songs they contributed to the NAVY SEALS soundtrack). Anyway, in 2010 the comeback was announced and here is the new MR. BIG album titled 'What if…' which definitely is their best record ever! This is Rock and Roll the way it should sound nowadays! It rocks from start to finish (so no TO BE WITH YOU is included!) and the record is filled with excellent melodies, funky bass lines, thundering drum action and big groovy guitar riffs and for the first time I feel ERIC MARTIN has delivered something strong to keep you interested from start to finish. His vocals are superb, still in the MIKE RENO (LOVERBOY) category, which combined with a perfect instrumental back-up and a collection of well-crafted hard-hitting but Melodic Heavy Rock material makes up for an excellent record. The production is huge and on the strength of songs like "Around the world" (almost proggy guitar riffs are mixed with LOVERBOY like melodies here), "Undertow" (first single), "All the way up" (midtempo AOR, very much LOVERBOYish!) and "Stranger in my life" (semi-melodic rockballad) this is a very strong MR. BIG record that will be appreciated by not only long-time fans of the band, but also progheads and the regular hardrock and even metalfreaks need to check out this big sounding record that easily blows away the similar record of for example CHICKENFOOT from some time ago! (8.8)
EXTREME for me is one of the most overrated bands of the Hair Metal era. Although they should not considered to be a Hair Metal band in the first place, the band's material was very average actually and 20 years after their fifteen minutes of fame I still can not recall a moment I put on one of their records. I'll probably offend now some people, but I can't help it, as EXTREME never did something sensational in the rockworld and why GARY CHERONE ever got hired by VAN HALEN is beyond me. Now Gary has a new project called HURTSMILE, but this lot's first album is only interesting for the EXTREME fans, because the groovy Hardrock goes in one ear and quite fast the other… (7.3)
The new live records of THE POODLES and JEFF SCOTT SOTO sound perfect, but as usual with live records, it actually makes me always eager for new material, because if I want to hear all those great tunes these guys created, I'll rather go for the studio version. Live material should be seen either on stage in real time or on DVD, but here we only get the audio, so that is really less interesting. Nevertheless, of course both performances do sound excellent, but what else is new when you have great musicians and in the case of JEFF SCOTT SOTO, a fantastic lead singer involved.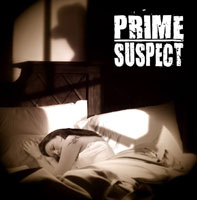 Then finally 2 newcomers on the roster of FRONTIERS RECORDS and both very strong and promising. PRIME SUSPECT performs perfectly polished AOR/Melodic Rock in the style of LAST AUTUMN'S DREAM and a little URBAN TALE. The band is formed around members of KHYMERA and the superb DREAMTIDE lead singer OLAF SENKBEIL. The result is 10 great tunes that will instantly be loved by the AOR/Melodic Rockfans out there! (8.5). The other new act is VEGA, a band formed around the lead singer of KICK (NICK WORKMAN),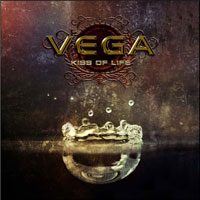 a well-respected UK Melodic Rockband from quite some time ago actually. However, the main people behind this band or should I say project is the songwriting duo of TOM and JAMES MARTIN, whom together wrote lots of great Melodic Rocksongs for bands like KHYMERA, DANGER DANGER, HOUSE OF LORDS, SUNSTORM, etc. Not original, but with VEGA they go again for the catchy Melodic Rock, but due to the somewhat U2ish vocalwork, it has a slightly different approach. BON JOVI meets DEF LEPPARD meets U2… well actually it sounds a lot like a more polished version of KICK. Not bad at all and definitely radio/TV ready as this kind of Melodic Rock is sounding modern and fresh. With a good video-single of one of the tunes, this could be as huge as KINGS OF LEON or DAUGHTRY for that matter… (8.4)
(Points: -)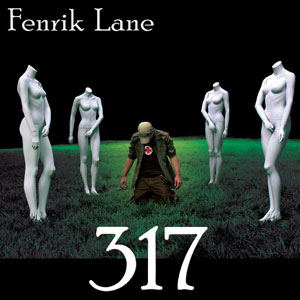 FENRIK LANE '317' (FENRIK LANE RECORDS/MELODICROCK RECORDS)
The new label MELODICROCK RECORDS (based in Australia) is definitely setting a footmark in Melodic Rock history, because they released 3 superb records as a start, so who knows finally FRONTIERS RECORDS gets some competition. DEGREED and ALL I KNOW are reviewed somewhere else, both featuring some of the best AOR/Melodic Rock melodies from the past few years! And here we have the debut CD of FENRIK LANE, a Norwegian band which was once lead by KURT NILSEN, the singer who won the Norwegian Idols and later the World Idols, scoring massive hits during his solo career. However, his 3 buddies continued the band FENRIK LANE and now 13 years after they started, the official first full-length CD of the band is released. It is titled '317' and contains the kind of Melodic Rock that could easily find a way to a bigger audience, as one can hear clear elements of bands like KEANE, KINGS OF LEON, U2 and such, so this is actually Modern Rock. Nevertheless, the band still can be seen as a pure Melodic Rockband, but what sets them apart from all the standard bands is that vocally they have that typical British kinda style (JOHN LENNON meets BONO VOX!), while the guitarsound has got that classic U2 approach (just listen to the song "Hot lips"). Somehow they also remind me a lot of bands like KING OF FOOLS (anyone remember them???), POETS OF THE FALL, KING'S FOOLS, WELL WELL WELL and even THE ALARM and THE MISSION come to mind, so actually this is timeless well-thought guitar driven Rock with very strong melodies, which is perhaps a better description than calling them just a Melodic Rockband! Absolute highlights include the uptempo "Runaway car", the midtempo "Cover your eyes" and the catchy "Going nowhere", although each of the 14 included tracks have got Radio/TV hit quality. Perhaps a bit awkward, but the best song on the whole CD is closing track "Russian roulette", an uptempo Melodic heavy rocker with a deadly catchy chorus, however, this is a cover of a song by an R&B singer called RIHANNA! Anyway, these guys sound very modern, but at the same time they remind of the past and I really think this CD is one of those albums that will be appreciated by a lot of people out there if only they are being made aware of it's existence! Go check them out at: www.fenriklane.com
(Points: 8.7 out of 10)
GRAND REZERVA 'BADLANDS' (TRIP AWAY MUSIC/TSM SLW PROMOTIONS)
Here we have a Swedish band that have been picked up by a US production company. Sadly only 1 song is on this CD, so hard to make a good judgement here, but what we hear is a pretty good song actually and one can easily say that this is a quality band playing typical Straight-forward no-nonsense Hardrock'n'Roll. SWEDISH EROTICA meets VICTORY, with a bit of NASTY IDOLS' Sleazy Hardrock is the kind of music this band is playing. Hopefully a full-length CD release in the near future, in the meantime go to: www.grandrezerva.com
(Points: 8.2 out of 10)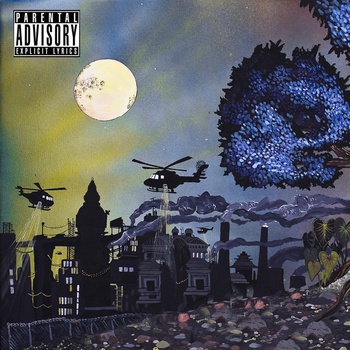 THE 1-10'S 'FIGHTING FOR A GOLDEN AGE' (INDEPENDENT/USA IMPORT)
Although this band is coming out of Nashville, they certainly have nothing to do with the Country Music that US city is known for. THE 1-10'S stand for typical American groovy and a little bluesy Hardrock that reminds so much of a heavier version of THE BLACK CROWES actually, although also some of the better Alternative Rock from the early 90s (SOUNDGARDEN/ALICE IN CHAINS) is passing by here. The band is hooked on slow groovy dark downtuned guitars and that's the way it goes from start to finish. Vocally it is quite surprising, because we have a real high quality lead singer here, who reminds a lot of ROBERT PLANT during his classic LED ZEPPELIN days! The music also has that touch here and there and will also probably attract fans of THE ANSWER and WOLFMOTHER. For an independent CD this does not sound bad at all (best song is "Crazy for you", a real Classic 70s Hardrock type of song), but I am really confident this band could become huge if they are discovered by the mass media, because the potential is clearly there. So if you're looking for a combination of LED ZEPPELIN's "Kashmir", the early SOUNDGARDEN sound, THE ANSWER and THE BLACK CROWES, then look no further, because THE 1-10'S is the answer! More at: www.theonehthroughtens.com
(Points: 8.2 out of 10)
(All reviews by Gabor Kleinbloesem except where noted)