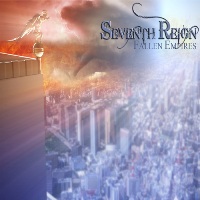 SEVENTH REIGN 'FALLEN EMPIRES' (INDEPENDENT)
We head over to Canada once again to find yet another sensational Melodic Power Metal band. The band is called 7TH (or SEVENTH) REIGN and they play pure Melodic Power Metal at a very high level, not far removed from EDGUY. With the addition of some excellent keys (Progmetal influences and a bunch of very melodic catchy hooks/choruses) and none-other than BEAU HILL (WARRANT, RATT, FIONA, WINGER, etc etc) who took care of the mixing and mastering of this CD, the result is a superb CD that belongs to the Metal highlights of 2009! The band has a tight sound, fantastic guitarwork, a bunch of wonderful songs that belong to the best in Melodic Metal and an excellent lead singer called BRIAN SOULARD, who is a real discovery, with a voice range every Metal singer will be jealous of! He sang previously with EIDOLON, but with this band he sounds so much better somehow! The combination of all these facts is making this 7TH REIGN an absolute must-have for any Metalfan out there! EDGUY meets STRYPER meets MAIDEN twin-guitars meets FIFTH ANGEL meets EIDOLON is something that would describe SEVENTH REIGN's sound at best. Songs like "Unbeliever", "Fallen empries" and "The other side" are by far the best Melodic Metal tunes heard in a long time! Definitely a band with a bright future! More info at: www.7threign.com and www.myspace.com/7threign
(Points: 9.0 out of 10)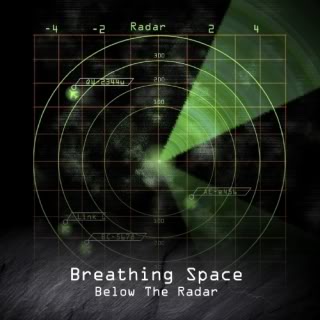 BREATHING SPACE 'BELOW THE RADAR' (INDEPENDENT)
I was completely blown away when hearing this CD, because it sounds really amazing and original. BREATHING SPACE is a female fronted band from the UK, formed around 3 members of MOSTLY AUTUMN, of which keyboardplayer IAIN JENNINGS has left officially that band in 2006. They have already released 2 albums in the past, making this 'Below the radar' their 3rd offering and what an album this has turned out to be! Their sound can best be classified as Classic Rock in the 70s style with however some superb AOR melodies during the choruses and also really beautiful guitarwork (and spacey Pomp synths/keys), ending up sounding like a mix between MOSTLY AUTUMN (of course), IONA, a calmer RAINBOW/HEEP, a lot of HEART, some MIKE OLDFIELD and a relaxing LANA LANE. The female singer OLIVIA SPARNENN has a superb voice (really beautiful and a pleasure to listen to, perhaps one of the finest voices I have heard in a long time, a real angel sent from heaven!) and the melodies of all their songs on this CD are from MELODIC (dare I say AOR HEAVEN!). For instance "Behind closed doors" has a chorus that is so melodic, so sweet and so infectious, after the song was over, all I wanted to do was push that 'replay' button. Also songs like the catchy uptempo melodic rockers "Below the radar", "Clear" and the calmer "The night takes you home", "Questioning eyes" and "Drowning" (this song almost made me cry, because it is so beautiful), but also "Run from yourself" are showing this is a band to love for sure. Not a single miss here and perhaps one of the finest releases of 2009! A CD, which should be in the collection of every musiclover, because it is so beautiful! This is Classic Rock meets AOR at it's very best, a must-have if you want to hear 'melodies from outer space'! More info at: www.breathingspaceband.info and www.myspace.com/breathingspaceband
(Points: 9.0 out of 10)
ALUCARD
'DARK ROMANTISM' (INDEPENDENT)
ALUCARD is a Belgian band with a pure Finnish dark Melodic Rocksound that fits nicely in between THE RASMUS and HIM, happily also at times as good as those bands, especially during the opener "Dead romantic" of their first full-lenght album 'Dead romantism'. The band has a good lead singer, some great guitarwork and like already mentioned, they have some catchy uptempo melodic rockers on their CD, such as the already mentioned "Dead romantic", "Nothing can last forever" and "Brokenhearted", all reminding of a perfect mix between THE RASMUS and HIM, so not really original, but still very catchy and hit-sensitive! The only pity is that a lot of songs are ballad-orientated, so perhaps some more rockers next time. Nevertheless, recommended to fans of the dark melodic heavy rock/gothic sound of mentioned bands. More info at: www.alucard.be
(Points: 8.3 out of 10)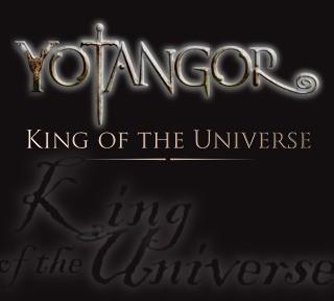 YOTANGOR 'KING OF THE UNIVERSE' (BRENNUS MUSIC)
France was one of the few countries not to have brought forward a female fronted Gothmetal like act, but with YOTANGOR they have even brought something very sensational, because the 26 (!) tracks on the band's 2-CD set 'King of the universe' are showing that their sound is as good as for example EPICA, NIGHTWISH and whatever other female fronted band at the moment is called. Maybe not original, everything seems to sound impressive here, not just the songs, but also the vocals of female singer YNGRID. With 26 tracks, it's not all bombastic Gothic Power Metal, because there are gladly also a lot of calmer moments that go in an almost KAYAK/MOSTLY AUTUMN style, while the midtempo DELAIN/XANDRIA/WITHIN TEMPTATION ish material is also heard a lot of times. Highlights on CD 1 are "King of the universe", "Try again" and "About love" and on CD 2 "What are you made for", "The dome", "Time's off", "In this world" (best song of the whole CD, with an almost pure 80s AOR chorus a la first TONE NORUM classic!) and "Shadows", all with big sounding choruses, radio-ready for sure and mixing the best of earlier mentioned acts! A very good band, with 2 very long CDs as their debut, so enough to enjoy here! More info at: www.myspace.com/yotangor
(Points: 8.7 out of 10)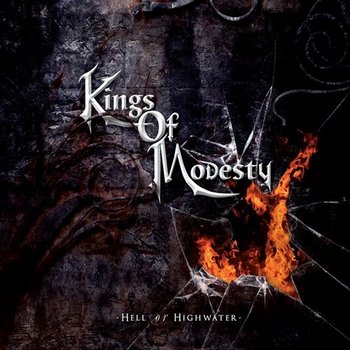 KINGS OF MODESTY 'HELL OR HIGHWATER' (ESCAPE MUSIC)
It took the band 15 years, but KINGS OF MODESTY finally released their debut CD titled 'Hell or highwater'. The music climate has changed dramatically during this period. Back in 1994, Melodic Rock/Metal was almost completely lost and it was this period we at Strutter'zine started our magazine. Anyway, KINGS OF MODESTY was formed and could anyone think back then that in 2009 Finland would become one of the major countries for new Rock/Metalbands (including Melodic Rock), because in 1994 Finland had zero bands to check out! Well, fast forward to 2009 and ESCAPE MUSIC releasing the debut CD of this 15-year old Finnish band KINGS OF MODESTY, whom by the way sound very up-to-date, keeping in line with other Finnish bands in the Melodic Heavy Rock/Metal field musically speaking. The album of the band sounds pretty good, reminding a little of a slower and more Melodic Hardrock orientated version of THUNDERSTONE mixed with some SONATA ARCTICA, yet with a little more accent in the vocal department. The sound is huge (thanks to Mika at Finnvox) and songs like "Never touched the rainbow", "Deep down", "Staring eyes", "Miracle" and "Suicide mission" are very memorable tunes that will appeal to any Melodic Hardrock/Melodic Metalfan! Not earth shattering or groundbreaking, but still this first KINGS OF MODESTY album is a very decent high class Melodic Metal record to check out at: www.kingsofmodesty.com and www.myspace.com/kingsofmodesty
(Points: 8.4 out of 10)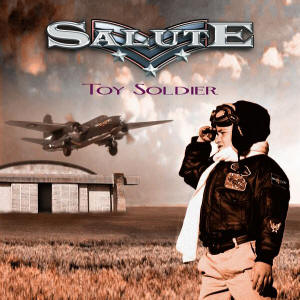 SALUTE 'TOY SOLDIER' (ESCAPE MUSIC)
SALUTE is a new Swedish band formed around lead singer MIKAEL ERLANDSSON, whom of course is a succesfull solo and LAST AUTUMN'S DREAM fronting lead vocalist. Now together with guitarist/bassist MARTIN KRONLUND and DON PATROL/GYPSY ROSE drummer IMRE DAUN, he recorded a strong Melodic Rockalbum as SALUTE, which is not that far away from LAST AUTUMN'S DREAM musically speaking actually, although a little edgier (GOTTHARD/SHAKRA direction) most of the time. One way or the other, the result is a damn catchy Melodic Hardrockalbum, with such great uptempo melodic rockers like "Lost in a dream" (superb, perfect sing-a-long tune, by far the best song on the whole CD!), "Cheated", "It's my time", "Be star" and the closing midtempo Scandi 80s Melodic Rock sounding classic "Yesterday's always been gone" (LAST AUTUMN'S DREAM meets TALK OF THE TOWN meets STRYPER). Need to be mentioned that the first and last couple of songs are definitely the best, because here and there in between we can find some fillers on the rest of the CD, but all together, 'Toy soldier' is a nice little Melodic Hardrockalbum with of course the excellent recognizable vocals of MIKAEL ERLANDSSON!
(Points: 8.3 out of 10)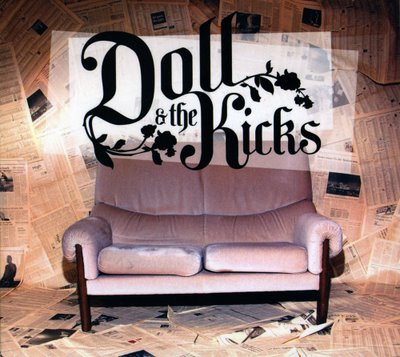 DOLL AND THE KICKS 'DOLL AND THE KICKS' (INDEPENDENT)
DOLL AND THE KICKS is a female fronted band from the UK and they are definitely an up and coming band that could become massive if they have the lucky break. The looks and sound are there and on their same titled debut CD some songs could become big hits, such as "If you care", which is an awesome sensational catchy semi melodic poprocker with an excellent chorus or "If you're gonna leave", both sounding like a mix between early 80s PAT BENATAR meets DALBELLO/LUBA meets a tiny little KATY PERRY. So DOLL AND THE KICKS is without a doubt a hard-hitting Poprockband with sometimes a slightly experimental approach, but then again also straight-ahead rocking. Female singer DOLL has got the voice and looks/character to make it big and although the music sounds fresh and new, it also reminds one a lot of the early 80s US Female Fronted Poprock movement such as LAURIE AND THE SIGHS, ROBIN LANE AND THE CHARTBUSTERS, SUE SAAD AND THE NEXT, etc. etc. Check out this DOLL AND THE KICKS at: http://www.myspace.com/dollandthekicks
(Points: 8.3 out of 10)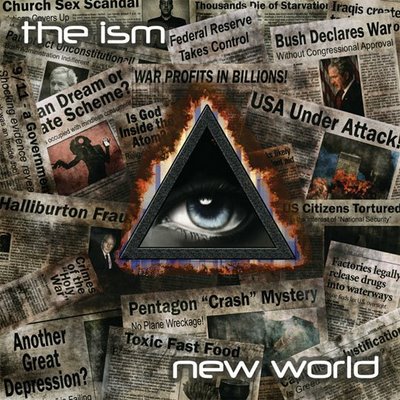 THE ISM 'NEW WORLD' (PAUL ARMENTO MUSIC)
THE ISM is a New York based band with a modern sound like we have heard from many American bands the past few years, yet there is a difference, because they add a huge Progressive Metal touch to their music, partly thanks to super strong melodies and big clean keyboardsolo's (a la DREAM THEATER!) one can not hear in bands like DISTURBED or SHINEDOWN. The melodies that can be found among the 14 included tracks on the band's new CD 'New world' are at times easily as good as any Progmetalband from Europe. Just listen to excellent tracks like "Still a chance", "Up to you", "Temptation" (SUPERB MELODIC PROGMETAL, by far the best song on the CD!), "New world" and "Look closer" and you're hooked for sure. We can also hear songs that are quite close to the already mentioned DISTURBED and SHINEDOWN, so a mix of both worlds here, Progmetal meets modern day American groovy Heavy Rock/Metal. The sound/production is huge and definitely as good as a major label release, so be sure to check them out at: www.the-ism.com
(Points: 8.6 out of 10)
ANGIE HAMMER AND THE NAILS 'GUNG HO OR NO GO' (GIANT MIDGET RECORDS)
This is a Norwegian Classic Rock based band with their first CD 'Gung Ho Or No Go'. The band was formed back in 2004 and now 5 years later they have their debut ready. Musically it is is like mentioned Classic Rock and Roll, reminding of mostly 70s acts, such as HUMBLE PIE, NEW YORK DOLLS, HANOI ROCKS (yep, 80s as well!), TOM PETTY and also a lot of good old Norwegian rockers STAGE DOLLS. It's only Rock and Roll and I like it is the name of the game here. Maybe not original, but with songs like "Without you", "Holding on", "Only one" and especially "Never too old to rock and roll", the band offers some nicely played True Classic Rock. More info at: www.angiehammer.net
(Points: 7.8 out of 10)
REVENGINE 'PLAN YOUR ESCAPE' (INDEPENDENT)
The band REVENGINE is coming out of Finland playing sorta METALLICA type of modern Metal with slight Thrashy approach, vocally raw and not as melodic as most Metalband from Finland. The band released 2 promo CDs before, but this is their official debut CD. 6 songs are included and it really has a very 90s type of Metal approach, which of course still sounds very modern, but it can not keep me away from comparing it to METALLICA and a little TOOL/PANTERA as well. Be sure to check them out if you're into such kind of Metal at: www.revengineband.com
(Points: 7.5 out of 10)
PAINCRAZE 'HELLBOUND' (INDEPENDENT/TWO SIDE MOON PROMOTIONS)
PAINCRAZE is a band from Norway playing Thrash-Metal with Punk influences, reminding of a mix between EXPLOITED, GBH and DARK ANGEL/DEATH ANGEL/EXODUS… Not really melodic and only of interest for fans of mentioned bands, more info at: www.paincraze.com
(Points: -)
THE UNIVERZALS 'OCEAN OF LIGHT' (INDEPENDENT)
THE UNIVERZALS are a very experimental band, whom are combining about every existing music style on their CD 'Ocean of light'. Ska, Reggae, Pop, Rock, Metal, Gothic, Punk, Acidrock, 60s Psychedelic Rock, etc. etc. it's all there in 12 included songs on this CD. Somehow they remind me of a cross between PRETTY THINGS, MADNESS, ROXY MUSIC and PANIC AT THE DISCO FLOOR… Interested, then go to: www.theuniverzals.com
(Points: 7.0 out of 10)
RONNY MUNROE 'THE FIRE WITHIN' (METAL HEAVEN/ROUGH TRADE)
RONNY MONROE is the METAL CHURCH lead singer who now releases a solo-album. Definitely quality stuff, pure Classic 80s US Power Metal a la METAL CHURCH, SAVATAGE and JUDAS PRIEST. Nothing new on the horizon, well played, but only for die-hard fans of mentioned bands…
(Points: 7.9 out of 10)
VARIOUS ARTISTS 'HEAVY METAL NATION 5/6' (QUAM LIBET RECORDS)
Wll, this must have have been one-helluva-job, because the Swiss label QUAM LIBET RECORDS celebrates it's anniversary with the release of 2 compilation CDs that contain in total 38 Swiss Hardrock/Metalbands! Of course we now a bunch, but 38 unknown bands from Switzerland all combined on 2 CDs here is a lot and some do sound quite good, although GOTTHARD and SHAKRA level is of course hard to reach and the inclusion of many black/death metalbands is a pity. Nevertheless, these are the kind of compilation CDs, which should be done by every country in the world, just to show the world there are many more interesting bands to check out. The CD booklet offers all info on each band and in the end I would pick as favorite acts: CERVOHOLICS (a great female fronted melodic hardrockband, review of their CD hopefully soon!), FRAGMENT OF SYMMETRY (another female fronted act, not as good as NIGHTWISH, but still very enjoyable!), RIZON (Gothic male/female fronted band, nice catchy chorus), DR. CRANKNSTEIN (this one made me laugh, is this UDO undercover? Teutonic Metal on an 80s LP from SCRATCH RECORDS was the first thing that came to mind here!) and CHAPTER 2 (another female fronted band, modern sound, but best singer of all 38 acts!). After listening to all 38 bands, it becomes clear good lead singers are rare in Switzerland, but on the other hand they have got the best Rock singer in the whole world at the moment (GOTTHARD's STEVE LEE) and of course also the best Tennisplayer, but that is something else! Available through: www.quamlibetecords.ch
(Points: 8.3 out of 10)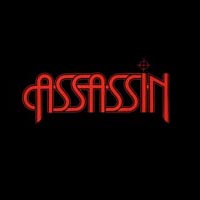 ASSASSIN 'ASSASSIN' (DEEP SHAG RECORDS)
Wow, talk about a band with different styles and talk about obscure! We welcome the band ASSASSIN, a short-lived act from San Diego, who were active between 1983 and 1988. Although they recorded an album in 1983, this was never released until now. The band actually managed to release a very rare picture disc 7" single, but that is impossible to get nowadays, so this CD release that contains every ASSASSIN recording ever done is a nice introduction to one of many lost 80s US Metalbands. The very interesting thing though is that after hearing track 1 "Treason", a great very fast early 80s uptempo almost NWOBHM type of track that reminded me of RIOT, RAVEN and especially the JAGUAR/TYGERS OF PAN TANG debut albums, I did not expect it would be followed up by a great almost late 70s AOR/Melodic Rock type of track called "Angel" which reminded me of a cross between STARZ and THE STATES! Talk about a change of style at the start of a CD, not heard much in my lifetime, but cool thing is that both styles are excellent and done very well. The rest of the CD fits in between these styles, which is in the end a pure 80s US Melodic Metal kinda sounds like a mix between LEGS DIAMOND, RAIL (best comparison if you ask me!), TEAZE, RATT and HELIX (especially vocally). Although their bio sheet mentions AOR/Melodic Rock, the music overall is a little heavier and more Melodic Metal orientated with a typical US Party Metal and Melodic Hardrock touch here and there. One of those bands that could have been signed to a label and become huge, but didn't happen and now in 2009 a full-CD with 14 of their tracks is now available through: www.deepshag.com The sound is quite good and fans of especially RAIL, LEGS DIAMOND and RIOT will like this a lot I think…
(Points: 8.3 out of 10)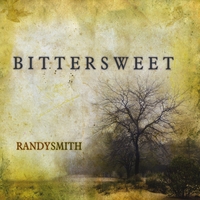 RANDY SMITH 'BITTERSWEET' (GB MUSIC)
There were enough AOR bands active in the USA 25 years ago, but sadly most of them vanished when the 1990s got started. 8084 lasted a little longer, even succeeding to release more recordings during the 1990s, which were also reviewed by us. It became a little quiet around 8084 the past few hours, but there's light at the end of the horizon, because the band's singer/guitarist RANDY SMITH went his own way. He has released a solo-CD titled 'Bittersweet', which musically is not that far away from 8084, so still Melodic Rock, but perhaps leaning more towards Melodic Poprock with a modern edge, sometimes reminding me of DANNY WILDE/BRYAN ADAMS. Not bad at all and with uptempo rockers like "Learning to live", "Broken""Shelter me" and "Somebody" offering some great catchy tunes. There are also a number of tracks that are calmer almost Westcoast-Pop orientated, which is the only pity, because Randy is at his best during the mentioned uptempo rockers. Randy's voice is still very good and with this record he could easily reach a wider audience than the small AOR community. Be sure to check out his site at: www.randotunes.com
(Points: 8.3 out of 10)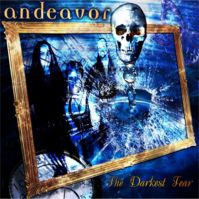 ANDEAVOR 'THE DARKEST TIME' (PMM MUSIC)
Formed back in the 1980s, the American band ANDEAVOR released so far 2 CDs, of which 'The darkest time' is their new release and their 1999 debut 'Once upon time' has now been re-released. 'The darkest time' is not featuring newly recorded music, because the recordings took place in 2000 and 2001. Still they were unreleased until now. The band has had long periods of inactivity, but with the 2 albums now available, hopes for a real new CD and a reformation of the band could become reality. Musically the 2 CDs are featuring Progressive Rock with a slight Progmetal touch, kinda sounding like a mix between RUSH, FATES WARNING, DREAM THEATER and SHADOW GALLERY. The first CD from 10 years ago was also reviewed back in 1999 by us, so we now concentrate on their new CD 'The darkest time'. 9 songs are included and besides the RUSH comparisons, also ICE AGE, CAIRO, ENCHANT and EVERON are bands to compare this ANDEAVOR to. The band has an amazing lead singer (DOUG PECK), who sounds like a mix between MICHAEL SWEET and DENNIS DEYOUNG and every song on the new CD is showing the perfect Melodic Progrock/Progmetal sound one love so much in this genre. Without a doubt, this is a high quality Progrock/progmetal record which will be loved by fans of the genre. Check out all info at: www.myspace.com/andeavor
(Points: 8.4 out of 10)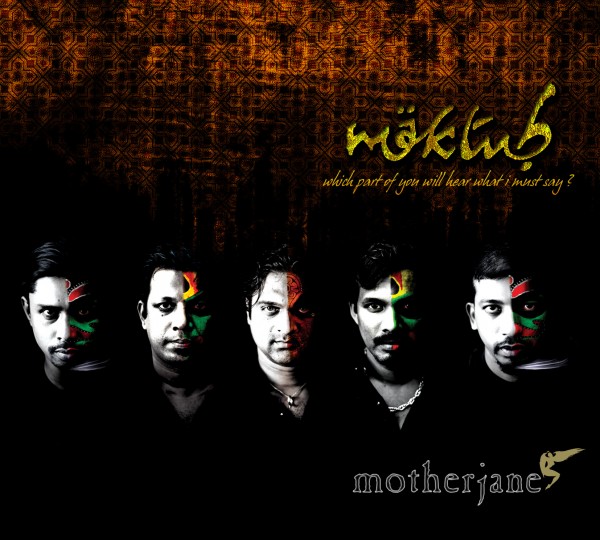 MOTHERJANE 'MAKTUB' (AUM I ARTISTES/INDIA IMPORT)
From out of nowhere comes the India based band MOTHERJANE. They were voted Asia's No.1 Rock Act in 2009 at the AVIMA Awards, which is the Asian version of the MTV European Awards or the US Emmy Awards. Meaning that we are dealing here with the most popular band in Asia, although probably nobody outside of Asia will have ever heard the name before. Anyway, 'Maktub' is their 2nd CD, the follow-up to their 2001 release 'Insane biography'. Musically both albums are featuring really high class Melodic Progressive Rock with Progmetal touch, sounding like a mix between ENCHANT, DREAM THEATER and RUSH. Who would have ever thought a band from India with sound that is pure Progrock would become the most popular band in Asia! Well, MOTHERJANE is the name and from start to finish on their latest CD 'Maktub' they show they are able to make it sound as good as most European and American bands in the Progrockgenre. MOTHERJANE is coming out of the city of Cochin in India and were formed in 1996. The band consists of Suraj Mani(Vocalist), Baiju Dharmajan(Lead Guitar), John Thomas ( Drums), Clyde Rozario(Bass) and Deepu Sasidharan (Rhythm Guitar) and they are one of the few Indian rock bands to have their music played in American, Japanese and Mexican radio. The music is Prog with complex instrumental parts, excellent almost neo-classical guitarwork with a touch of the Indian traditional music (done on the guitar that is), while vocally it is sounding very melodic as the singer has a great strong voice. Most of the songs are in the same style, which is midtempo with prog twists, very much like RUSH with melodies sometimes a la ENCHANT, so a must-have for all Progfans out there! More info at: http://www.motherjane.in/
(Points: 8.5 out of 10)
MAZE OF TIME 'LULLABY FOR HEROES/TALES FROM THE MAZE' (ART PERFORMANCE PRODUCTION)
MAZE OF TIME is a Swedish band with 2 releases so far, 'Tales from the maze' from 2006 and in 2008 this album 'Lullaby for heroes'. Musically they are pure Neo-Progressive Rock, very British orientated and reminding of SYLVAN, EVERON, IQ and PENDRAGON. Without a doubt, they reach the same high level as mentioned bands several times on their 2 CDs. Somehow I personally prefer their first album 'Tales from the maze', which features some really amazing Neo-Progtracks, such as "Here and now". However, their new CD 'Lullaby for heroes' also shows we are dealing here with a very strong Neo-Progband that should be checked out as soon as possible if your heart and soul is belonging to bands like IQ, PALLAS, PENDRAGON, EVERON, SYLVAN, MARILLION, etc. etc. More info on the band at: www.mazeoftime.com
(Points: 8.4 out of 10)
BOANERGES 'HORA NOVENA' (BOANERGES RECORDS)
Wow, the new album of the Argentinian band BOANERGES is absolute groundbreaking album, by far the best Spanish sung album in ages. The sound and production is absolute stunning and most of the songs are sensational Melodic (Power) Metal tunes. BOANERGES was formed during the 1990s and I remember reviewing one of their albums at the end of the 1990s. During the 2000s the band only managed to release an EP (and a DVD I believe), but this 'Hora novena' is their first real full-length CD in a decade. And what an album this is! From start to finish, this is what we want to hear, Melodic Power Metal at it's best! TIERRA SANTA, AVALANCH and RATA BLANCA eat your heart out, because this new BOANERGES album is a razor sharp album with nothing but hits! Especially the start and end of the CD has hammer tunes like "Un mundo diferente", "Hora novena", "Extrano quijote" and "Suena". Definitely one of the album of the year contenders! More info at: www.boanerges.com.ar
(Points: 9.0 out of 10)
7TH HEAVEN 'POP MEDLEY 2 CD+DVD' (INDEPENDENT)
7TH HEAVEN is a US band with a long 'cover' history and reputation. They have their own original songs, but are mainly known for doing these excellent covers of mostly 80s Pop and Hardrock Classics in a sorta Pop Metal 80s kinda sound like DEF LEPPARD meets BON JOVI. They play hundreds of shows each year and with this 'Pop medley' CD and DVD they release another excellent 40+ cover tunes in 1 long tune. We can hear classic tunes by DEF LEPPARD, FOREIGNER, RICK SPRINGFIELD, BON JOVI, THE CARS, EDDIE MONEY, BRYAN ADAMS, THE BEATLES and loads more, all done in a medley by 7TH HEAVEN, perfectly covered and from start to finish this sounds like 1 great Melodic Rocksongs with 40+ choruses we all are familiar with! Better check it out asap at: www.7thheavenband.com
(Points: 8.3 out of 10)
MADNESS 'TOTAL MADNESS – THE VERY BEST OF MADNESS' (UNION SQUARE MUSIC)
A band from the UK whom were extremely popular in especially the UK back in the 1980s was MADNESS. In the USA they never received that much attention, but this new best of release might change that a little, as this compilation CD (and bonus disc with all their videos I believe) offers a look back at their greatest hits. Included on this CD are 23 classic MADNESS tracks, such as "One step beyond", "House of fun", "Our house" and "Night boat to Cairo". MADNESS were different and had nothing to do with Rock, New Wave or Punk, nope, they were a Ska band and actually helped define this style that was so unheard at the time in the early 80s. Now almost 30 years later a new compilation CD pops up and better make sure to get it in order to secure all the MADNESS classics on 1 disc!
(Points: 8.0 out of 10)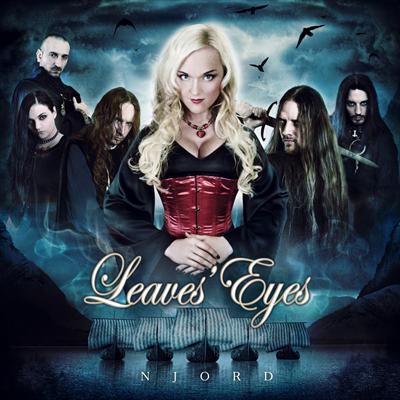 LEAVES' EYES 'NJORD' (NAPALM RECORDS)
LEAVES EYES returns with a new CD titled 'Njord'. Musically of course nothing has changed, although some more growling can be heard this time and not every single song is as catchy as you want it to be. Standing in the shadow of such sensational other releases done this year with a female singer at the front and along the same lines, this new LEAVES EYES album does not reach the incredible high level of their label mates of STREAM OF PASSION. Nevertheless, it is a nice record to check out if you're a fan of the dark melodic Gothic Metal with female clean/male growling – beauty and the beast – theme. The promo in front of me has the annoying voice-overs sadly, so it leaves me a bit cold, but from what I heard, it all sounds quite good, but not sensational. Still worth checking out for fans of the band, although I could not find a song that clicked right away, in contrary to their earlier releases.
(Points: 8.1 out of 10)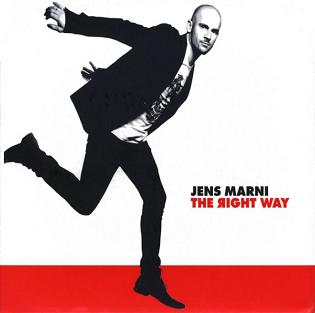 JENS MARNI 'THE RIGHT WAY' (INDEPENDENT)
JENS MARNI is coming out of Kollafjørður, Faroe Islands (!!!), making him probably one of the first musicians ever to be reviewed from those Islands, definitely the only musician from that particular village, which has a population of just 822 people! Anyway, I have to admit that everything on his CD 'The right way' is sounding the right way indeed. This is modern Melodic Rock at it's very best, damn catchy from start to finish and sounding like a better version of DAUGHTRY meets BRYAN ADAMS. 10 songs are on his CD and not only are they all sounding very impressive, both musically and vocally, but also the sound/production is of a very high level. This independent release from the Faroe Islands could have easily been a major US Label release, especially during superb uptempo Melodic Rockers like "The right way"and "Misery", as well as during ballads like "You are the one" and "Shadow within". A total surprise we have here and without any doubts, this release could easily spawn a bunch of hit radio songs if played and promoted all over Europe and the USA, because JENS MARNI is a very talented musician (singer/songwriter/guitarist). To my surprise the legendary GEORGE MARINO mastered the album at Sterling Sound/New York, a place where literally thousands of classic 80s records were mastered, so who knows this JENS MARNI CD will become another one. More info at: http://www.myspace.com/jensmarni
(Points: 8.7 out of 10)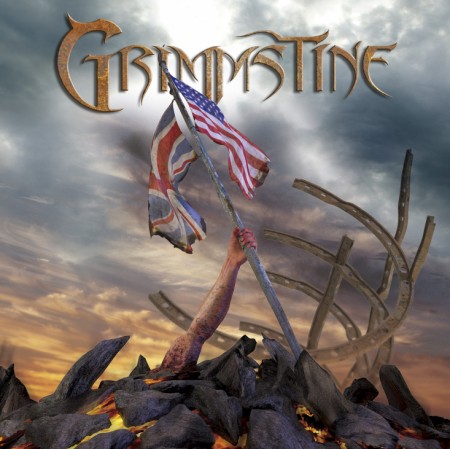 GRIMMSTINE 'GRIMMSTINE' (METAL HEAVEN/ROUGH TRADE)
GRIMMSTINE is the new band of legendary lead singer STEVE GRIMMETT, who once had quite a lot of success with the band GRIM REAPER. He released 3 albums with them in the 1980s, selling together almost 1 million records in the USA, that was his fifteen minutes of fame for sure! He also released albums with ONSLAUGHT and LIONSHEART, but never achieved the success of GRIM REAPER. Anyway, with the debut CD of his new band GRIMMSTINE, Steve continues his Melodic Heavy Metal sound of the past, which results in a 15 very good new tunes, of which the highlights are the melodic rocker "'Til they take my wings", "You'll never know" (a ballad), the fast "It's over" and the WHITESNAKEish "You give me love". Although a few songs like the highlights are pure Melodic Rock (with twin-guitarwork in classic British tradition), in the end xxpect a mixture of GRIM REAPER and LIONSHEART here musically, so maybe nothing new is brought on the release of the very first GRIMSTINE album, it still marks a nice return of one of Britain's great Metal voices! More info at: www.myspace.com/grimmstine and e-mail at: Amelia.mcdonald@hotmail.co.uk
(Points: 8.3 out of 10)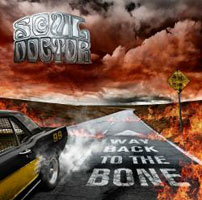 SOUL DOCTOR 'WAY BACK TO THE BONE' (METAL HEAVEN/ROUGH TRADE)
This is by far the best SOUL DOCTOR album in the band's 10-year existence. The band around FAIR WARNING vocalist TOMMY HEART finally recorded an album with more Melodic Hardrock orientated material a la FAIR WARNING instead of just plain old Hardrock a la KROKUS like on their earlier albums. Still, a couple of fillers are included here, such as "Lightning and thunder", "Love crashed down", "Welcome to the party" and "Take it while it's hot", but the other 6 tracks are very strong pure Melodic Rocksongs that would not be out of place on a FAIR WARNING record. Especially the melodic rockers "First man on the moon", "Can't stand losing" and "Coming home" are very strong, but the highlight is the melodic rockballad "Times of yesterday". Tommy has the great voice to make every song interesting to listen to and this new SOUL DOCTOR is at times as good as the latest FAIR WARNING release. Check it out if you're a fan of that band, because finally SOUL DOCTOR has gone more melodic than ever before!
(Points: 8.4 out of 10)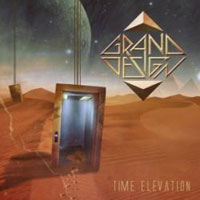 GRAND DESIGN 'TIME ELEVATION' (METAL HEAVEN/ROUGH TRADE)
If only DEF LEPPARD would not have existed and it was the mid 1980s again, well… then this GRAND DESIGN would have the chance to become huge! Well guess not, because it is 2009 and DEF LEPPARD sold millions of records 20 years ago in the USA and so GRAND DESIGN releases a CD that for most of you might sound like a DEF LEPPARD rip-off from start to finish. You can also see it differently, because this is the album DEF LEPPARD has not made since 1992. The sound is huge, the instrumental, vocal and chorus parts sound perfect and most of the songs are damn catchy big 80s sounding Melodic Rockers, but do not forget this is as close to 80s DEF LEPPARD one is able to get! It is even sounding more DEF LEPPARD than DEF LEPPARD was able to do, boy that does sound strange, ain't it! GRAND DESIGN hail from Sweden and 'Time elevation' is their debut album. The band is formed around members of ZEELION, WOLF, STEEL ATTACK and VANESSA, so these guys usually play more Melodic Power Metal type of material. With GRAND DESIGN they have stepped in a time machine, set course to 1987 and off they go, 10 fantastic catchy Melodic Rocksongs as if DEF LEPPARD did not perfectionized their sound 22 years ago on 'Hysteria'. Songs like "Love sensation", "Piece of the action", "No time for love" (hello 'Pyromania'!) and "Love will know", but any song on the album, it is all sounding damn catchy and anyone wishing to hear a new real classic 80s DEF LEPPARD (and FIREHOUSE) sounding album, look no further, because here it is in the shape of GRAND DESIGN! Not original at all of course, but still damn catchy all the way!
(Points: 8.5 out of 10)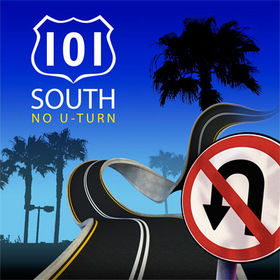 101 SOUTH 'NO U TURN' (METAL HEAVEN/ROUGH TRADE)
The AOR band 101 SOUTH returns with their 3rd album 'No U Turn'. Although the band was compromised of FORTUNE/HARLAN CAGE members, 101 SOUTH was not as good as those bands, but still definitely creating a few AOR monster tracks on their previous 2 records. After a long silence, now a new album, once again filled with 'mainly midtempo' 80s type of AOR. Several guest spots are filled here, including CHRIS THOMPSON, BILLY LIESEGANG and IAN BAIRNSON and although the album is filled with high quality AOR, it is not a classic album I am afraid. Nevertheless, songs like "What are you gonna do anyway", "End of the game", "From what you know now" and "Yesterday is gone" are really great AOR songs in the typical 101 SOUTH/HARLAN CAGE style. However, I am personally more eager to hear the upcoming new HARLAN CAGE and especially FORTUNE album, because those acts produced some of the best AOR ever created in the past! In the meantime, this new 101 SOUTH is a nice warm-up of even greater things to come in the year 2010!
(Points: 8.2 out of 10)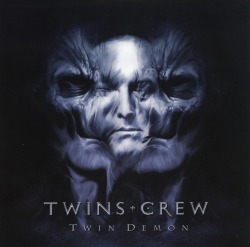 TWINS CREW 'TWIN DEMON' (INDEPENDENT)
Here we have something quite sensational, unique and sounding super impressive. TWINS CREW was formed by 2 twins, DAVID and DENNIS JANGLOV, whom both play guitar and whom both graduated at the famous GIT Musicians Institute in California, USA. They formed the band when they went back to Sweden, where they actually live and through some adverts the line-up of 2009 is stable and releasing already a 2nd EP titled 'Twin demon'. The band was lucky to find a great lead singer (Andreas Larsson), who has the perfect Metalvoice and musically the Melodic Metal fits right between other Swedmetalbands like BLOODBOUND, NOSTRADAMEUS, DREAM EVIL, HAMMERFALL, NOCTURNAL RITES and a bit like the Greek/German band MYSTIC PROPHECY. All together the 5 songs on their EP sound very good, with amazing guitarwork of the twins, strong vocalwork and melodies all over the place, really showing how Metal should sound like! Do check out this upcoming band asap, as they might become the next big thing… More at: www.twinscrewband.com e-mail at: info@twinscrewband.com
(Points: 8.5 out of 10)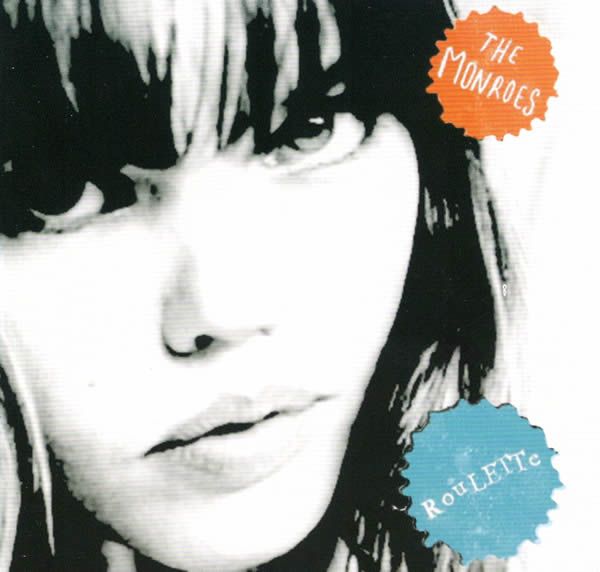 THE MONROES 'ROULETTE' (TOCADO RECORDS)
TOCADO RECORDS is a Rotterdam based label, which has already been releasing albums since 1999. To celebrate this anniversary, the label organized a festival the past summer where most of their acts played. It caught my eye and especially 2 acts stood out, namely THE STILLETOS and this THE MONROES. THE MONROES is a female fronted band out of Groningen, a city in the Northern part of The Netherlands. The band just released their debut with 'Roulette', which musically is a real raw Rockalbum that takes much of it's influences from 1960s Garage Rock. As their bio describes, the band sounds like a modern version of SHOCKING BLUE and especially live on stage with the characteristeric performance of singer/guitarist JOSJE KOBES, THE MONROES are an act to check out! 13 short songs make up their debut and most of them are catchy little uptempo Garage Rock type of tunes, with as highlights "Not tonight", "Miss Moto", "Misery" and "You got me running". They also remind a little of THE RUNAWAYS, JOAN JETT and ROBIN LANE AND THE CHARTBUSTERS, with a little PATTI SMITH thrown in for good measure, so Garage Rock with strong melodies and a little late 70s/early 80s female fronted Pop/Rock approach. Please be sure to check out this band at: http://www.tocado.com/articles/the_monroes.html and http://www.themonroes.nl/ and http://www.myspace.com/themonroes
(Points: 8.3 out of 10)
THE STILLETOS 'FUCK IT ROCK IT' (TOCADO RECORDS)
THE STILETTOS are a Dutch band with a CD release that musically is a mix of the rawness of pure 60s Garage Rock, the aggressiveness of 70s Punkrock, some Hardcore of the 80s and a slight touch of today's modern Rock and Roll, kinda like mixing GBH, THE HELLACOPTERS, PRETTY THINGS and THE DAMNED. Raw, dirty mean and real Punkrock and Roll the way it should be played… it can all be heard on this CD, which has as absolute highlight the catchy fast "I don't wanna be", which also lyrically is very interesting. Check out this band at: www.myspace.com/themstilletos
(Points: 8.2 out of 10)
VARIOUS ARTISTS 'VARIOUS ALBUMS' (TOCADO RECORDS)
Besides the THE STILETTOS and THE MONROES releases, the Rotterdam/Holland based label TOCADO RECORDS has done a lot more releases in their past 10 years. Musically very experimental and going against every popular genre, this label has done releases that sometimes are musically almost impossible to describe. The label sent me a few of their other releases as well besides the already reviewed THE STILETTOS and THE MONROES CDs, such as MARK LOTTERMAN's CD 'Better things to do', which is an experimental slightly Garage Rock orientated piece of work, while JUGEND is a really bizarre weird record that sounds like an underground movement from the early 80s, kinda BAUHAUS style. They also sent me a compilation CD, of which I think the most interesting band is PONY PACK, a female fronted Rockband. Anyway, if you're into more experimental Rock, then do check out the bands of this label at: www.tocado.com
(Points: - out of 10)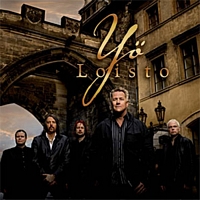 YO 'LOISTO' (POKO RECORDS/EMI MUSIC FINLAND)
YO is a Finnish band, which has been quite legendary in their homeland, because they have been releasing albums since the early 1980s. I had never heard of them before until now, because their new CD 'Loisto' was dropped in my mailbox and after a listen I realized this YO was quite a good and catchy Melodic Rockband. The reason why I had never heard them before is probably due to the fact they sing in the Finnish language. Anyway, the CD starts with the very catchy uptempo melodic rocker "Kiitos ja kunnia", which even has some light STRATOVARIUS similarities. The rest of the CD is calmer and more laid-back, very semi-ballad orientated actually. Still not bad at all, because these are all melodic rock orientated ballads, with of course the only difference with the regular bands in the genre the vocal part, which is Finnish. Towards the end it becomes a little Eurovision Song Contest like with all those sappy ballads, but still this is a nice CD to check out if you want to hear melodic rock in a different foreign language. More info at: http://www.loisto2009.fi/
(Points: 8.2 out of 10)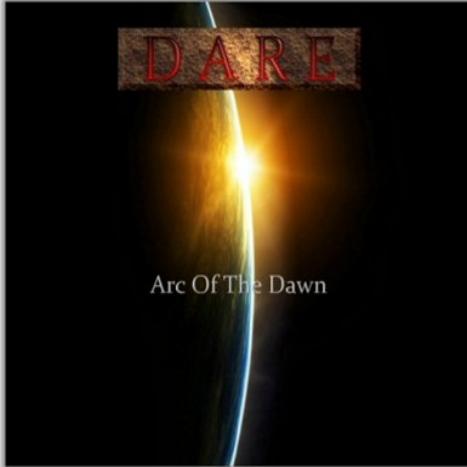 DARE 'ARC OF THE DAWN' (LEGEND RECORDS/NL DISTRIBUTION/GERMUSICA)
DARE is one of the few UK bands whom in the 1980s released a superb AOR Classic album, which resulted in a long lasting AOR cult following that have always stood the test of the time, despite that the band released a miss album in the shape of 'Blood from stone' and there have been long absence periods between several studio-albums. Nevertheless, since their 1998 release 'Calm before the storm' onwards they have created and kept the same style, which is not the 80s AOR of their first record, nor the big sounding Melodic Hardrock of their 2nd record, nope, this is a DARE style that combines Classic AOR melodies with Folk/Irish Celtic rhythms, really making you feel you're somewhere in the Welsh mountains… In fact, there's no difference between e very album since 1998 of DARE, as they all breathe the same spirit and show that DARE now has their own style, impossible to compare to any other band in the genre. With 'Arc of the dawn' they continue their legacy and despite a few covers (THIN LIZZY and CHEAP TRICK) and some reworked old DARE classics ("King of spades" and "I will return"), the band has a lot of great new typical DARE style material to offer, with as absolute highlight the amazing "When", which is an incredible haunting AOR song (so is "Still waiting"). Darren's vocals have stood the test of time easily, because they sound as good as 20 years ago and the guitarwork is beautiful and super melodic. Concluded, nothing new on the horizion, but definitely still a lovely high quality album of DARE, so make sure not to miss this release!
(Points: 8.8 out of 10)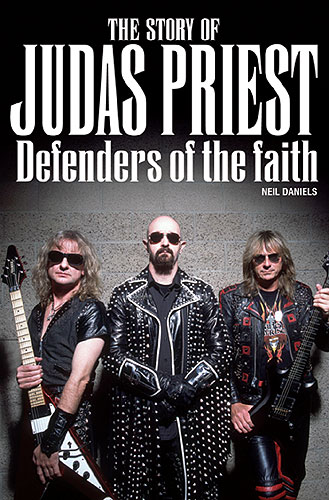 NEIL DANIELS 'THE STORY OF JUDAS PRIEST – DEFENDERS OF THE FAITH - BOOK' (OMNIBUS PRESS)
Author NEIL DANIELS has written the ultimate Book about JUDAS PRIEST, because this book covers the whole story, from the early stages in the early 1960s, the non-ROB HALFORD years, the present situation and also looking into the future of one of Britain's most influential True Metalbands of all times. Of course BLACK SABBATH were first, they created Heavy Metal, but JUDAS PRIEST went a little further and showed the world Heavy Metal had more to offer than a single guitar riff. They played epic tunes in the 1970s, fastened up the speed and Rob started screaming like only IAN GILLAN had done before. Actually Rob went a little further, especially during the 1980s, when his screaming went up higher and higher, reaching the ultimate in the classic "Painkiller". You either loved it or hated it, there was no way in between. Anyway, this book reveals more stories than the ones we already knew (of course Rob's story is known to most of us), covering also a lot on the American part of their history, as JUDAS PRIEST had it's most interesting stories when they went to the USA. Besides 200 pages in written words, also 100+ pages are included, which contain all kinds of statistic information, such as all their concerts listed in order of year, all their releases and much more. Must-have for any JUDAS PRIEST fan out there, definitely! Available at: www.musicsales.co.uk music@musicsales.co.uk
(Points: 8.5 out of 10)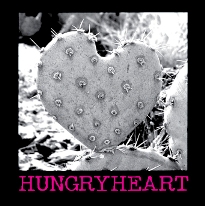 HUNGRY HEART 'HUNGRY HEART' (FREEMOOD PRODUCTIONS/TANZAN MUSIC/ITALY IMPORT)
This release almost passed us by… but fear not, because here is the review of one-helluva great pure 80s Melodic Hardrockalbum. The band is called HUNGRY HEART, they hail from Italy, were formed in the late 1990s and they sound like if it was 1989 all over again, including the who-hoo's of classic BON JOVI. Their sound is only a cry away from THE POODLES, WIG WAM, DANGER DANGER, JADED HEART, FIREHOUSE, BRITTON, KNOW ILLUSION, 80s BONFIRE… 11 tunes are included on their same titled debut CD and most of them are catchy pure 80s Melodic Hardrock orientated, with as highlights the uptempo pieces "Stealing the night", "The only one", "It takes two" and "Breath away". The final track is a surprise, because this is the MICHAEL BOLTON cover "Gina", which now sounds like JADED HEART! Great record here, with also a very good production, so make sure to check this out if you're into big sounding late 80s US Arena Melodic Hardrock. More at: www.hungryheart.it and WWW.TANZANMUSIC.COM
(Points: 8.5 out of 10)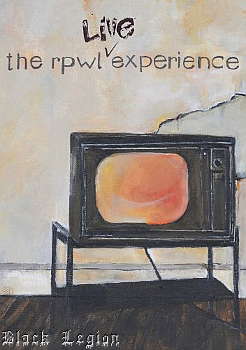 RPWL 'THE RPWL LIVE EXPERIENCE DVD' (METAL MIND PRODUCTIONS)
RPWL have been one of the new rising stars in the Progressive Rockgenre, along with other bands like PORCUPINE TREE and RIVERSIDE. The German band already released a few sensational CDs and are destined to become the next PINK FLOYD, although they have not reached that superstardom yet. With the release of this new DVD however, they show the world they are live quite incredible. Recorded in Katowice, Poland, this is the first DVD of the band, which contains a full concert consisting of 14 of their greatest songs along with an interview, videoclip, tour footage and much more. I think I have seen the future of Progressive Rock... it is called RPWL! Their DVD 'The RPWL Live Experience' is the living proof, 114 minutes in length so make sure to get this asap at: www.metalmind.com.pl
(Points: 8.8 out of 10)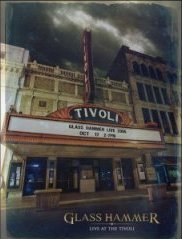 GLASS HAMMER 'LIVE AT THE TIVOLI DVD' (ARION RECORDS)
One of the most underrated bands in the Progrockscene is GLASS HAMMER, a superb band with a Melodic Progressive Rocksound that sits somewhere in between KANSAS, MOSTLY AUTUMN and YES. Very melodic, yet attractive enough for the progfan. Their latest DVD release 'Live at the Tivoli' offers 100 minutes of GLASS HAMMER's high profile performance. Without a doubt, this is another great release of the band, which already released 12 studio CDs and now 3 DVDs, unstoppable and always delivering high quality music. Check it out at: www.glasshammer.com
(Points: 8.5 out of 10)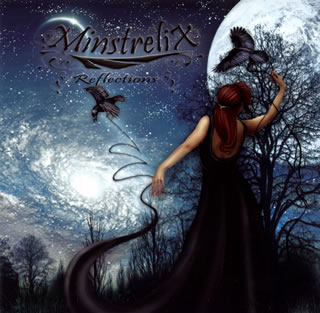 MINSTRELIX 'REFLECTIONS' (BLACK LISTED RECORDS/IMPORT JAPAN)
MINSTRELIX are a Japanese band with a CD release that musically is far from original, but still it sounds very nice from start to finish. Fast Italo Neo-Classical Power Metal is the name of the game here, like RHAPSODY, yet with female vocals. The production is very good and most of the 8 included songs go in a similar fast paced style, with as highlights "Spiritus mundi", "Thirst for" and "Farewell". I have not that much more info on the band and although I am aware thousands of bands in Japan are active and playing this genre till death, MINSTRELIX do their job very well and fans of fast Italo Power Metal will definitely love this record. Also they have a decent female lead singer, in contrary to most Japanese male fronted bands, which sound a bit weak. MINSTRELIX are therefore a recommended band. More at: http://minstrelix.fc2web.com and www.black-listed.jp
(Points: 8.3 out of 10)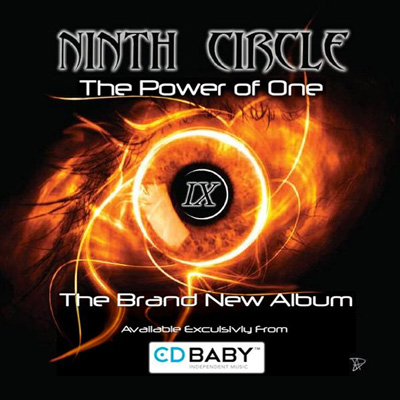 NINTH CIRCLE 'THE POWER OF ONE' (NINTH CIRCLE WORLD RECORDS/USA IMPORT)
WOW! That is all I can say after listening to the opener "Frontman" of the third album of the Californian band NINTH CIRCLE. I am somewhat amazed by the incredible talent showcased here! Everything seems to sound absolutely perfect here, the melodies… the riffs… the vocals… instrumental… production/sound quality… and the song itself! NINTH CIRCLE is mixing Classic AOR/Melodic Rock melodies with the strength of high class Progressive Metal/80s US Melodic Metal, with as result a stunning CD titled 'The power of one'! The band is actually not a new band, because they were formed way back in 1987 when they almost released a record until their lead singer waved goodbye, leaving the band in a desperate situation, which they finally overcame many years later when they did release an album in the year 2000 during the internet movement of mp3.com. One more album followed, but with their new album 'The power of one' they seemed to have released a real CLASSIC! After this fantastic first song, it namely gets even better with many more awesome sensational songs, such as "The power of one", "The journey" and "Fire falling". The band is made up of guitarist/vocalist/keyboardplayer DENNIS BROWN and bassist FRANK FORAY. Dennis is a superb lead singer and excellent guitarplayer as well, while together with Frank they have written and recorded 11 incredible tunes (and 1 MAIDEN cover) on this new NINTH CIRCLE CD that sounds like the classic 80s all the way, sorta mix between FIFTH ANGEL, RAIL, STRYPER, TEER and LIZZY BORDEN. The CD was produced by OUTLAND guitarist JEFF PRENTICE and I must say he did a fantastic job! Not to be missed this independent release, must-have for any fan of Melodic Metal with melodies all over the place, more info at: www.ninthcircle.us and www.myspace.com/ninthcircleworld
(Points: 9.0 out of 10)
SAINT TO SINNER 'THE UNVEILING' (INDEPENDENT)
SAINT TO SINNER is a band from Rhode Island, USA, formed in 2008, now already releasing a CD. It's more or less a mini-CD, consisting of actually 4 full-length tracks. The band has a great female lead singer called DESIREE VILLEGAS, who gives the hard-hitting groovy modern melodic metal of SAINT TO SINNER a very strong own identity. Her voice is without a doubt the highlight of this band, as the music is very typical modern day American orientated a la DISTURBED, but played very well and sounding still quite impressive. Add to that some Progmetal and Power Metal influences and you have a nice combination here, making them probably one of the better sounding independent female fronted bands for sure! Most of the songs go in a similar style, which is very hard-hitting Metal guitar orientated, midtempo and with some Gang vocals here and there (particularly during the Thrashy "Vindictive"). Check them out at: www.sainttosinnermusic.com
(Points: 8.3 out of 10)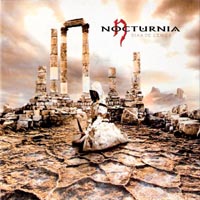 NOCTURNIA 'DIAS DE CENIZA' (CD MUSIC/AVISPA MUSIC/IMPORT SPAIN)
There have been some great Spanish sung album releases done in 2009, just recently the new records of SARATOGA and BOANERGES, and now the 3rd album of NOCTURNIA. This Spanish band is playing the typical Spanish Melodic Metal style, which is super melodic, loaded with catchy hooks and memorable choruses, while the instrumental parts are made up of influences from different melodic metal genres, ranging from neo-classical power metal to progressive metal with some melodic rock choruses added as well. This all together mixed up in 1 sound is what many Spanish and Argentinian bands are playing as well and every year some great releases are done, referring to bands like SARATOGA, TIERRA SANTA, MAGO DE OZ, AVALANCH, BOANERGES and many more. NOCTURNIA's album fits perfectly in between these bands, with 10 great songs on their new album 'Dias de ceniza'. Some Progmetal and some fast Power Metal, heavily influenced by KAMELOT, SONATA ARCTICA and STRATOVARIUS of course, but then with the Spanish touch, which of course can be heard in the vocals. I think it is a good thing to hear them sing in their own language, because that does sound so much better than them trying to sing English. This way they have their own sound and we should respect that, because the new album of NOCTURNIA is a fine example of how impressive and sensational this actually sounds. Definitely a must-have for fans of mentioned bands, from start to finish nothing but great memorable tunes! More info at: www.nocturniametal.com
(Points: 8.5 out of 10)
HYBRID ICE 'MIND'S EYE' (INDEPENDENT)
Good to see another rare 80s AOR outfit making a comeback big time. This time it's the Pennsylvania/USA based band HYBRID ICE, whom released 2 albums in the 1980s, of which 'No rules' from 1988 is still a favorite undiscovered AOR Classic of mine. Their debut from 1982 (which includes "Magdalene", a song later covered by BOSTON on their 1994 record 'Walk on') was re-issued onto CD by ESCAPE MUSIC in 2000, which actually already launched a sort of comeback of a band. Now in 2009 the band releases a real new comeback album in the shape of 'Mind's eye'. At first sight musically some slight changes to be heard, especially during the first 2 tracks, which are the Progrocker "Fight another day" (SAGA style) and the bluesy Southern Hardrocker "Bring the Gold" (MOLLY HATCHET), but then they take one turn left to set their course at more Classic 80s AOR/Pomprock orientated material (with superb guitarwork and big harmonies) like their 1980s records. "Worth the wait" for example is a beautiful semi AOR ballad with a memorable chorus that contains the same old classic harmonyvocals which made HYBRID ICE a trademark, very BOSTON/ORION meets URIAH HEEP/PRAYING MANTIS like, lovely sensational tune definitely! Also "Sadder day morn" (HARLAN CAGE meets 101 SOUTH), "Stop searching" (what if GIUFFRIA and QUEENSRYCHE were doing ANGEL type of material together, it would sound like this!) and especially the classic 80s semi-uptempo AOR Rocker "Only the lonely" (WOW, this is a real CLASSIC AOR tune reminding of how great mid 80s US Major Label AOR sounded, a la AGENT, JOURNEY, FORTUNE, WHITE SISTER and most of all the LE ROUX classic 'Up' comes to mind here!!!) are examples of perfect 80s AOR/Pomprock that all together is making this CD a must-have for anyone into bands like HARLAN CAGE, STONE SOUP, DAKOTA, 101 SOUTH, etc. etc. A real surprise here that almost passed everyone by, HYBRID ICE's new CD 'Mind's eye' is a real winner for sure, unbelievable it has not found spot on one of the AOR labels here in Europe yet! The song "Only the lonely" alone is it worth tracking down this CD, because this could turn out to become THE AOR SONG OF 2009! More info at: www.hybridice.net
(Points: 8.8 out of 10)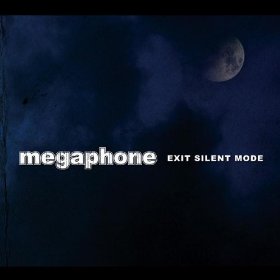 MEGAPHONE 'EXIT SILENT MODE' (INDEPENDENT)
MEGAPHONE is an Orlando, Florida based band with a strong great Rock and Roll sound on their 2nd CD 'Exit silent mode'. The album was mixed by Pete Thornton (SHINEDOWN, PARAMORE), but happily he left the band's own sound intact and therefore this is a very interesting album to check out. Rock and Roll the way it should be played, melodic, catchy and mostly straight-ahead. The band does not sound like countless other American wanna-be rockbands, because somehow they sound very diverse, one moment like the 80s DEF LEPPARD in a midtempo song like "My favorite new disaster") or the Hair Metal of "We were young", while at other times it's like 1970s T-REX Glamrock such as in "The sin", but most of the time they play just good old plain uptempo hardrock and roll, which even goes a bit into the direction of newer bands like THE ANSWER and AIRBOURNE mixed with a catchy KISS like chorus sometimes ("Bad to Good" would have been the best song if it had been on the last KISS album!). Personally I had not heard of this band before, but with 'Exit silent mode' they show they are a rather great pure American Rock and Roll band mixing the best of Classic 70s Glamrock, 80s Hair Metal and today's Retro-Rocksound, so definitely check them out at: www.megaphonemusic.net
(Points: 8.3 out of 10)
DUST AND BONES 'VOODOO' (INDEPENDENT)
Now this is really great pure late 80s American Hardrock sounding little record. The band is called DUST AND BONES and 20 years ago they would have released their debut album 'Voodoo' on a major US label for sure, because their brand of pure Rock and Roll the late 80s American way, so with slight Bluesy and Sleazy touch, it is so close to acts like TESLA, LILLIAN AXE, KIX, TORA TORA, DIRTY LOOKS and such. This is just pure 1989 orientated stuff, remember the time when AEROSMITH had just made a succesfull comeback, THE CULT was hot and GUNS'N'ROSES was huge, so every label was keen on signing acts that played in these 2 styles… well DUST AND BONES could have easily followed up all the EVERY MOTHER'S NIGHTMARE's, FASTER PUSSYCAT's, CATS'N'BOOTS' that were signed back then, if only this record was released 20 years ago. Still in the current state of affairs musically speaking, this record does not sound dated at all and is a great Rock and Roll record. Still anyone missing that style, well this record is your must-have! Every other fan of real raw Rock and Roll will of course also like DUST AND BONES! More info at: www.myspace.com/dustandbonesroxx
(Points: 8.2 out of 10)
(All reviews by Gabor Kleinbloesem except where noted)